Excellence in post-sales service can be a boon to a company's attempts to bolster the bottom line and support business growth. These are key findings of a recent CFO Research survey of 126 senior finance executives at U.S. firms with revenues greater than $100 million, sponsored by OnProcess Technology.
For the purposes of the survey, we defined after-sales or post-sales service as any service required to ensure customer satisfaction following the purchase of a product or service. Post-sales service could include installation and training, customer support, complaint resolution, repair and maintenance, fulfillment of service-level agreements (SLAs), returns and replacements, and servicing of guarantees and warranties.
A strong majority (82%) of survey respondents say their company could realize meaningful financial benefit from improving customer satisfaction with post-sales service, and nearly as many (78%) believe that post-sales service will be an increasingly important competitive differentiator for their firm. One CFO survey respondent explains that excellent post-sales support would result in his firm "realizing multiple simultaneous opportunities to strengthen relationships and cross-sell."
Loyalty and Satisfaction
In fact, customer satisfaction is the most important measure cited in companies' evaluation of their post-sales service, selected by 48% of respondents. And 83% of respondents say that improving the quality of post-sales service would boost customer satisfaction at their companies.
It is becoming more important than ever to focus on after-sales service, as 69% of respondents say that it has become much more difficult to cultivate customer loyalty and retain customers. At the same time, 60% of respondents cite strengthening of their customer relationships as the most compelling reason to improve post-sale services. (See Figure 1.)
The Resource Question
Clearly, finance executives believe that a loyal customer is a customer who will buy again, with predictable frequency and margins, as well as with lower sales cost. However, survey respondents also outline the challenges finance teams face in committing the resources needed to address these problems — measured in time, money, and management attention.
One key for improving post-sales service is closer coordination among the many different activities and functions that make up the service supply chain. A customer doesn't care about your company's functional siloes; he or she only judges your company on how well their critical needs are being met.
But, while visibility into post-sales services is essential for optimizing outcomes, 68% of respondents believe their company could improve management visibility into total, end-to-end costs for providing post-sales service. An EVP of finance describes the ultimate goal: "Both changing the culture to be more service-oriented and improving the communication process so post-sales follow-ups are unique to the individual who is utilizing the product … which could lead to increased cross-sell opportunities."
Three-quarters of survey respondents agree that their companies could improve post-sales service substantially. And the post-sales stakes are rising for companies and their finance chiefs. Looking forward, 58% believe that, over the next few years, business growth is likely to substantially increase their costs for providing post-sales service.
When asked to describe the biggest challenges they face in providing excellent post-sales service, survey respondents most often cite difficulties in prioritizing and coordinating post-sales activities. Marshaling the resources needed to tackle the problems remains a stumbling block to improvement efforts. As a VP of finance writes: "Associates still do much of the work and tracking by hand. They have many, many competing priorities."
Cost Savings
The lack of coordination also has cost implications. CFOs readily agree that improving post-sales service can deliver substantial cost savings. Of the areas tested that deliver direct cost savings, elimination of redundant or duplicated work in post-sales service is cited by 71% of respondents. (See Figure 2.)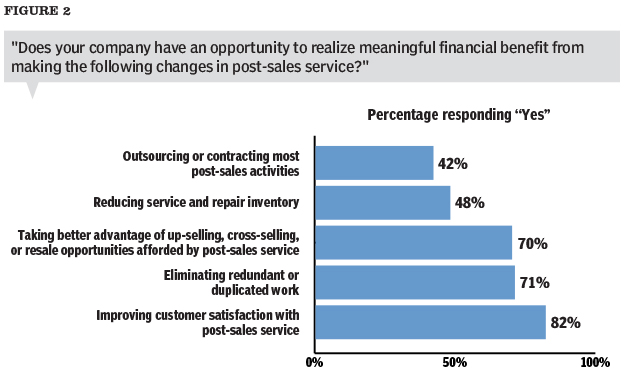 Finance executives also signal that improved process efficiency has the potential for widespread impact, with 43% of respondents believing that improving processes and eliminating redundancies could reduce the cost of post-sales service by more than 5%.
Asked to identify the specific post-sale service components that represent the greatest opportunities for cost reduction, respondents most often say they will target customer service/call center operations (37% of respondents), followed closely by fulfillment of service-level agreements (33%). Customer training and support (23%), repairs and replacements (21%), and inventory and warehousing (19%) round out the top five opportunities for cost reduction.
The cost argument for outsourcing also remains compelling. Of respondents that currently employ outsourced or contracted post-sales services, 49% indicate that outsourcing additional activities could reduce the total cost of post-sale service by more than 5%.
Interestingly, respondents say that when they are considering a decision to outsource post-sales service, it is based on more than just the potential cost savings. In fact, of respondents that currently employ outsourced or contracted post-sales services, 59% say they do so in order to take advantage of the dedicated service or specialized expertise of the provider. By comparison, lower cost is cited as the primary motivation by 37% of this group of respondents.
Focal Points
The survey found no shortage of improvements for finance chiefs to focus on — primarily related to the need for better coordination, control, and information. For example, a CFO writes that he needs "better data [and] better analysis of data." Another CFO notes that he "needs the tools to track our follow-up with our over 40,000 customers and to determine the effectiveness of such follow-up."
When asked specifically which improvements in post-sales service would be most beneficial to their companies, 50% of the respondents select better communication and coordination between different functions. Better data on customers and service events is seen as most beneficial by 41% of respondents.
Better execution of individual processes is selected by 35% of respondents. To achieve that, a CFO writes that he needs "defined objectives to improve service and reduce cost, as well as accountability for making progress in meeting those objectives."
Finally, aligning different activities with common metrics (27%) and greater visibility into and control over end-to-end processes (23%) round out the top five improvements. A CFO adds, "We have to make a better realignment between the quality and service structures within the organization so no issue is left unresolved due to lack of ownership."
In the end, the CFO Research survey confirms that finance executives are turning more and more attention to streamlining and optimizing post-sales services, as the next area of opportunity for boosting their companies' performance. What will make the effort worthwhile are the cost savings CFOs can deliver to the bottom line, at the same time that they are strengthening customer relationships in the service of strategic goals.