Special Section: Enterprise IT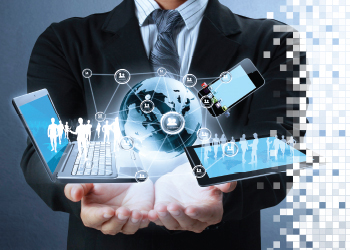 The evolution of information technology has shaped the working lives of senior financial executives, changing what it means to be a CFO. When it is managed well, technology connects finance with every function and informs every strategic decision — the nervous system and analytical core of the modern enterprise. When it is managed poorly, technology saps competitive strength from even the strongest company, affecting earnings and valuation.
To gain a better understanding of how CFOs manage and use both corporate and personal technology, CFO Research recently surveyed 267 U.S. senior finance executives. One thing quickly became clear: IT has become deeply enmeshed in the finance function. "Finance is IT," said one survey respondent. "They are no longer separate items. Without IT, you can't do finance."
An astounding 93% of the senior finance executives surveyed believe that the CFO of the future will need a much stronger technology skill set than is currently required for the job. An impressive 64% of survey respondents have taken specific actions to upgrade their technology skills during the last year, and 80% of respondents plan to do so during the coming year.
The reasons that an enhanced skill set is required were also amplified by the survey. Four out of five respondents believe that their organization's IT strategy is an essential component of its growth strategy, and even more respondents (86%) believe it will be an essential component in two years' time.
Managing Enterprise IT
Currently, 74% of respondents say that they would be very comfortable providing management oversight of their organization's IT strategy (for example, with the CIO reporting to them), and 82% expect that they would be very comfortable in this role in two years' time. Looking only at survey responses from CFOs, 88% indicate they are comfortable providing management oversight of IT now, and 92% indicate they would be very comfortable in this role in two years' time.
Survey participants were asked what advice they would give to their peers who are newly assuming management oversight of their organization's IT strategy. Their responses covered several aspects of the finance executive's role: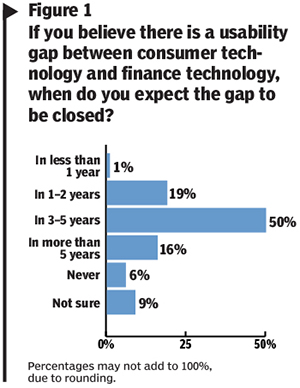 • Technical competency. A director of finance recommended that finance chiefs "learn and understand the technical jargon so they can have a deeper understanding and discussions with the CIO." A CFO added: "Don't be afraid to admit you don't know what you don't know." Another finance chief suggested requiring "a roadmap to understand IT's vision for both infrastructure and applications." Still another CFO suggested a forward-looking approach to developing personal technical competency: "Build your knowledge on future developments — the cloud, the Internet of Things — and on [intelligence about] where your industry is heading."
• Enterprise IT strategy. An executive vice president of finance counseled: "Stay focused on overall corporate goals and priorities, and have IT spend and prioritization align with them." A CFO added: "Remember that IT is not a pursuit in and of itself. Keep business goals in mind." Summarized a manager of IT financial analytics: "Don't be enamored of shiny objects. Know your user base and use cases before investing in new technology." To inform strategic decisions, a CFO advised his peers to "make sure you have management dashboards to help find answers to your questions instead of relying on subordinates to give you the filtered information they think you want."
A head of global business services suggested: "Constantly take a critical look at the services your IT organization is providing and ask if they can be bought as a commodity easily from outside, or if someone can deliver the service better. Balance the insource-to-outsource ratio on a regular basis to avoid building a large fixed-cost base." A CEO suggested phrasing this query more bluntly: "Why we are doing everything in-house?"
• Tactical decision making. A vice president of finance advised CFOs to "really understand how you got to the current IT environment as a basis for making decisions about what may need to be changed going forward." A CFO noted that finance chiefs' role in risk management requires them to "thoroughly understand how security and privacy are managed by their IT group and through their IT infrastructure."
Managing Finance IT
Technology's prominence in the finance function continues to grow. Seven in 10 (70%) respondents believe that the percentage of their finance budget that is devoted to technology will increase in 2016. Only 2% believe that this percentage will decrease.
And the responsibilities related to managing technology continue to keep pace. Nearly two-thirds (65%) of respondents believe that the amount of time they personally devote to managing finance technology will increase in 2016. Only 3% of respondents believe this amount of time will decrease in 2016.
One-quarter (25%) of respondents currently access their organization's core financial information systems via smartphone or mobile device, and 78% of respondents believe that there is a large gap in usability (regarding the interface and user experience, for example) between consumer technology and finance technology. Of those who believe that there is a large gap in usability, more than 7 in 10 (72%) expect that it will take at least three years to close the gap. (See Figure 1, above.)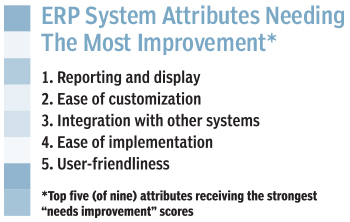 Respondents whose companies have an enterprise resource planning system indicated that the system they use most often needs the most improvement in "reporting and display," followed by "ease of customization." (See list.) In addition, an open-ended survey question asked what one thing respondents wished their ERP system did better, and "reporting" was cited far more frequently than any other response.
The fact that respondents saw opportunities for substantial improvement in all the attributes listed points to the challenges of ERP system management. Respondents were also asked what advice they would give to their peers who are newly assuming management oversight of their organization's ERP system. Again, responses covered multiple areas:
• Strategy. A CFO counseled: "Align ERP enhancements with your overarching IT vision. For me, that means making it easy for our customers to do business with us and enhancing efficiency and productivity." Another CFO added: "Prioritize the key pieces that will ensure that you are compliant with requirements for your industry. Then focus on maximizing those pieces." She concluded: "Ensure that all existing systems are using full capabilities before adding more systems. Do not let systems be added in silos, to support siloed teams."
• Configuration. An IT finance director suggested to "keep it as 'vanilla' as possible. Customization leads to increased cost of ownership as upgrades are needed." A CEO summarized: "Use the cloud and keep it simple."
• Reporting. A controller cautioned: "Don't adapt your reporting to the system. Find a system that works with your reporting." A financial reporting manager added: "Get user-driven reporting set up early (that is, so you are not reliant on IT)."
• User Experience. A treasurer counseled: "Use champions/power users in each department as go-tos for department users." A controller suggested: "Get training on the system — significant training." A CFO added: "The loudest complainers may not be the parts of the system that need to be addressed first. Do your homework on the return on investment in changes/integrations/customizations."
Personal Relationship with IT
Respondents' personal relationship with technology is shifting as well. Figure 2 shows that senior finance executives have made a concerted effort over the last five years to "stay current" with technology. Interestingly, though, the percentage of self-described technology "geeks" and "early adopters" in the senior finance ranks has declined.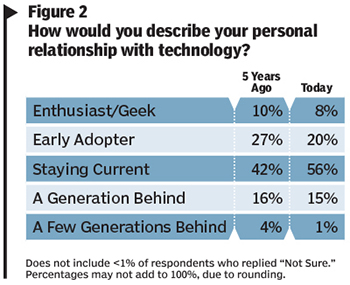 We asked respondents to tell us their favorite apps, both those that are related to their finance roles and those that are part of their personal lives. The apps cited most frequently that are related to a finance career (in addition to those associated with enterprise/business intelligence systems) can be categorized into news/markets (for example, the Wall Street Journal), research (Google), financial calculation (HP 12C), productivity (Evernote), expenses (Concur), and networking (LinkedIn). A controller summarized the focused-app strategy of many respondents: "Most of my mobile usage for finance is based on the acquisition of news and information."
The personal apps most frequently cited (in addition to personal banking and investment apps) were related to music (for example, Pandora), fitness (MapMyRun), commuting (Waze), dining (Open Table), wine (Vivino), travel (TripAdvisor), sports (ESPN), and social media (Facebook). Perhaps the most unexpected personal app cited was Fish Rules, which employs GPS locating to keep users apprised of the saltwater fishing laws and regulations relevant to a given location.
But several respondents noted that they intentionally limit personal apps and avoid social media, citing the risk of a social media miscalculation. One senior finance executive drew a clearer line: "I view technology as a vehicle for business and do not use it for personal reasons."
Which is probably just as well. After all, more than one executive has landed in hot water for an inappropriate tweet or Facebook post — you can Google it.
Chris Schmidt is director, research and custom content, at CFO Research.