It's becoming increasingly apparent that history is proving of little value to U.S. companies in their attempts to return to "business as normal" following the global recession. This time around, economic recovery is more of a marathon than a sprint, and consumers, businesses, and the Federal Reserve all seem to be pacing themselves accordingly.
But for smaller companies — those with less than $100 million in revenue — the time may have come to pick up the pace. Simply by being small, these companies are likely to have more room to grow than their larger, more established counterparts. They also are more likely to need to ramp up investment in infrastructure and in people in order to pursue their growth ambitions. And CFOs from these types of companies simply may have gotten tired of waiting around for the economy to kick into high gear.
Those are some of the conclusions that can be drawn from the Duke University/CFO Magazine Global Business Outlook survey for the second quarter of 2015, which was conducted in June. Writing in the survey, a CFO from a small manufacturing company noted that "meeting high growth rate expectations" has cropped up as a significant new challenge.
Other survey results indicate that finance leaders at small companies are preparing to invest more in order to meet the challenge. In recommitting to investment for growth, these companies are heading in a different direction from their larger counterparts. Compared with the results of the Duke/CFO survey from a year ago, the smaller companies are becoming the more aggressive spenders.
In our survey from the second quarter of 2014, 7 out of 10 companies larger than $100 million anticipated boosting their capital spending over the following 12 months, while 6 out of 10 did so among companies smaller than $100 million. This year, that trend has been reversed: Larger companies have fallen back to 60% anticipating increases in capital spending, while smaller companies have climbed up to two-thirds expecting to spend more.
Similarly, smaller companies are putting more of their investment into R&D at a time when larger companies are pulling back. This year, more than half (53%) of the companies under $100 million expect to boost R&D spending, which represents a seven-and-a-half point jump over last year's second quarter. Among larger companies, slightly fewer than half (49%) plan on increasing R&D investment this year—a decline of 4.3 points from year-ago levels.
In fact, the smallest companies in our survey population — those smaller than $25 million — are planning on increasing investment the most. Executives from this segment expect to increase capital spending by 8.5% over the next 12 months (compared with the average of 5.8% for the entire survey), and they report plans to increase R&D spending by a whopping 10.6% (compared with the survey average of only 2.7%). It's these kinds of investments that are necessary for laying the foundation for future growth.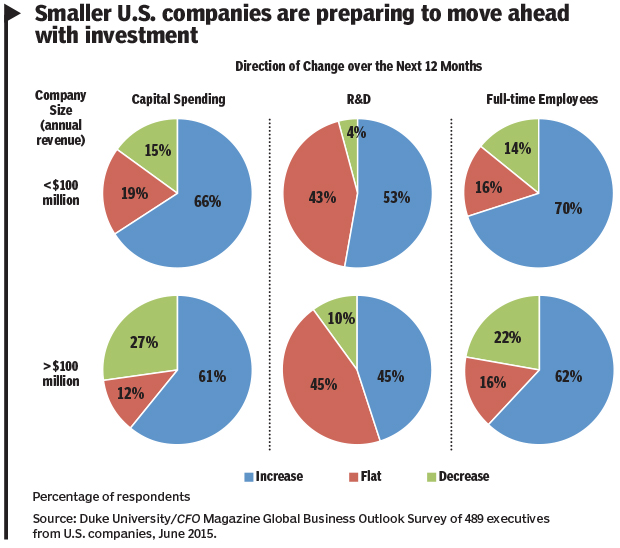 The Wages of Growth
This flurry of investment activity in the pursuit of growth may also help account for a renewed interest in expanding small-company workforces. As an executive from another small manufacturing company wrote in the second-quarter survey this year, "dealing with the rate of change" can be a significant challenge. For the small company in particular, the need to deal with change can translate into a need to staff up.
In fact, the smallest companies in the survey (under $25 million) expect to staff up the most in 2015, increasing full-time employees by 7.5% — three times the average for all companies. By way of contrast, executives from the largest companies in the survey (with revenues above $1 billion) are more likely to say they plan on reducing staffing than to say they will beef it up. Their concerns focus more on cost containment in a sluggish business environment than on a high-stakes race to capture what growth opportunities may be present.
First, however, many of the smaller companies know they need to get more out of their current workforces. The companies under $100 million are looking to improve productivity by between 4% and 5% over the next 12 months. This is two to three times the rate expected by companies larger than $100 million.
Nor can companies expect to get much relief from the beneficial effects of inflation. Overall, fewer companies are anticipating pricing increases for products and services this year than expected them last year. The lack of opportunity for price increases may be the result of a combination of reality setting in about the timetable for the Fed's raising interest rates, plus intensifying competition for slower-than-desired growth in demand. For example, an executive from one of the smaller companies writes, "Demand being low, large companies that were never competition [before] have entered our market for cash flow."
To combat these incursions, many executives from smaller companies recognize the need to go beyond productivity improvements, especially when they are starting from a smaller base. Given the limits on productivity along with the increasing intensity of competition and the drive for new business growth, wages for small companies understandably are coming under increasing pressure. Wage growth is likely to outpace respondents' expectations for inflation, which has remained at around 1% in our two most recent quarterly surveys.
As a result, the CEO of a small technology firm cited the "continued tightening of the labor market for specialized skills resulting in rising labor costs," in particular, as a new challenge for his firm. A CFO in the education field similarly stresses that they will need to "increase salaries to retain talent"—even if it means, in this case, "reducing the total number of full-time employees" to balance the increased costs.
For small businesses in America, then, it should come as no surprise that "difficulty attracting/retaining qualified employees" places among the top three concerns—right up there with economic uncertainty and the post-ACA cost of benefits. It's become the price for success.