If any company has a proven formula for success, it's Walmart. The Bentonville, Ark.-based behemoth is the world's largest retailer, with nearly half a trillion dollars in annual sales and 2.2 million employees conducting business in 27 countries. Through its more than 11,000 stores and Sam's Club warehouses, Walmart rakes in more revenue than Costco, Kroger, Amazon, Home Depot, and Target — combined.
Changing times, however, have put the formula into question. True, Walmart recently raised its dividend for the 42nd consecutive year, and overall it returned $7.2 billion to shareholders through dividends and share buybacks in the fiscal year that ended on January 31. But the company's sales have been sluggish in recent quarters, slowed further by currency headwinds from the stronger dollar. Same-store sales in the United States have been flat. The company recently lowered its growth forecast for the current fiscal year to 1% to 2%, and Wall Street has been grumbling.
Meanwhile, Amazon, the quintessential online retailer, reported a 19.5% increase in net sales for 2014. Clearly, the future of growth in retail lies in e-commerce.
But if any company isn't content to sit on its hands, it's Walmart. Last October, CEO Doug McMillon announced that the company was adopting a new strategy — one that retains the retailer's hallmark everyday low prices and wide product assortment, but lays out a much greater commitment to e-commerce sales, which grew 22% in fiscal 2015, to $12.5 billion. More and more consumers do their shopping online, whether on a home computer or a mobile phone, and Walmart intends to accommodate them, by closely integrating online shopping and fulfillment with its physical stores.
That's not all. To improve its customer experience, Walmart is also investing in its human capital, through higher wages and increased training. In February, the company made headlines by announcing that it was raising the lowest entry-level wage for its U.S. employees to at least $9 an hour, $1.75 above the federal minimum rate. The move, praised by the White House, initially affects some 500,000 full-time and part-time workers.
Will the new strategy succeed? Some analysts are skeptical, but Walmart has been through challenging transitions before, points out Charles Holley, executive vice president and CFO. Finance led the process of developing the strategy, he says, which took root under previous CEO Michael Duke.
Holley, 58, was well prepared for the job. He joined Walmart in 1994 from Tandy, a retail and consumer electronics conglomerate, where he was director of finance for international operations, then managing director of the company's European Memorex consumer product division (Memtek International). "Walmart came calling," he says, "and I moved from London to Bentonville," where he became CFO of the company's fledgling international operations for eight and a half years. "It was about a $42 billion business when I left," he says.
From 2003 to 2005 Holley was Walmart's corporate controller, a job he was given in part "to make sure the company was prepared for Sarbanes Oxley," which took effect in 2004. In 2005 he became SVP and treasurer, then EVP and treasurer in 2007, with responsibility for various functions, including corporate strategy and planning. In November 2010, he succeeded Tom Schoewe as CFO, where he continues to be responsible for strategy, not to mention a long list of other key areas. "The company has a very focused, very deliberate development program for associates and management," remarks Holley. "And I think I was a very good example of that."
Recently, Holley spoke with CFO about the big changes under way at Walmart. A condensed version of the conversation follows.
Last October, CEO Doug McMillon outlined Walmart's new strategy, which emphasizes the integration of digital and physical shopping. What role did finance play in developing the strategy?
Previously, we did strategy from the bottom up. We let the operating segments develop their strategies, and then we built the strategies up to the total company. With the age of digital, we realized there would be a very powerful intersection of digital and physical, and we needed to develop our strategy from the top down. Finance led that process for the company, starting a little over a year ago under Doug's predecessor, Mike Duke. In October Doug introduced our new framework for growth, focusing on four priorities: price, assortment, access, and experience.
Walmart says that about 90% of all Americans live within 10 miles of a Walmart store. That has to be a big asset when it comes to fulfilling Internet orders.
That's correct. We have over 4,500 stores and 600 Sam's Clubs in the U.S. We think we're in a unique position to serve customers, either through pickup in a store or shipping direct to home.
Our ASDA subsidiary in the United Kingdom has led the company in this intersection of digital and physical with grocery delivery. Customers can use their mobile devices to order what they need for dinner on asda.com, and then when they go to the subway, they can use a QR code to open a locker and pick up their order.
We're testing similar things in the U.S. For example, we're trying pickup points where there is no store. You could order what you need to make dinner through your mobile device, and then drive to a pickup point, swipe the QR code, and put the items in the trunk of your car. We're also trying delivery in some markets. I don't think one size will fit all markets, but it's very important that we be able to offer our customers a better experience.
How much is Walmart spending on e-commerce?
In any given year we'll spend $12 billion to $13 billion on capital expenditures, and we're still going to build a lot of stores. However, this year we will increase spending on e-commerce initiatives by 30%, including fulfillment centers and the technology spend we need to do, to between $1.2 billion and $1.5 billion. I expect that to continue for the next year at least.
Are the fulfillment centers for distribution or for product pickup?
Both. A supercenter could have 125,000 SKUs, and then you could have a fulfillment center that had 500,000 or 600,000 additional SKUs. Given that we are so close to the customer, we could promise the customer pickup at a store within four hours or less, depending on where the store is. We want to be in a position where we can offer a much wider range of assortment and make shopping as convenient as possible for the customer.
Does the integration of digital and physical extend to store layout and design?
Yes. We need to make sure that customers understand that if don't see what they need in the store, they more than likely can get what they need online, and we can get it to them quickly, either in the store or to their home.
Developing your digital business is one major expense this year. Another one is raising the entry-level wage for Walmart's U.S. employees, to $9 per hour in April and $10 next year. What was the company's thinking behind that move, and how much will it cost?
The cost impact this year will be around $1 billion. That's around 20 cents a share. It includes increased training and adding department managers in some of our key categories to improve the customer experience.
This isn't something that was decided quickly. We've been looking at this for over a year, listening to our associates at Walmart U.S. and Sam's Club. And we went all the way to the board with discussions on what was the right amount to do, what would make a good statement for our associates.
But it's not just about the entry-level minimum wage, where you start. It's also about where you go. We are also developing a training program, called the Pathways program. We want to make sure that our associates have all the tools and all the opportunities necessary to achieve as high as they can. Over 75% of our managers came from the hourly ranks. Our CEO, Doug McMillon, actually started as an hourly. That's our heritage, and it's important to maintain that going forward.
Speaking of training, company officers have recently stressed the importance of shopkeeping skills.
We know this from experience: The more engaged our associates are, the better customer experience you have. Turnover is reduced, which reduces cost. If you create a better shopping environment for the customer, your sales will go up.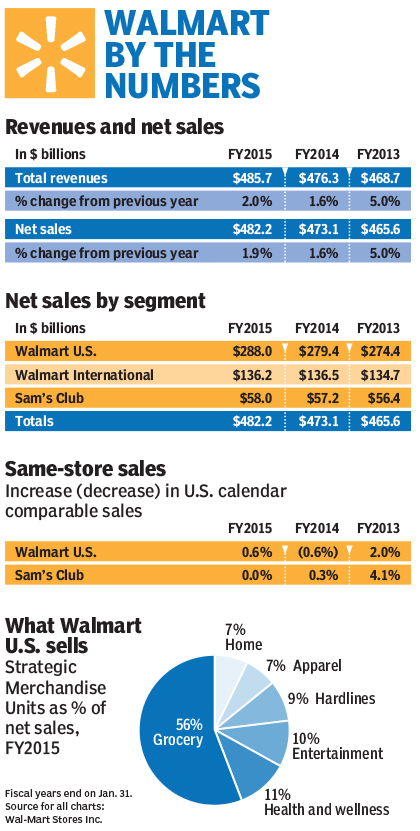 How will you measure the effectiveness of higher wages and training?
Turnover and retention, for one. We measure our associate engagement scores, and we also measure our customer shopping experience. We also measure "shrink" — basically inventory that's no longer there for one reason or another. Ultimately, we measure our top-line sales, or revenue.
Do you think raising the entry-level wage will prod your competitors to raise their wages?
It may. But at the end of the day it's really about making sure we're doing the right thing for our associates.
How do you attract and retain employees for your own department, finance?
We spend a lot of time on succession planning and talent development. We have a very high retention rate. Because we have so many businesses wrapped under the umbrella of Walmart, we can attract the best and brightest to our MBA and undergraduate recruitment programs. We focus on quality, not quantity: If we get 10 MBA students one year and 20 students the next year, that's fine.
Of the people in our MBA leadership program, only about 50% stay in finance over the long haul. The other 50% generally go out into our operations, into merchandising, international. We've become sort of the company's development program for high-potential talent, and I'm very proud of that.
How much operations experience do finance staffers get at Walmart?
One of the unique aspects of working in finance in Walmart is that you get to work inside the business, on the front lines. That's why our finance associates tend to be very transferable into operations and merchandising. They're already very close to it.
When I talk to people who are looking to work here, I remind them that Walmart is one company with several large businesses. We're one of the world's largest pharmacies. We are one of the world's largest food companies, if not the largest; food and consumables now represent a large majority of our sales. We're one of the world's largest electronics retailers. And behind all that we're one of the world's largest real estate companies, one of the world's largest international operations, one of the world's largest treasury operations. So there are incredible opportunities and challenges under the umbrella of Walmart.
When you mention real estate, are you talking about Walmart's own properties?
Yes. Our balance sheet is over $200 billion in total assets, and property and equipment on a gross basis is probably close to $180 billion.
How many people work in Walmart's finance organization?
Finance has about 6,000 staffers worldwide. Because we grew so large globally, we went through a reorganization a couple of years ago to make sure that our CFOs and finance organizations report directly into Bentonville. It used to be a dotted line, and what we found was that as you get bigger, you create layers, and it's harder to be able to understand issues and give support.
Do you strive for diversity?
We are very focused on diversity and inclusion. Of our 2.2 million associates worldwide, about 57% are women. If you look at our officers, about 32% are women, compared to about 15% for the Fortune 500. Our board also has a greater representation of women, 25% versus about 19% for the Fortune 500. Moreover, 22% of our officers are people of color.
Walmart has been a pioneer in corporate sustainability — making packaging more environmentally friendly, and so on. Have your sustainability efforts taken a backseat to strategic initiatives?
Not at all. We work with an organization called The Sustainability Consortium, whose members include many large retailers and consumer packaged goods companies. We worked with the consortium to develop our Sustainability Index, so that our customers can understand better how sustainable a product is, and more easily find products made by companies that scored best in class in the index. There are more than 10,000 of these products on walmart.com, and over a thousand suppliers are using the index.
Given Walmart's sluggish growth in recent quarters and its new strategy, with its emphasis on digital business, is it fair to describe this moment as an inflection point for the company?
It is an inflection point. And I think inflection points are important for companies. You have to continue to be relevant to customers. It's not too dissimilar to what this company has gone through before. We started out as a general merchandise discount store. We decided to start Sam's Club and be sort of a wholesaler for small business. That was taking a risk; that was an inflection point.
Then we went to the supercenter, when we didn't have expertise in food. As you can imagine, there were a few stumbles. What many people don't realize is that we started a joint venture of hypermarkets before we did the supercenter, and it failed miserably. But out of that failure we learned how to drive the supercenter, which I think is the most dominant and successful format in the world. So failure, I think, is a key characteristic of success.
Then, from the supercenter we did international. Again, we stumbled along the way. Sam's Club, the supercenter, international — those were all inflection points for the company, and I believe this integration of physical and digital is very similar.
Edward Teach is editor-in-Chief of CFO.