In more than 350 issues of CFO over the past 30 years, we have covered a host of events, trends, and changes — some good, others not so good — that have affected the world of the chief financial officer (more on that here) and the finance function. The CFO used to be the invisible man of the corporation, now finance chiefs are prominent members of the C-suite. They have to be capable of developing a master strategy that aligns a wide range of business needs, determines how to prioritize scarce resources, and evaluates potential risks.
But what will the future of the finance function look like?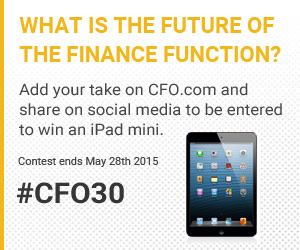 To mark our 30th anniversary of CFO we are looking to you, our readers, to share your views on the future of the finance function. What do you think is in store for senior finance executives in the next three decades? Add your views on the future of the finance function in the comment section below and share this page from the share bar (top of this article) to enter the contest to win an iPad mini!
Example:
Perhaps you think finance's influence peaked with the financial crisis and the Great Recession, and its power can only diminish in the years ahead. Or, with all the cost cutting occurring in finance departments, you may think they will lack the resources to be effective. Alternatively, you may believe the CFO role is only just starting to come into its own, and that CFOs will have increasing authority in the areas of strategy setting, corporate investment, and board communications. In any case, tell us what you think, and WHY. Make sure all posts on social media link to this page, and include the hashtag #CFO30.
Prizes:
1st place winner will receive an iPad mini! 2nd place prize winner will receive a $100 Amazon Gift Card. Contest ends May 28th, prize winners will be notified May 29th.
Contest Rules:
Entries are judged on the quality of your response and  the number of shares on social media.
1) Add your view in the comment section below.
2) Share this article on social media using the share bar at the top of the page.
Odds of being selected as a prize winner depend on the total number of entries received. CFO Editorial staff will judge comment entries and measure the number of shares to identify the prize winners. Prizes will be awarded, regardless of the number of entries received.