What do the best-performing employees have in common? Among other things, it's likely they are quick to offer relevant insights and analysis, easy to work with, and mindful of keeping a lid on costs.
In other words, those employees share the same characteristics of the technology any finance executive would ideally use to manage key information about them — tracking their development, monitoring their levels of engagement, and ensuring that their benefits, payroll, and tax obligations are administered in compliance with ever-changing regulations. Such human capital management (HCM) tools are capable of importing and integrating an abundance of useful data, making it much easier to address the compliance challenges involved in managing employees.
Assuming, that is, executives in finance and human resources feel comfortable incorporating HCM technology into their decision-making processes. After all, even the smartest employees drop in value if they are unable (or unwilling) to collaborate with colleagues.
A recent study of midsize and large U.S. companies, conducted by CFO Research and underwritten by ADP, a leading provider of human capital management services, found that just a quarter (24%) of the 161 respondents said their company's management "routinely" uses HCM-related compliance data to support business decisions. (See Figure 1.) That said, another 46% of survey takers characterized their management's frequency of use of such data as "sometimes."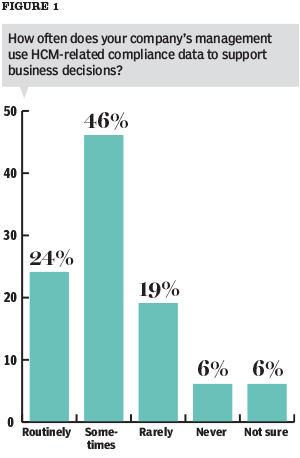 What's holding those executives back from using HCM-related compliance data more habitually? Their reluctance may have less to do with the value of the data than with finding the technology difficult to use. Respondents wrote, for example, that payroll processing is "too manual and labor-intensive" and that "significant manual intervention [is] required for each cycle for review, approval, and corrections."
Asked to grade their HCM-related compliance systems according to ease of use, a majority of respondents (59%) gave their systems a grade of C or below. A third (32%) assigned their systems a B, while just 10% gave them an A.
Respondents who judged their HCM-related compliance systems as worthy of higher grades tended to have systems with a particular feature: dashboards, which enable users to quickly and efficiently review information. Among the respondents using dashboards, about 7 out of 10 (68%) gave their systems above-average marks on ease of use, with 49% giving them a B and 19% an A. (See Figure 2, below.)
Respondents also wished the technology could offer more robust analytics and improved self-service functionality for both managers and employees. "Employees not having the ability to review their info electronically" was how one respondent summed up the factor that most hampers HCM-related compliance at his company.
Not surprisingly, 73% of the respondents whose companies use dashboard technology reported that their HCM-related information systems are largely "self-service" — meaning, for example, that employees can update their own records. Fewer than half (45%) of the respondents whose systems lack dashboards made the same claim.
Lack of Integration a Drag
Ease of use isn't solely a function of how users interact with their HCM-related information systems. There are also underlying structural differences that have an impact.
Respondents were almost evenly split between those whose systems were integrated — thereby providing a consolidated data source — and those whose systems were pulling data from a variety of different sources. Among those without integrated systems, about 70% agreed that entering or updating data in HCM-related systems takes more effort than it should. By contrast, fewer than half (44%) of respondents from companies with integrated systems agreed with that view.
Similarly, three-quarters of those whose companies do not have integrated systems said that the time and attention required for compliance is a drain on company resources. One respondent illustrated the challenge succinctly: "We have data in an HR/payroll system, a learning management system, and various vendor enrollment systems." Only half of the respondents from companies with integrated systems for HCM-related compliance characterized compliance as a drain, sapping their time and attention.
Getting Better
Respondents were aware of what they need to do to get better, depending on how much they can rely on their technology. Among those without integrated systems, 41% said they need to improve their existing technology and systems. In addition, a third (32%) said they need to invest in new technology, and 30% said they need to move toward a self-service model.
Rather than focusing on upgrading their technology, executives whose companies have integrated systems are interested in focusing on how they can better utilize the data they're collecting. Among their top goals: Improving collaboration between finance and other functions, improving their analysis of the impact of compliance requirements on business performance, and raising awareness among top managers of the value of good compliance.
Such attentiveness to — and appreciation of — the importance of HCM-related compliance is crucial for top management, which is likely to confront the issue repeatedly. More than half of respondents (54%) said that new regulatory requirements will increase the difficulty of managing HCM-related compliance over the next two years, with 46% agreeing that increased regulatory insight and enforcement will be a complicating factor.
Companies that lag in terms of technology — still relying on manual processes or multiple, separate systems — have that much more to worry about, with half of them reporting that the lack of integration is among their top concerns. Companies that have yet to invest in robust compliance systems are spending too much valuable time on the task, not to mention relying on outdated systems that are costly to maintain and incapable of providing a consolidated view.
Such companies would be wise to address their technology shortfalls sooner rather than later. Every moment that executives and employees spend struggling with the challenge of how to enter, update, and understand their HCM-related compliance data is time taken away from a much more urgent task: keeping up with the evolving regulatory landscape.
Executives and other employees, meanwhile, can focus on analyzing results and incorporating their conclusions in company decision making. Almost as quickly as technology collects and distributes the necessary HCM-related compliance data, humans need to interpret what it is telling them. It's that kind of partnership that keeps a company competitive.