Even for a company with Wal-mart's heft, $800 million is a sizable sum. That is what the giant retailer will have spent by the end of this fiscal year on its internal probe into alleged bribing of Mexican officials, into whether subsidiaries elsewhere may have been greasing palms and on related compliance improvements.
By the time bribe-busters at America's Department of Justice are done with their own investigation, which began in 2012, Wal-mart's bill for lawyers' and forensic accountants' fees will be well above $1 billion — and perhaps closer to $2 billion. To that can be added whatever fines it may incur, any bills for settling related private litigation, and the harder-to-quantify cost of the tens of thousands of man-hours managers have spent on what has become a big distraction from everyday business.
The case is not trivial, to be sure. It involves suspicions that bribes were paid to clear the way for construction of dozens of new stores and warehouses, thus helping Wal-mart to outflank competitors. The case has been widened to include the granting of permits in China, Brazil, and India.
There should be no complaint that such cases are being scrutinized closely: the corrosive effects of bribery, in eroding trust in government and dampening innovation, are well documented. Nevertheless, some see the expensive and time-consuming Wal-mart case as part of a mounting body of evidence that the war on commercial bribery is being waged with excessive vigor, forcing companies to be overcautious in policing themselves. Some of those under investigation are starting to push back.
Until a decade ago, giving bribes to win business or speed up transactions was widely seen as a necessary evil, especially in emerging markets. In parts of Europe, companies were even allowed to deduct kickbacks they had paid against tax. But anti-bribery enforcement has been transformed since the early 2000s, when NGOs started to raise a stink and America stepped up use of its Foreign Corrupt Practices Act (FCPA).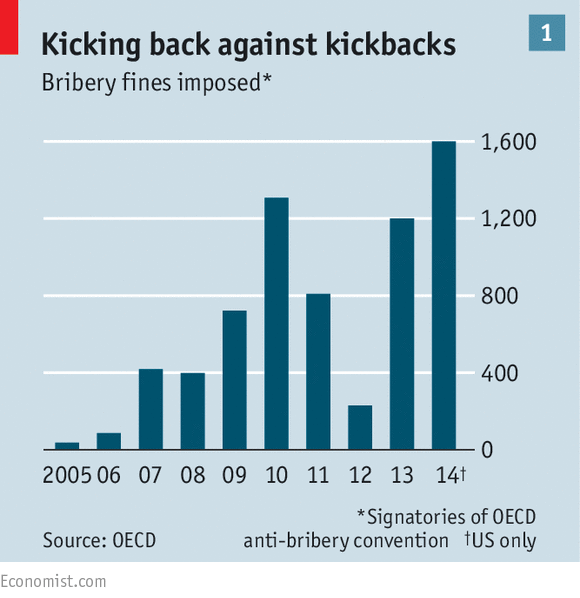 This law was passed in 1977, but in its first quarter-century it was largely ignored by prosecutors. As recently as 2007, the largest fine under the FCPA was less than $50 million. Now the worst offenders pay 10-15 times that. Foreign firms, if they have a presence in America, can also be caught in its prosecutors' net. Alstom, a French industrial group, paid up $772 million last year in the largest FCPA criminal penalty to date, after allegations it had spent $75 million on bribes in countries including Egypt and Indonesia. 2014 was a record year for FCPA penalties (see chart 1).
This year is shaping up to be busy too, as new fronts are opened up to probe, for instance, the hiring by banks of "princelings" (relatives of important Chinese officials).
Though America remains the toughest enforcer, in the past few years other countries have started to flex their muscles (see chart 2, below). This second group includes Germany, South Korea, and Britain, which consolidated and improved upon a hotch-potch of previous legislation with its Bribery Act of 2010.
Brazil has passed a new law and is using it to go after firms caught up in the Petrobras scandal. China's anti-corruption drive under Xi Jinping has ensnared GSK, a British drugmaker. It was found guilty last year of using travel agencies to create bribery slush funds and fined $490 million — though local managers got away with suspended sentences because the company showed remorse.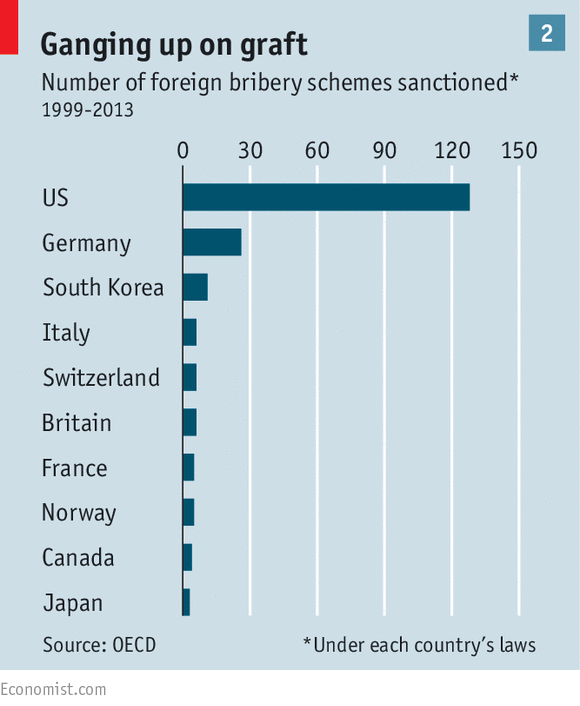 Enforcement remains patchy. In much of Africa, relevant laws (if they even exist) are unenforced. Around half of the 41 signatories to the OECD's anti-bribery convention have yet to impose any sanctions. But there is no doubt about the direction of change. As the chance of wrongdoing being detected grows, so does the chance of the investigation being "messy and multi-jurisdictional," with several countries looking for redress, says Crispin Rapinet of Hogan Lovells, a law firm.
The costs can keep coming in after a company has paid for an investigation and a settlement to prosecutors. Increasingly, firms are required to bear the cost of being overseen for several years by an independent compliance monitor. Firms that have recently been involved in bribery investigations may also be excluded from procurement processes, may suffer a higher cost of capital (large fines can trigger credit-rating and loan-facility reviews), and be hit by shareholder lawsuits.
Siemens, a German industrial group, has spent more than $3 billion on bribery-related fines and costs since 2008. Its compliance department has ballooned from a handful of people to more than 400. Avon, an American cosmetics company caught bribing in China, spent nearly $350 million on a variety of legal and compliance fees, more than double the penalties it incurred, and not far short of its 2014 operating profit.
At worst, the overall financial consequences can be more than ten times the settlement a firm agrees to pay prosecutors, calculates Mike Koehler of Southern Illinois University, who writes the "FCPA Professor" blog.
The huge amount of work generated for internal and external lawyers and for compliance staff is the result of firms bending over backwards to be co-operative, in the hope of negotiating reduced penalties. Some are even prepared to waive the statute of limitations for the conclusion of their cases. They want to be sure they have answered the "Where else?" question: Where in the world might the firm have been engaging in similar practices?
In doing so, businesses are egged on by what Koehler calls "FCPA Inc." This is "a very aggressively marketed area of the law," he says, "with no shortage of advisers financially incentivised to tell you the sky is falling in." Convinced that it is, the bosses of accused companies will then agree to any measure, however excessive, to demonstrate that they have comprehensively answered the "Where else?" question. So much so that even some law enforcers have started telling them to calm down.
Last year Leslie Caldwell, head of the DOJ's criminal division, said internal investigations were sometimes needlessly broad and costly, delaying resolution of matters. "We do not expect companies to aimlessly boil the ocean," she said.
Her words have provided scant comfort: defense lawyers say that their clients feel that if they investigate problems less exhaustively, they risk giving the impression that they are withholding information. Some say the DOJ is maddeningly ambiguous, encouraging firms to overreact when allegations surface. It does not help that it has cut its staff-training on how to run such complex cases.
Partly as a result of this, and partly because bribery schemes are growing more sophisticated as law enforcers up their game, cases are taking much longer to resolve than they used to. Big ongoing cases, such as those of Alstom and Wal-mart, may stretch for up to ten years; in contrast, that of Siemens, the giant case of the past decade, took under three. In a recent article Paul Pelletier, formerly a senior prosecutor, argued that the DOJ's processing of cases has become so drawn out that it now oversees a bribery "sinkhole."
Others worry that the America-centered model that has emerged for resolving international bribery cases fails to deliver justice. More than four-fifths of FCPA cases against companies since 2010 have been settled with deferred-prosecution or non-prosecution agreements — that is, out-of-court settlements in which the prosecution's case does not undergo the scrutiny of a judge. In the law's 38 years, only one case against a public company has gone to trial. When settlements are announced, there is often sparse detail, and thus little on which to build a body of case law.
Surely companies with a strong defense would refuse to roll over and settle? Not necessarily. Even those that do have a good case are scared to fight and risk a criminal indictment that would clobber their share price. It is commercially rational to roll over, all the more so given how severely any failure to co-operate is punished.
Ask Marubeni of Japan, whose coyness towards the DOJ led to its being forced to plead guilty and pay an elevated fine. This hands prosecutors a lot of discretion. "The FCPA often means what enforcement agencies say it means," says Koehler. "We have only a façade of enforcement." That matters all the more since other countries are copying the American approach: Britain, for instance, has allowed deferred-prosecution agreements since 2013.
Some companies are starting to resist prosecutors' expansive legal interpretations. Wall Street bankers have recently locked horns with government agencies over their reading of the FCPA's stance on hiring relatives of senior officials in China. The moneymen dispute the claim that hiring someone with the intent of winning business could itself be illegal.
In the few cases where matters do reach court, the results are mixed. Last year a federal court approved the DOJ's broad definition of "foreign official," to include some managers at partly state-owned firms. However, another court dismissed an indictment against two Ukrainians, in a case in which the only American link was the tangential involvement of a federal agency. The judge said he had never seen a more misguided prosecution, and accused the DOJ of foolishly trying to play bribery policeman to the world.
In 2013 Britain's Serious Fraud Office suffered several embarrassing setbacks in court, including the collapse of a case against Victor Dahdaleh, a billionaire who had been charged with paying bribes to Bahraini officials on behalf of Alcoa, an American firm.
Such occasional defeats show that bribery cases, which rely on tracking international paper and money trails, can still be hard to build. But more countries are trying, which means that firms under investigation will increasingly find themselves pursued from several directions.
Different countries will not necessarily take each other's penalties into account. Even allies like America and Britain are not beyond conducting duplicative probes, as Alstom can attest. Nathaniel Edmonds, a former government FCPA lawyer now with Paul Hastings, a law firm, does not think enforcement has gone too far. But he accepts that it can be "extraordinarily difficult [for firms] when numerous governments are involved, with sometimes competing interests."
Klaus Moosmayer, chief compliance officer of Siemens, says the lack of co-ordination in cross-border investigations is "a huge challenge" for business. "The largest multinationals will always have the occasional case of suspected bribery. They need reassurance that if they disclose it they won't be punished twice."
© The Economist Newspaper Limited, London (May 9, 2015)