U.S. finance executives have started out the year brimming with confidence, according to the most recent Duke University/CFO Magazine Global Business Outlook survey. The first-quarter 2015 survey tabulated the views of 547 senior finance and corporate executives from U.S. companies, along with 418 executives from other countries.
The economic optimism of U.S. finance executives ticked upward to 64.7 (on a scale from 0 to 100), rising one point from the rating at the end of 2014. That represents the highest rating U.S. executives have given the economy since 2007, before the advent of global recession. The U.S. economic outlook continues to be second only to that of Asia's executives (outside of Japan), who give their domestic economies an average rating of 66.5.
Price/Wage Disparity?
However, the strengthening U.S. economy also brings with it new challenges to growth. In particular, businesses are becoming worried about the squeeze between sluggish revenue growth and, at least in some industries, upward pressure on wages and salaries.
Policies aimed at keeping the lid on inflation and holding down interest rates have indeed suppressed costs. But, in combination with increasing competitive pressures, they have also limited price increases for American businesses. U.S. respondents in the first quarter project sub-inflationary pricing increases of 0.8% on average over the course of this year.
At the same time, they expect wages and salaries to rise by an average of 2.7%. After a prolonged period of "jobless" recovery, U.S. companies once again are starting to feel increased pressure to find the best candidates and retain skilled workers. As one survey respondent wrote, "As the economy improved, salaries at competitors rose and employees left."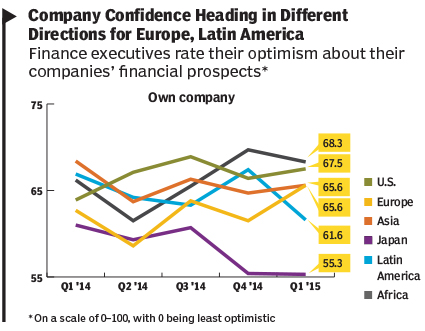 Consequently, intentions to raise real wages have begun to surface — 63% of U.S. respondents note that their companies either plan to increase real wages over the next 12 months or have already done so.
Still, about one-third of executives say that employee pay growth will not outpace inflation due to, among other reasons, weak financial performance; intense product market competition that keeps a lid on wages; and minimal labor market pressure.
Employees in retail/wholesale, transportation/energy, and communications/media in particular will see minimal pay hikes, finance executives indicate.
Revenue Difficulties
The stronger economic outlook is also reflected in the conviction U.S. finance executives have for their own businesses. Nearly half (48%) of U.S. respondents say their optimism about their companies' financial prospects has grown over the last quarter, and only one in five (21%) feel less optimistic. As a result, the average company-specific optimism level of U.S. finance executives remains high at 67.5 out of 100.
The optimism is partly driven by crude oil prices, which have fallen dramatically and unexpectedly. Survey respondents say the price drop has benefited all industries outside of the energy sector, and U.S. executives are not expecting the price per barrel to climb anytime soon.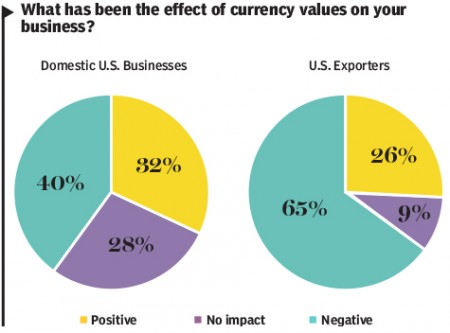 In addition, interest rates remain at historic lows. While uncertainty lingers over the Fed's timetable for raising rates again, survey respondents indicate that the low rates also are boosting most industries, outside of banking and finance.
At the same time, finance executives recognize that they have their work cut out for them in growing revenues in step with economic growth. Listing new challenges that have emerged over the last six months, many U.S. respondents point to both a stronger dollar and a more skittish consumer.
A number of survey respondents noted disappointing revenue growth. One executive summed up the feelings of many others: "While economic growth has continued, it seems that customer optimism for continued growth diminished." Another commented, "Sales growth has flattened, and we can no longer expect sales growth each year as we used to do." According to other respondents, the demand problem was only made worse by the nine-month strike among dock workers in West Coast ports, which was not settled until late February.
The appreciating U.S. dollar has also cut into revenues, hurting U.S. exports while making cheaper imports more attractive to domestic consumers. Half of the companies represented in this quarter's survey have at least some portion of their total sales coming from overseas; about two-thirds of those exporters see currency values as a negative for their businesses.
Subdued Outlooks
Outside of the United States and Asia, finance executives are more apt to be struggling with the problem of overcoming economic weakness.
In Latin America, the economic outlook continues to soften, coming in at 49 on a scale of 0 to 100. Prospects are particularly grim in Brazil, where respondents only give their economy a rating of 39. Only a few quarters ago, this region led the world in terms of economic optimism. Now, the level of economic optimism in Latin America is on par with that in Africa, and it has sunk below the level of the still-troubled European region.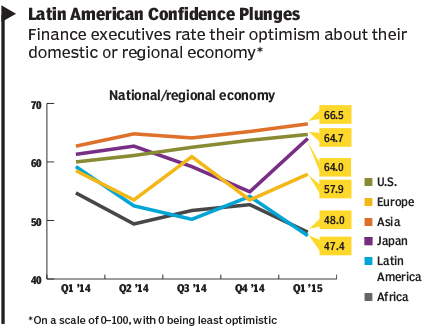 In Europe, economic optimism rose from 53.5 at the end of 2014 to 57.9 at the start of 2015. However, confidence in the local European economies remains below long-run averages. Executives in the region do not expect employment to grow over the next 12 months, and wages are expected to rise by less than 2%.
European business leaders also remain skeptical about governmental initiatives to get their economies back on track. The European Central Bank is embarking on a bond-buying program to spur economic growth and increase inflation, but less than a quarter of European respondents (23%) believe that the quantitative easing program will be successful. A more widespread belief is that the program will benefit financial markets but have little impact on the real economy. dubaixdate.com dubai escort
Instead, European finance leaders are more likely to advocate for new approaches. More than 80% of European respondents think that structural reforms to the labor market and public sector would be effective, and 70% believe that direct investment by the government would spur the economy.