Special Section: IT Systems Integration
Selecting an enterprise resource planning system represents a major investment in capital, time, and attention from the corporate finance function and the enterprise as a whole. The potential benefits are substantial, but the stakes are high. A successful implementation depends on a host of factors, from the suitability of the software selected to the effectiveness of consulting assistance, whether provided by the vendor or by a third party.
CFO research has consistently shown that one of the biggest obstacles to gaining the most value from an investment in ERP is, ironically, business growth. As companies grow, their business profiles (product sets, business lines, selling behaviors, legal entities, geographies, and so on) tend to become more complex. What emerges from increasing complexity can be an extremely complicated set of systems — often complex hybrids of legacy systems, off-the shelf systems, extensions, bolt-ons, and point solutions — that require a frustrating, time-consuming series of manual hacks and workarounds to generate reporting and analysis.
This phenomenon is compounded when companies grow through mergers and acquisitions, since they are often absorbing other organizations that run different ERP systems. A 2014 CFO survey of 112 senior finance executives confirms the extent of the issue of growth and systems complexity (see Figure 1).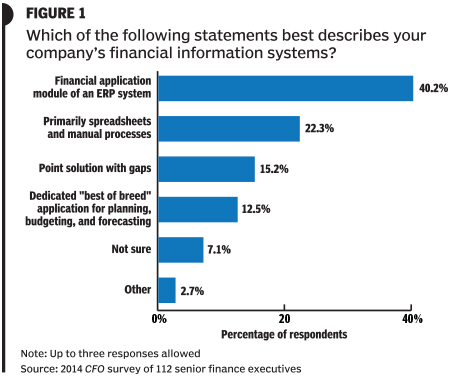 But there are other obstacles to implementing an ERP system, whether starting from scratch or migrating from a current system to another one. To help finance chiefs overcome those obstacles, CFO recently surveyed 160 senior finance executives to seek out best practices and key learnings for effective vendor engagement, vendor evaluation, and system implementation. The finance chiefs surveyed were eager to share their experiences and the lessons they learned, often in the stated hope of helping their peers avoid making the same mistakes they did.
Examining Vendor Engagement
Finance chiefs were asked what questions they think are most useful to help frame discussions with ERP vendors. Responses focused on the ERP system's value to the enterprise, total cost of ownership, flexibility, and references.
• Value. Senior finance executives were clear that companies shouldn't move to an ERP system simply because they had achieved a certain size and scale. Finance chiefs want to understand the measurable value that ERP would deliver. "How will this ERP system add value to my company?" was a common line of inquiry from survey respondents, some of whom implied that there wouldn't be a second question if the first was not answered. "What value does your product provide in terms of differentiation from your competition?" makes it clear that the inquirer is not interesting in purchasing commodity-level value.
To link ERP more closely to supporting business success, a respondent suggested the following tack: "How will this [system] better enable me to execute my business strategy, while driving down my cost?" Another wanted a better sense of the development path the ERP system is on: "How does it meet current needs, and what is the roadmap for the future?"
Another type of value frequently cited by respondents was the ability to report and provide analytics for a variety of operational platforms. One summarized: "The ability to pull information out of the system and integrate it into other reporting tools is critical. If you can't easily pull information to make data-driven decisions, then your ERP selection process was flawed."
• Total cost of ownership. Determining TCO for a proposed ERP system was a recurring theme. Total cost of ownership for ERP systems can include cost of conversion, implementation, required customization, integration with peripheral systems, training, support, and maintenance, in addition to license costs.
Several respondents counseled skepticism regarding vendor-supplied TCO estimates. Three respondents suggested simply "multiplying your budget by three." As one might expect, there was no single question to get to a valid TCO estimate. "Take the time to drive into the details" was perhaps the best advice here, along with "perform due diligence at companies of similar size in similar industries."
• Flexibility. System flexibility was seen as essential by survey respondents; as businesses grow and evolve, so, too must the ERP systems that serve them. One finance executive summarized the big picture with this question: "When my business has grown threefold, fivefold, tenfold, will your system still be adequate?" Another addressed more evolutionary change: "My reporting needs will change; the way I want to look at my business will change. How flexible is your ERP system (G/L specifically) in responding to the changing needs of our organization?"
Figure 2 confirms the importance of ERP system flexibility. The 2015 survey asked which ERP system attribute is most important. "Scalability/adaptability to changing business profile" was the clear number-one choice, eclipsing "data processing and analysis."
Several respondents suggested a line of questioning about how customization during implementation might not be fully compatible with future versions of the software. One finance chief framed the question bluntly: "When do you plan to obsolete your software through upgrade or discontinuance of support?"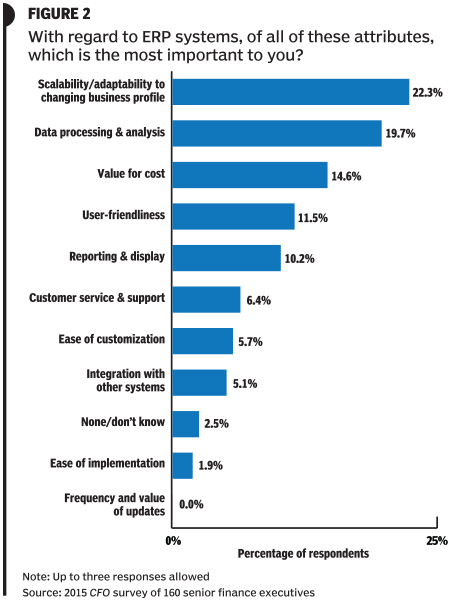 • References. Many respondents suggested that vendor-supplied references provide limited value. A survey respondent suggests the following question: "May we speak with both satisfied and dissatisfied clients about you and your system?" Another suggested asking for "your three best and your three worst clients" as references. A third respondent recommended that finance executives ignore vendor references entirely and instead ask current system users in their industry what their experience has been.
Evaluating ERP Vendors
Finance chiefs were asked what advice they would give to their peers who are evaluating ERP vendors. Responses focused on evaluators understanding their own business processes well enough to evaluate systems, the selection of a high-quality evaluation team, and ensuring meaningful demonstrations of ERP systems.
Several respondents suggested that ERP vendors will assert that their systems can seamlessly adapt to any process in any company. The only defense against such a statement is informed questioning. One respondent noted that "fully understanding your own business processes and procedures is crucial" to the understanding of whether a particular ERP system can replace, or integrate with, existing processes. Another went further: "Don't allow vendors to tell you how to run your business or persuade you to change your business processes."
The quality of the evaluation team was seen as critical by several respondents. One advised: "The team should be representative of a broad user base to provide understanding of critical needs." A second respondent warned that a weak evaluation team would undermine all the work that follows.
For the evaluation process itself, seeing should be believing. A respondent counseled: "Take the time to see real-life applications and [do] not depend on the demonstration. If possible, see the software in operation with your data." Another suggested that the evaluation team "review the interface with members of other departments to ensure that what appears user-friendly to you is also user-friendly to operations, sales, HR, etc." A third respondent advised: "Stop talking to salespeople. Talk to the people who do the implementation from each vendor, and see how easy it is for users to understand, customize, and report on the structure of each system."
Implementation Advice
The implementation process was noted by many survey respondents as the time when an ERP system can demonstrate its value or undermine its credibility. Finance chiefs were asked what advice they would give to their peers who are implementing an ERP system. Responses focused on set-up and customization, team selection, testing, and training.
Many agreed that set-up is essential to a successful implementation. "It's all about defining business processes, change management, and reporting, with strong project management," said one. "Have a core team of full-time employees (the best and brightest) implement." Another was more emphatic: "Invest your best people in the process."
Many respondents discouraged system customization, citing cost, complexity, and potential complications during future upgrades. A common theme was summarized by one: "Start with an out-of-the box installation and slowly move to customization after you are sure it is working."
Several respondents emphasized that system testing needs to be rigorous and real. One counseled: "Create a separate team just for testing, from each of the functions involved." Another added a simple word to the wise: "Make sure you can run your data in parallel with your existing system before cutting over."
Lastly, training was seen as an essential but underemphasized success factor in many implementations. One respondent advocated: "Train and then retrain after going live, and retrain every three to four months the first year." Otherwise, he warned, "people forget all the attributes that have been implemented."
Value-added resellers and consultants were seen as assets and liabilities. "Experienced consultants are worth their weight in gold," said one respondent. "Less experienced ones are useless." Another advised: "Ask exactly which people would be doing the installation and the customization. The extremely knowledgeable individuals you are so comfortable with may only be involved in the sales process."
In sum, all the advice provided by senior finance executives comes down to informed, consistent, high-level engagement in ERP system selection across the enterprise. The stakes are indeed high.
Chris Schmidt is a director, research, at CFO Research.