Thirty-seven percent of more than 5,000 respondents reported economic crime in their organizations, with the categories of bribery and corruption and cybercrime experiencing notable growth, according to PwC in its latest Global Economic Crime Survey.
Those reporting economic crimes represented a 3% increase on 2011, when PwC conducted its previous survey. Asset misappropriation, procurement fraud, bribery and corruption, and cybercrime were the four most reported of 14 economic crimes (see graphic at bottom of story).
"Economic crime remains a fundamental fact of life for every segment of the global business community — and is a persistent threat to business and business processes," PwC concluded.
The firm surveyed 5,128 respondents from 99 countries. Of that sample, 50 percent were senior executives, 35 percent represented listed companies and 54 percent represented organizations with more than 1,000 employees.
Bribery and corruption showed a relative increase of 13% in reported incidences since the 2011 survey. "While it is not the most common form of crime reported, of all the types of fraud covered in our survey, bribery and corruption may pose the greatest threat to global businesses because of the number of business processes it threatens," PwC said.
The report suggests that the increase in reported bribery and corruption is being driven in part by "the shift in wealth from the developed economies of the West to the emerging high-growth economies of the South and East — many of which may have different cultural attitudes toward fraud and corruption, fewer regulations, and less-consistent enforcement of those regulations."
As far as cybercrime, a category that was added to the survey in 2011, one in four respondents reported being victimized — with more than 11% of those suffering financial losses of more than $1 million.
"Even when organizations are generally aware of the types of cyber-threats they face, many do not truly understand the capabilities of cybercriminals, what they might target, and what the value of those targets might be," PwC warned, adding that "Ultimately, cybercrime is not strictly speaking a technology problem. It is a strategy problem, a human problem and a process problem."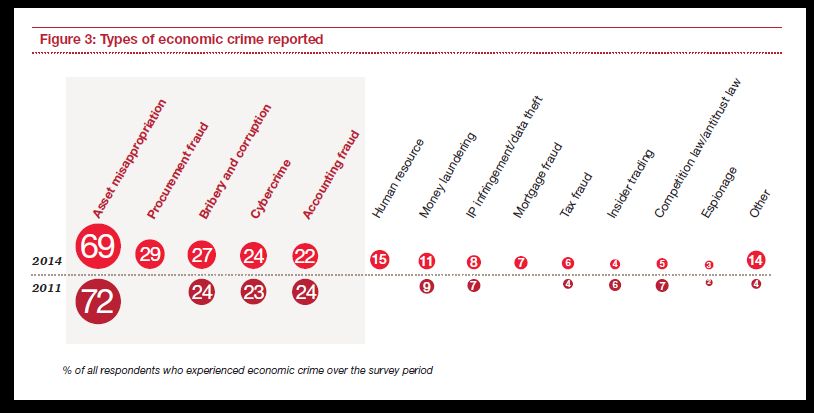 Source: PwC Global Economic Crime Survey 2014