Nokia is going out with a flourish. In Abu Dhabi on October 22, at its last launch party before the sale of its mobile-phone division to Microsoft, the Finnish company showed off its first tablet. Like Nokia's smartphones, the Lumia 2520 uses a version of the American firm's Windows operating system. New models of Microsoft's own Surface tablets, announced last month, went on sale the same day.
Microsoft and Nokia are aiming at the dearer end of the tablet market, which is dominated by Apple's iPad. Microsoft has already had a false start. In July it wrote off $900 million to reflect poor sales of the Surface RT. As if to remind Microsoft of what it is up against, a few hours after Nokia's launch Apple unveiled the iPad Air, which is thinner and lighter than its predecessors, and an upgraded iPad mini.
Just as remarkable as the iPad's success, however, is the proliferation of cheaper imitators. A mere three-and-a-half years after the first iPad was sold, the market for tablets already has a premium and a budget end, like that for cars. The cheap models, most of which have seven- or eight-inch screens against the standard iPad's ten, use Google's Android operating system (which is free) and are sold for as little as $100 or less. The least expensive iPad Air and the Lumia 2520 will be sold for $499 and Microsoft's Surface 2 for $449.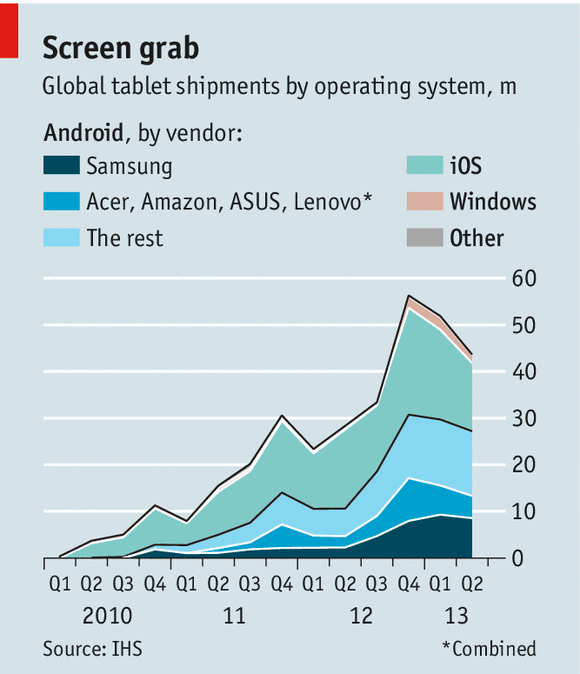 In the second quarter of this year, according to IHS, a research firm, 43.6 million tablets were shipped (see chart). Of those, 14.6 million were iPads, which use Apple's operating system for mobile devices, iOS. Only 1.7 million ran Windows. Almost all the others were Android machines. Some bear well-known brands. South Korea's Samsung had the biggest single share. Amazon, a giant online retailer whose tablets use a customised version of Android, Taiwan's Acer and ASUS, and China's Lenovo also had fair slices. But 13.9 million out of the 27.2 million Android tablets shipped were made by dozens upon dozens of others.
Entry at the bottom is as easy as it is hard at the top, with margins that reflect perfect competition rather than near-monopoly. Rhoda Alexander of IHS reckons that smaller manufacturers will "feel really flush" if they scrape a margin of $4 a unit.
Some sellers of cheap Androids in any case expect to make their money in other ways. Amazon makes little if anything from its tablets. Its aim is to sell stuff online. The same will surely apply to Tesco, Britain's largest supermarket chain, which recently started selling its own tablet, the Hudl, for £119 ($193) — or less if you use loyalty points. The Hudl is preloaded with Tesco's shopping apps and with blinkbox, its pay-as-you-go film-and-TV service.
Ben Wood of CCS Insight, another research firm, reckons that North America already has two tablets for every five people. Cheap devices, he thinks, are often bought for children who covet a parent's iPad. The two-car family took decades to arrive. The two-tablet family has taken three years.
© The Economist Newspaper Limited, London (October 26, 2013)