Chief financial officers in the United States are feeling wildly optimistic about the country's economic prospects, guardedly optimistic about their company's prospects, and not very optimistic at all—in fact, for the most part, downright pessimistic—about the prospects for their own career advancement.
Those are among the findings of the latest Duke University/CFO Magazine Global Business Outlook survey, which drew responses from nearly 1,000 senior finance executives worldwide. The quarterly survey, last conducted in December 2016, has been conducted for 83 quarters—making it the longest-running economic survey of its kind.
To put the findings in historical perspective, CFO optimism about the U.S. economy was off the charts. For the previous five quarters, the Duke University/CFO Optimism Index hovered around the long-term average of 60, as measured on a 100-point scale. This time, it weighed in at 66.5, up from 60 the preceding quarter and its highest level in more than a decade. As applied to executives' own companies, the optimism index registered a slight uptick to 67.4 from 65.3. Overall, the proportion of CFOs becoming more optimistic outweighed those becoming more pessimistic by 4 to 1.
But the overall mood shifted when respondents assessed their own likelihood of rising to become a CEO in the next five years. Around the globe, only about one in five CFOs believes that he or she will be promoted to chief executive officer in the next handful of years. Among U.S. CFOs, about 20% give themselves a greater than 40% chance of being a CEO within five years (see Figure 1). Among respondents from Africa, the number is slightly higher—27%—while just 15% of European and Canadian CFOs see the keys to a posh CEO washroom in their future.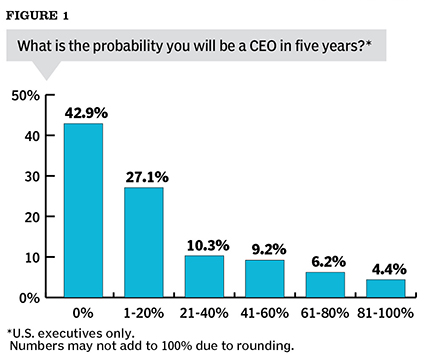 Of course, the duties of a CFO differ—sometimes markedly—from one country to the next. In some regions, based on job duties at a typical U.S. company, a CFO is more akin to a controller. But in the U.S., the CFO-to-CEO leap is not extraordinary. Such high-profile CEOs as PepsiCo's Indra Nooyi have successfully ascended to the top job; Nooyi's 2006 elevation came on the heels of her five-year stint as CFO. Former CFO Thomas B. Mangas, in another example, rose to become CEO of Starwood Hotels & Resorts.
Dennis Arriola, a former CFO who now serves as CEO of SoCalGas, the nation's largest distributor of natural gas, described the challenge in terms of taking very deliberate skill-gathering steps. "It becomes part of your career journey to collect the different tools you'll need," he told CFO in an interview. "I picked up what I needed to know—manufacturing, customers, regulation, international, and employees—here and there. I had broader experience than closing the books."
But knowing that others have mapped out the journey has not, apparently, given current finance executives overwhelming confidence that they can follow in those footsteps.
Staying Put-Upon
It's easy to conjure possible reasons why some CFOs don't consider themselves CEO material: They're risk-averse, not practiced at persuasion, and constrained by logical (rather than abstract) thinking. Simply put, they don't see themselves as enterprise leaders. Some may not even want all the responsibility and stress that comes with the CEO position.
And yet it stands to reason that CFOs have the knowledge base to become strong CEOs. After all, they typically have the most thorough understanding of the financial impact of any decisions, and they're skilled at nurturing relationships with other functions, from IT to HR. In fact, as some companies phase out the COO slot, CFOs' duties are expanding to include overseeing IT and HR, among other functions.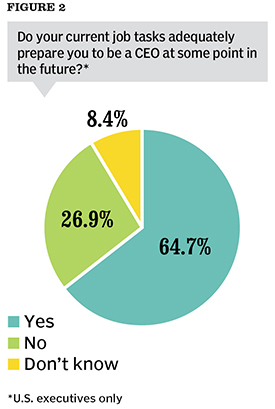 Paradoxically, such changes help them become better prepared for the top job even as they grow less expendable in the finance slot. While CFOs may no longer be focused solely on controlling costs and optimizing returns on capital, as they were while the economy was in the doldrums, many are now fully engaged in managing all the cheap debt their companies have issued in recent years. They're too busy scouting out growth opportunities and maximizing efficiencies to be moved from their current posts.
Among U.S. respondents to the survey, 39% say that increased indebtedness has put their industry at more financial risk than normal. Moreover, 64% report that high current debt burdens will restrict future investment. Over the past five years, the typical manufacturing firm has increased its debt-to-capital ratio to 25% from 18% and the typical energy firm has increased it to 30% from 18%, making the CFO's job that much harder.
Given the scope of the expanding challenges that CEOs now confront—global risks encompass such unexpected events as Brexit and U.S. trade protectionism—it's reasonable to ask what might be the best route for CFOs to take to reach their ultimate destination. Is there any way to be sufficiently prepared to take the boss's job?
The majority of finance chiefs who participated in the survey claim to know what it takes: Two-thirds of respondents say that their current job adequately prepares them to become CEO (see Figure 2, above). Given how much the finance function has evolved in recent years, with CFOs routinely contributing to strategic decision-making and demonstrating problem-solving ability, there's little question that finance leaders aren't the introverted number-crunchers they once were. In a turnaround situation, where the strategy depends on cutting costs or disposing of noncore assets, a CEO with a finance background might very well be just what the board of directors ordered.
And yet, when respondents were asked to name areas in which they felt they needed more exposure to become successful CEOs, they named quite a few: additional operational and product experience; leadership training; broad economic vision; and sales, marketing, and strategy experience.
Granted, there are always areas ripe for improvement. But the length and breadth of the list suggests that CFOs may feel discouraged that they can ever master enough skills to take on the top spot. Sure, they have expertise in areas ranging from risk management to sustainability reporting, and they've learned to meet the demands of new regulatory requirements and master enhanced information systems. But such activities can seem much less consequential than, say, continuously nurturing innovation, managing change, or leading a mobile and diverse workforce.
In an ever-changing economy that may be on the brink of radical change, who's to say what skills will matter most when it comes to increasing shareholder value over the long-term? Faced with so much uncertainty, perhaps CFOs have every right to feel like they'll never measure up.
Then again, maybe they should try to be more optimistic. After all, isn't that one of the traits of great CEOs?