With the U.S. presidential election fading in the rearview mirror, the country's CFOs are feeling upbeat about the economic road ahead. The latest Duke University/CFO Global Business Outlook survey, which drew responses from nearly 1,000 senior finance executives, found U.S. finance chiefs harboring high expectations for the regulatory and tax reform touted by President Donald Trump during his campaign. At the same time, many CFOs say that their companies will not take specific actions until the new administration's plans come into sharper focus.
In the fourth quarter of 2016 (the survey ended on December 2), the Duke University/CFO Global Business Outlook optimism index for the U.S. soared above 66, its highest level in more than a decade. For the preceding five quarters—characterized by a consistently chaotic presidential campaign—the index measuring economic optimism had lingered near the long-term average of 60 (out of 100).
U.S. CFOs were slightly more optimistic about their own companies' financial prospects in the year ahead. That optimism index rose to 67.4, registering a slight uptick from 65.3 in the previous quarter. Will the corporate tax rate really be reduced to 15%, as Trump has proposed? Which provisions of the Dodd-Frank Act will be repealed? As enthusiastic as CFOs may be about the installation of a pro-business commander-in-chief, in the absence of new policy few companies are tangibly changing their plans: Among survey-takers, 20% say that their hiring and spending plans have increased in anticipation of regulatory reform, and a lower proportion, 16%, say spending plans have increased to accommodate coming tax reform.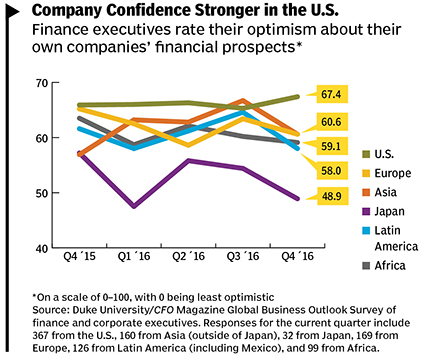 Interest rates are expected to continue rising throughout the coming year, with the Federal Reserve guiding toward three increases in 2017. While that might be expected to dampen optimism, senior finance executives have already factored those rate hikes into their expectations. In the survey, CFOs supporting the increases outnumber those opposed by a 2-to-1 margin. Given that the Fed has kept rates artificially low for a prolonged period—with nary a sign of inflation—CFOs don't expect the incremental raises to have a material impact on borrowing costs. Overall, U.S. CFOs say they anticipate their interest expense to increase by fewer than 50 basis points in 2017.
While largely unconcerned about interest rates, though, some CFOs are saddled by burdensome debt loads and won't have sufficient flexibility to increase spending. An economy that has exited the doldrums over the last five years, combined with a strong dollar and cheap oil, are among the reasons that U.S. manufacturing firms increased their borrowing as a percentage of assets by one-third—and two-thirds in the case of energy firms. More than 60% of companies in those industries say that high debt loads will now limit their future corporate investment.
Other Perspectives
The wave of optimism that washed over U.S. CFOs as a result of Donald Trump's ascendance to leader of the free world was not universally felt, the Duke/CFO survey found. Predictably, Mexico's optimism index dropped a sizable 16 points from the previous quarter, landing at 47.2. Canadian optimism fell one point, to 63.1.
In the wake of Europe's tumultuous year, that region's optimism index edged slightly upward, reaching 56.6. European CFOs' expectations for the coming year are subdued, with wages expected to grow by 1.2% (compared with 2% in the U.S.) and full-time employment by a lean 0.4% (2.2% in the U.S.). The top concerns of Europe's CFOs include economic uncertainty, government policies, and recruiting qualified employees. More than half of European CFOs say that business spending will be constrained by high corporate debt loads.
In Asia (except Japan), two-thirds of CFOs say that capital spending will be dampened by corporate debt, although spending will still rise by an average of about 3.2%. In Japan's contracting economy, where the index measuring own-company confidence toppled from 57.2 in the fourth quarter of 2015 to 48.9 last quarter, CFOs still expect capital spending to decrease.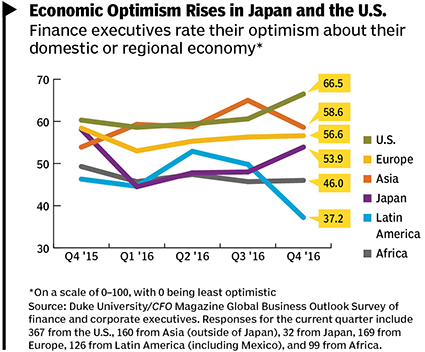 Overall, Asian economic optimism dropped to 58.6 during 2016's fourth quarter, down from 65 in the third quarter. The index ranged from 30 in Malaysia to 70 in China with other countries in between, such as India (52) and Singapore (45).
Wages are expected to rise nearly 6% across all of Asia, including 3% growth in Japan and 7.6% growth in China. With full-time employment expected to increase by 6%, it's perhaps not surprising that the top concerns among finance executives include difficulty attracting and retaining qualified employees. Among other top issues they cite are economic uncertainty, weak demand, government policies, and currency risk.
Causes for Concern
Many of those same issues resonated with CFOs in Africa—along with the volatility of political situations. That was especially true among finance executives in South Africa, where full-time employment is expected to fall over the next year. Optimism among African CFOs essentially held steady at 46, with capital spending slated to rise, on average, about 4.2% over the next 12 months, during which time wages are projected to increase 7% (less than 2% when accounting for core inflation).
Nearly 70% of African CFOs say that corporate indebtedness is leading to greater-than-normal financing risk in the corporate sector, with about three-fourths saying their companies will limit spending.
In Latin America, economic optimism crashed. The index fell to 37.2, toppling from 49.8 in the previous quarter. Within the region, some countries showed resilience (Brazil, at 57) while others held firm to their optimistic outlook (Peru, 71). Elsewhere in the region, the index remained below 50, including Ecuador (21), Chile (41), Colombia (47), and Mexico (also 47).
Economists forecast gross domestic product in Latin America to grow in 2017 after contracting in 2016, but they think the recovery from last year's economic performance (the worst since 2009) will be modest.
The investment outlook is decidedly mixed. Capital spending plans are up, on average, 3.3% across Latin America, with positive growth expected in all responding countries except Ecuador and Mexico. CFOs in Columbia and Peru project full-time employment will rise during 2017, while those in Brazil, Chile, Ecuador, and Mexico anticipate the numbers will move in the opposite direction.
And unfavorable macroeconomic forces aren't the only things that will limit growth in investment in Latin America in 2017. A majority—nearly 60%—of Latin American CFOs share the belief that a recent increase in borrowing has led to more financial risk than normal in the corporate sector and will stifle future business spending.