According to the most recent Duke University/CFO Magazine Global Business Outlook survey, nearly half (47%) of United States firms are pulling back on either hiring or spending plans due to political uncertainty, fueled by the upcoming election and continuing Washington dysfunction.
In the context of this political uncertainty, however, the survey's Optimism Index for the U.S. economy remained steady for this quarter. Financial executives rated the U.S. outlook at 59.4 (on a 0-100 scale), virtually unchanged from last quarter and approximately equal to the long-run average. (See Figure 1.) Top concerns in the U.S. remain economic uncertainty, difficulty finding qualified employees, regulatory requirements, and the cost of benefits.
Political Risk to the U.S. Economy
Nearly eight in ten (79%) U.S. executives in the survey believe that the United States economy faces moderate-to-large political risk (34% of survey respondents categorize the risk as large, while 45% categorize it as moderate). Political risk to the economy was found to be lower in Europe (64% reported moderate or large risk for their individual countries) and Asia (69% reported moderate or large risk in their countries). Executives in both Africa and Latin America saw much higher political risks from their countries' economies, with 90% of respondents in Latin America, and 93% of respondents in Africa, reporting moderate or large risk.
The greatest sources of U.S. political risk stem from the upcoming elections, Washington dysfunction, proposed regulations, and proposals to hike the minimum wage. (See Table 1.) At a point in the U.S. Presidential election cycle when gross uncertainty typically begins to diminish, the unique circumstances affecting both the Democrats and Republicans have enabled substantial uncertainty to persist, and even grow, both within and across party lines. This unique election cycle has also further applied the brakes to a legislative agenda that had heretofore shown scant forward motion. And CFOs are always wary of new government regulations (including changes to the minimum wage), fearing the business disruption, increased costs, and competitive disadvantages that can accompany new regulations.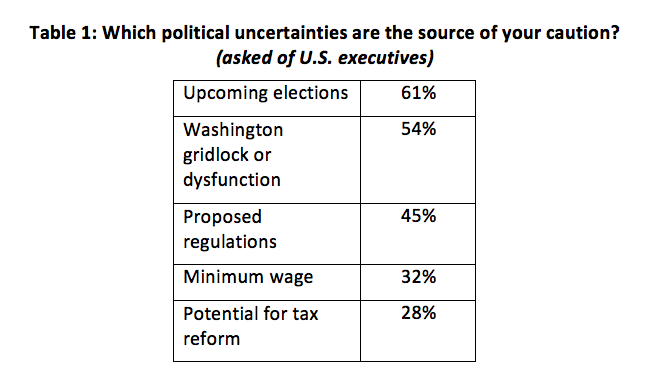 Faced with this political uncertainty, the executives responding to the survey indicated that they are delaying or scaling back business spending plans until the risk dissipates. Specifically, they say that political uncertainty has led their firms to be more cautious spending, making acquisitions, and hiring; each was cited by more than one-third of respondents. (See Figure 2.)
Outside the U.S., Looking In
Nearly four in ten (38%) U.S. executives believe that foreign companies are wary about doing business with U.S. companies due to U.S. political risks. This perception may be overly pessimistic—only about half as many executives outside of the U.S. agree that U.S. political risk is causing their firms to be wary of dealing with U.S. firms. This perception by U.S. executives, relative to their counterparts around the globe, may be contributing to this quarter's finding that U.S. capital spending will increase by only 1 percent over the next year, a level that trails the expected U.S. inflation rate.
Other countries' willingness to do business with U.S. companies is also directly related to the topic of international trade negotiations and deals, which are a focal point of both U.S. political campaigning and legislative debate. A majority (54%) of U.S. executives think cross-country trade deals are good for the U.S. economy; this is lower than the approximately two-thirds of executives outside the U.S. that favor such alliances. In sum, U.S. executives have a relatively dim view of dealings outside of their own country, compared to other countries' eagerness to do business with them.
While November Awaits
Elsewhere in the world, economic optimism in Europe increased to 55.3 this quarter, up from 53 last quarter. Top European concerns include economic uncertainty, regulatory requirements, government policies, weak demand, and employee morale. With 64% of European executives rating the political risk to their own country's economies as moderate or large, more than six in ten (62%) companies are holding off on spending or hiring in response.
In addition, in anticipation of the June 23 referendum on whether the United Kingdom should leave or remain in the European Union, European executives were asked their opinion of a potential "Brexit." The European leaders overwhelmingly came out against it, with nearly 80% believing that a Brexit would threaten the European Union and lead to similar referendums in other EU countries.
Asian optimism (excluding Japan) averaged 58.7 out of 100 this quarter, not much lower than the 59.3 registered last quarter. In Japan, however, economic optimism made a modest recovery to 47.8, following last quarter's dive to 44.5. Top concerns across Asia include economic uncertainty, weak demand, currency risk, government policies, and difficulty attracting and retaining qualified employees. With more than half (55%) of Asian executives rating political risk to their economies as moderate or large, an equal number (54%) of companies are holding off on spending or hiring in response.
African optimism inched up from 45.7 to 47.4 this quarter, but African executives are worried about economic uncertainty, currency risk, government policies, limited access to capital, inflation, and difficulty hiring skilled workers. With 93% of African executives rating political risk to their economies as moderate or large (the highest in the world), seven in ten (72%) companies also are being cautious about spending or hiring in response.
Latin American economic optimism leapt upward to 52.9 from last quarter's 44.6, as political uncertainties preceding the last survey have been settled in at least some of the countries in the region. Optimism increased in Brazil, Chile, and Ecuador into the mid-40s, and remained much stronger in Mexico (65) and Peru (68.1). However, nine in ten (90%) Latin American executives still rate political risk as moderate or large. The effect is largest in Brazil and Chile, where 90% of CFOs say their companies are holding off on hiring or spending due to political uncertainty. For example, in Chile proposed labor and constitutional reforms have impacted the business outlook, with 95 percent of CFOs saying the proposed reforms have reduced optimism about the Chile's economic outlook, and about 80 percent of firms saying these proposals have led them to reduce spending or hiring plans.
Full survey results can be found at www.cfosurvey.org.
About the survey: This is the 81st consecutive quarter the Duke University/CFO Global Business Outlook survey has been conducted. The survey generated responses from more than 1,200 CFOs.