The United Kingdom-based sandwich shop Pret A Manger has been bought for $2 billion from investors led by the private equity firm Bridgepoint.
The buyer is JAB Holdings, an investment fund of Germany's Reimann family, which also owns Krispy Kreme. The deal is seen as part of a push by JAB to compete with Nestlé in the coffee sector.
Nestlé recently signed a $7.15 billion licensing deal with Starbucks.
"All of us at Pret believe JAB will be excellent long-term strategic owners," Pret Chief Executive Clive Schlee said. "JAB believes in Pret's values and supports our growth plans. I am really looking forward to this next chapter of Pret's story."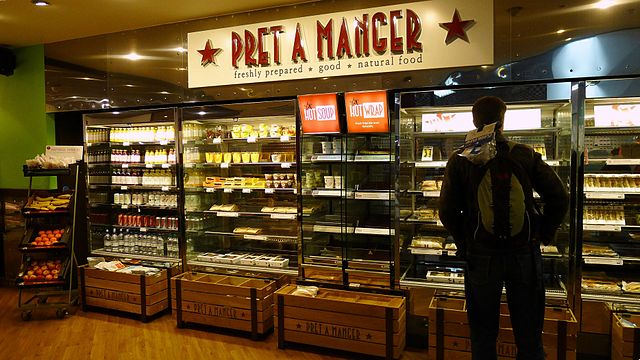 JAB has accumulated what is reportedly the world's second-largest coffee business in the last five years, with controlling stakes in Peet's and Espresso House as well as Kenco and Douwe Egberts. It also owns bakery chains Au Bon Pain and Panera Bread.
Schlee said Pret staff would get a bonus of £1,000 (about $1,300) when the deal is completed.
Olivier Goudet, the chief executive of JAB, said: "We're very excited to partner with Pret and its talented team to continue their extraordinary growth story. Management's proven track record and commitment to customer service, investment in innovation, and approach to freshly prepared food position Pret well as it capitalizes on evolving consumer taste and lifestyle preferences."
Pret operates 530 stores worldwide. It was started in London in 1986 by Julian Metcalfe and Sinclair Beecham, who are exiting the investment after 32 years. The company had revenue of about $1.16 billion last year. Bridgepoint bought the Pret chain in 2008.
The deal is expected to close this summer.
"The £1,000 bonus will be paid to all employees who are on the payroll during the week the deal completes," Schlee said. "It's serendipity for those who have just joined."
Photo: Zhangyang, via Wikimedia Commons, CC BY-SA 3.0