True Religion Brand Jeans has filed for bankruptcy protection, the company announced Wednesday. Its owner, private equity firm TowerBrook Capital Partners, said it has reached an agreement with lenders that would reduce the company's debt by $350 million.
"After a careful review, we are taking an important step to reduce our debt, reinvigorate True Religion's iconic brand, and position the company for future growth and success," said CEO John Ermatinger. He said the restructuring deal will allow True Religion to keep its doors open while expanding its digital presence. The company also plans to use U.S. bankruptcy laws to close or consolidate underperforming stores and, where possible, renegotiate leases with landlords.
The announcement comes amid a string of bad news from Southern California clothing sellers as changes in consumer habits reshape the retail marketplace, MarketWatch reported. Fitch Ratings, in April, warned that eight retailers, including True Religion, were at significant risk of default in the next twelve months.
The Fitch report said True Religion faced pressure from increased competition from discounter, fast fashion, and online retailers, as well as "the ebb and flow of brand popularity." Overall, the market for denim in the U.S. last year was $13.5 billion, up 4%.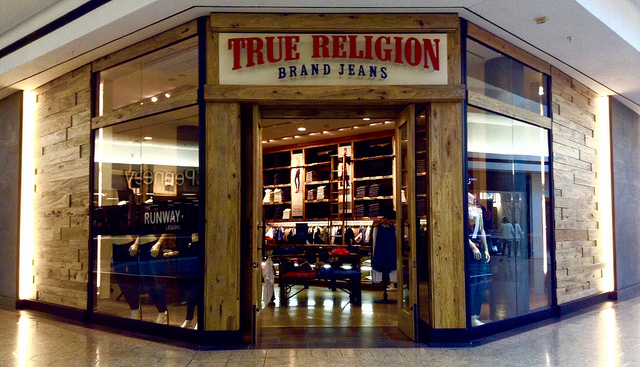 In its announcement, True Religion said that through May it had year-to-date adjusted EBITDA of $7.1 million, up 95% compared with last year. However, in January, an analyst from Moody's estimated the company's EBITDA had fallen 62.5% for the year ending in October 2016.
True Religion was acquired by TowerBrook for $835 million in 2013, when it had EBITDA of $93 million, according to TheStreet.com.
The company expected confirmation of its pre-arranged plan by the bankruptcy court. It said the plan included full payment of claims to the group's trade creditors, including vendors, suppliers, and landlords.
Citizens Bank is providing debtor-in-possession financing. After it de-levers, the company said it would have sufficient exit funding, also from Citizens Bank.
Photo: Mike Mozart, via Flickr, CC BY 2.0