Ann Anthony, vice president and treasurer of South Jersey Industries, is fortunate in that, like most oil and gas utilities, hers is a heavy consumer of capital. In other words, it regularly draws on its line of credit. "The banks tend to like it, they want to put capital to work. With some of the new regulations, they are penalized if they have commitments that are not drawn on," she says.
Although South Jersey Industries' banks are willing to accommodate it with their balance sheets, they are "very vocal" about the need to be compensated for the service. "That's nothing new, but the time to develop a relationship with a new bank is compressed," Anthony explains.
Banks have always expected business in return for credit, but now when new banks agree to participate in South Jersey's $400 million revolver, they want to know immediately which fee-based business they will get, at what price, and when, says Anthony.
Welcome to the undisrupted area of financial services: the relationship between large U.S. corporations and their key banking partners. While fintech startups and swiftly moving online purveyors of credit threaten other areas of banking, commercial banks and corporate clients "continue to dance around each other to find the right mix of risk, reward, and services," says Bruce Lynn, managing partner at The Financial Executives Consulting Group.
That's mostly because financial institutions still have something corporations want: funds in the form of large loans. Key debt and leverage levels among U.S. corporate entities are at record highs, according to an August report from S&P, with aggregate debt levels exceeding those just prior to the financial crisis. Companies have levered up considerably to fund stock buybacks, dividends, and acquisitions.
But ultra-low interest rates, along with other factors, are complicating banking relationships because they make lending to corporations unprofitable. And new regulatory limits that require banks to hold more capital against loan assets increase banks' costs of providing such credit. (See box, "Banks' Balance Sheet Constraints.")
So banks demand ancillary, fee-based businesses, like cash management, debt capital markets, and derivatives, in exchange for credit facility participation. If a bank can't earn an appropriate risk-adjusted return on capital from a business customer, it makes little sense to retain that customer.
"If the banks are actually providing you with credit, it's a money-losing proposition," says Nadeem Ali, former treasurer of Greif, a $4 billion in revenue industrial packaging company. "[Ancillary businesses are the only] way they can justify a long-term relationship."
Banks' Vagaries
How do treasurers handle this? Carefully. Sam Pallotta, vice president and treasurer of Rockefeller Group International, says that "now we almost cater as much to the lender as the lenders cater to us."

Rockefeller Group knows it has something to offer banks: in a regulatory regime in which non-operating deposits are unattractive to financial institutions, banks are very interested in the company's excess cash. "Our deposits tend to be stable," Pallotta says. The real estate development and investment company has "a lot of money set aside for future funding needs and the deposits are not 'high velocity,' so they are very valuable to lenders." He adds, "Our banks have been signaling to us that they appreciate the business, and we always have people looking to get that business."
But Pallotta is under no illusion that all of his banks will be with him through thick and thin. He is very cognizant of having to protect against banks that "might not be open to extensions and increases in [credit] lines at the point in time [when the company] needs them."
In the wake of stricter regulations, Pallotta feels U.S. banks will be "in and out of markets" and "their interest level will wane" due to their own portfolio constraints, appetite or distaste for specific property types, or "feeling of being over-allocated" in a specific area. As a result, Pallotta says he needs to maintain twice as many bank relationships as in the past, even though he only needs a handful of banks in his credit line.
"In the past, I could have said I was working with just the big three banks," he says. "Now I have to delve into mid-tier organizations, work with global institutions, and work with insurance companies so I can be assured of my financing when I need it."
The Bundling Problem
The process of rewarding banks that provide credit is strewn with landmines. Anthony of South Jersey Industries finds the need to commit to business upfront equivalent to speed dating. "Having to promise the business when the bank walks in the door without having the opportunity to fully vet the bank's capabilities is challenging," she says. The awarding of business often calls for a full-blown request-for-proposal process and "getting down and dirty in the weeds with the product specialists," Anthony adds. "I can't do that with the relationship manager." In addition, the borrower and lender "don't get an opportunity to get to know one another and each other's strengths and weaknesses," she says.
Eric Ball, who was senior vice president and treasurer of Oracle for 11 years, saw the same thing happening before he left the software giant in 2015. Banks used to participate in credit facilities just on the hope of getting an audience for the lucrative pieces of the business, Ball says. "I think now credit has become even more of a loss leader for the banks, so they don't want just a vague promise or a 'we'll keep you in the mix.' They want more assurance than that."
Ball, now a venture capitalist, says the issue is the pricing of credit facilities. "The pricing is arbitrary and varies from year to year, and in many years the upfront fee that corporates pay to banks has been pretty low," says Ball. "The banks argue it's underpriced. … The idea is that if you are going to buy the underpriced product—credit—the bank will only sell it to you if you give them a crack at an overpriced [or more profitable] product."
What that does is force the treasurer to bundle services in a way that's "inefficient and frustrating," says Ball. "As a customer, you never want to bundle, you want to pick the best provider for each single product."
With some products, treasurers do try to stick to a best-of-breed approach. "If you're picking a cash management bank, you have to know who has the boots on the ground in the country you're dealing with, and little else matters," says Ball. But for banking products that are, in essence, commodities—like FX hedging and stock buybacks—treasurers often rotate the business among credit providers.
At Oracle, Ball had a carrot to dangle in front of bankers: the company was regularly issuing a few billion dollars of bonds at a time, and the fees for bond book running were in the tens of millions of dollars. Even more important for the banks, whether or not a bank was in on Oracle's deals could affect league table rankings. "[In some years,] it would be really hard to be on top of the tables if you weren't part of Oracle's deal," he says.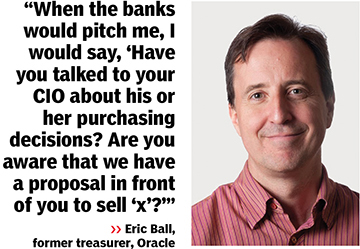 Rotating each of Oracle's banks into the book-running role was no easy task. "I used to tell them, 'We have 10 banks and we have 3 book runners, so you can expect that every 2 or 3 years your odds of getting a book runner deal will be pretty good," Ball says. But even that wasn't enough for some bankers. Since bankers are awarded bonuses on a yearly basis, "I'd have bankers call me and say 'I have to get this piece of business or I am going to lose my job,' and I'd say, 'We just hit you last year," says Ball. "Then they would lose their jobs."
Ali, former treasurer of Greif, adds, "It's challenging to figure out how to divide the pie, because there are often too many mouths to be fed."
A Quid Pro Quo
There's another factor that requires careful choreography: the increasing focus by the borrower's upper management on which banks are the strongest customers for the borrower. "The weighting of how much product the bank itself is buying [from the borrower] is increasingly important," says Ball, and the push to include it as a factor began three years after the credit crisis. "When the banks would pitch me, I would say, 'Have you talked to your CIO about his or her purchasing decisions? Are you aware that we have a proposal in front of you to sell 'x'?'"
While a bilateral relationship gives the borrower some leverage, taking that stance requires tighter coordination between the treasurer, as the customer of the bank, and whoever is in charge of selling to the banks. And to some degree it takes the job of choosing the bank out of the treasurer's hands.
"Now you have introduced decision makers outside of treasury," Ball explains, which can be frustrating to some treasurers. "Before you award a piece of business, the CFO or CEO now asks, 'How much product have they bought in the last year and what might they be buying next quarter?'" But Ball calls it "incredibly liberating, because you are in the loop on the sales cycle, and you may be able to say 'I played a role in closing that contract,' and that can be very rewarding."
Mutual Satisfaction
While having to parcel out business to lenders can be irritating, many treasurers have settled into the notion that the best approach is to make the relationship work for both lender and borrower.
"For me, it's about an open dialogue and a willingness to work together," says Rockefeller Group's Pallotta. "The strongest bank relationships we have are with people who are patient and who realize we only have so much volume to allocate." A bank that has established a rapport with Rockefeller Group is much more likely to get a friendly answer when it calls to say it needs a wider spread on a deal or needs a bit more recourse on a loan, Pallotta says.
Even on pricing of products and services, companies may have to be willing to bend a little. "Everyone has to be comfortable with the terms," says Anthony. "I never want to squeeze that last half cent out of you—you need to be profitable to give me good service."
Even though banks can be demanding when it comes time to negotiate a line of credit, Anthony agrees the deals have to work for both parties. "Let's face it, there will be times when you need a favor, when things are not going the way you expected, and you have to be able to call someone [at the bank] and say 'I really need you to do x, y, or z for me,"' she says. "And if you have that longstanding relationship cultivated over time, you're more likely to get a positive response."
---
Banks' Balance Sheet Constraints
The following banking regulatory requirements contribute to making corporate credit lines less profitable and some deposits less attractive to U.S. financial institutions.
Liquidity Coverage Ratio
Requires large banking organizations to hold a minimum amount of high-quality liquid assets (HQLA) that can be readily converted into cash during a 30-day period of financial stress. HQLAs include cash, Treasury bonds, corporate debt, and some municipal securities.
Net Stable Funding Ratio
Measures the amount of longer-term, stable sources of funding employed by an institution relative to the liquidity profiles of the assets funded. Stable funding sources include customer deposits and long-term wholesale funding. The ratio also measures the potential for contingent calls on funding liquidity arising from off-balance sheet commitments and obligations. This ratio is designed to cut down on the use of short-term wholesale funding.
Tier I Leverage Ratio
Measures how leveraged a bank is in relation to its consolidated assets. The ratio counts banks' off-balance-sheet exposures, like loan commitments, standby letters of credit, acceptances, and trade letters of credit. Bank holding companies in the United States with more than $700 billion in consolidated total assets must have a Tier I leverage ratio of 5% by January 1, 2018.
Common Equity Tier I Capital Ratio
Measures a bank's core equity capital compared with its total risk-weighted assets. Shows how well a bank can withstand financial stress and remain solvent. This ratio includes common stock, retained earnings, and other comprehensive income, but excludes all kinds of preferred stock and non-controlling interests.
Sources: Investopedia, U.S. Federal Reserve System