Would a rational person have made a $62 billion bid to buy Monsanto, the genetically modified seeds company, in the current climate for acquisitions?
Werner Baumann, former finance chief of aspirin maker Bayer AG and now the company's chief executive, did in May. Cue the criticism: Monsanto has called the $62 billion offer "incomplete and financially inadequate." The deal, which would be the largest thus far in 2016, faces a host of regulatory challenges, as it consolidates power over the farming supply chain. "Arrogant empire building," an analyst called it. And Monsanto protesters, who regularly take to the streets, are highly motivated to stop the transaction, including in Bayer's home country of Germany, where the public is generally opposed to GM crops.
Amid the hubbub, Baumann told a German magazine, "Our planned takeover of Monsanto will be a marathon rather than a sprint." That statement, more than any other, typifies the task of getting a large acquisition to the finish line in 2016.

More than $300 billion worth of deals involving at least one U.S. company have been squashed, withdrawn, or dropped after a government lawsuit this year (see "Failure to Complete," below). That's about three months' worth of U.S. merger and acquisition deal activity by this year's pacing. The cost of not completing a transaction can be steep: Halliburton paid a $3.5 billion break-up fee to Baker Hughes after the Justice Department sued to block their $28 billion merger.
Due to some government wins in high-profile proposed mergers, "the risk profile is up for companies," says Jon Dubrow, a partner at McDermott Will & Emery. "I don't think there's been much of a change in the government's [antitrust] standards, but companies have brought some pretty aggressive transactions before them," he says. "If the government has felt it needed to litigate in order to protect competition, it has been willing to do so."
Government challenges and other factors, including a dislocation in the first-quarter debt markets, have also ratcheted up deal risk. The result? M&A volumes and aggregate deal values have plummeted: at the end of April, the dollar value of deals in 2016 was down 30% and the number of deals was off 11% from a year ago, according to FactSet.
North America had been on a great run, with four quarters of 10% or more year-over-year deal growth in 2015, "but what we are starting to see is the effects of a not overly strong global economy and weak U.S. earnings," says Matt Porzio, vice president of strategy of Intralinks, a virtual data room provider. "Then you layer on the natural M&A cycle—a lot of the good ideas have been done, and valuations are extremely high."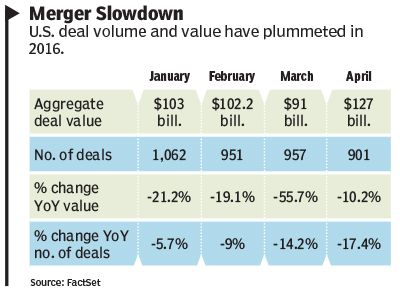 The Intralinks Deal Flow Predictor, an independently verified forecast of M&A activity, shows that in Q3 2016 North America M&A announcements will be down 9% year over year (Intralinks measures the activity in its data rooms to generate the forecast). Porzio calls it a more "normalized, sustainable" level of M&A activity after the trillions' worth of takeovers last year.
Will mergers and acquisitions be as few and far between as Intralinks predicts? Some experts say conditions are still ripe for plenty of takeovers, buyouts, and tie-ups.
"There is a supportive shareholder investor base for corporates to go out and do deals," says Stephen Wilkinson, global head of M&A at law firm Herbert Smith Freehills. "Shareholders aren't as they were five years following the crash, clamoring for their money back. They are struggling to know what to do with it if they do get it back, so they are supportive of companies making sensible acquisitions and divesting noncore businesses to focus on their core assets."
A Lack of Trust
It won't be easy for potential buyers like Bayer, however. Regulators are taking a magnifying glass to mergers that in any way could reduce competition. U.S. government agencies are trying to get bigger budgets because the number of large, complicated deals is up significantly. In the government's fiscal year 2015, companies proposed 67 mergers worth more than $10 billion, double the volume of 2014, according to congressional testimony from Bill Baer, U.S. assistant attorney general for antitrust.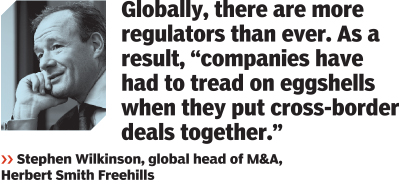 "More resources would make the agencies a bit more aggressive, because if you're resource limited, you're just throwing your people at the biggest problems," says Dubrow of McDermott Will & Emery. "But if you have more people, some of things on the margins that get a pass might get a longer look."
Globally, there are more regulators than ever, notes Wilkinson. As a result, "companies have had to tread on eggshells when they put cross-border deals together," he says.
The European Competition Commissioner, for example, in April blocked CK Hutchison Holdings from buying O2 UK from Spain's Telefonica.
Attorneys agree that in both Europe and the United States the stance on antitrust issues has not changed. But there is one element of U.S. antitrust laws that has been tripping up more deals of late, says Dubrow, and it involves the issue of "price discrimination."
The Federal Trade Commission has succeeded in getting entire deals thrown out based on anticompetitive effects in only a small subset of the buyers' and sellers' overlapping sales channels. So, for example, the Staples–Office Depot merger, blocked by a federal judge in May, was shown to be harmful because it lessened competition in the "sales of office products to very large corporate customers," just one of either company's distribution methods.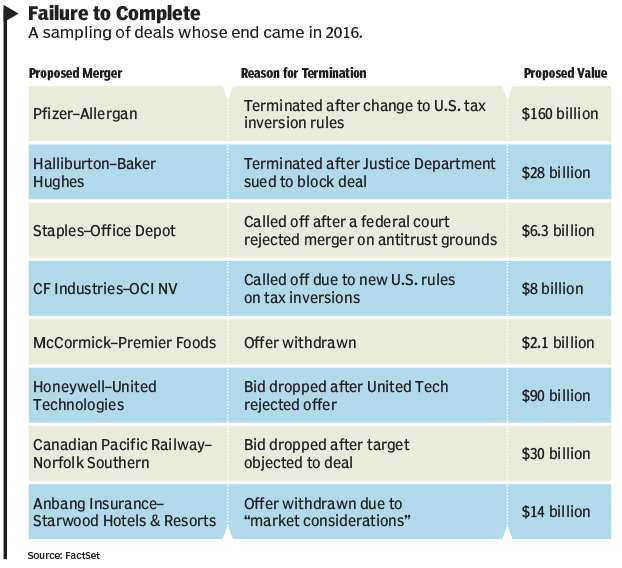 "This can make a deal harder to get through—you can have a transaction that doesn't create issues for the vast bulk of customers, but if there is a group of customers that are uniquely impacted by a transaction, that can result in the overall deal being challenged, and courts are agreeing with the government in some of those cases," says Dubrow.
"It might be counterintuitive to people in the C-suite, but if you can't fix it, that little issue can hang up your whole deal," he says.
While the government has challenged only a handful of high-profile deals in court, the unknown factor is whether there is an effect "on companies not trying something, not going forward with a deal if there is a risk it won't pass muster with antitrust authorities," says David Gibbons, global head of the corporate practice at Hogan Lovells.
Deeper Diligence
Besides increased government scrutiny of deals here and abroad, the very nature of how deals are done is changing, with strategic buyers in particular. "Strategic buyers have more discipline now," says Chris Nemeth, co-leader of M&A services at Crowe Horwath. They've woken up to the fact that they have to "integrate and run and grow" the target businesses. "Running through the financials, coming up with a price, and papering the deal is not enough anymore; when you're buying a company you are paying a premium, so you have to do something with it," says Nemeth.
The due diligence process used to be a financial and legal exercise, but now clients are taking a more multifunctional approach, says Nemeth, asking Crowe Horwath to provide due diligence around the target's information technology, human resources, and operations.
Porzio of Intralinks doesn't see deals dying in the diligence phase currently, but he says there are more deals that are taking longer in the process.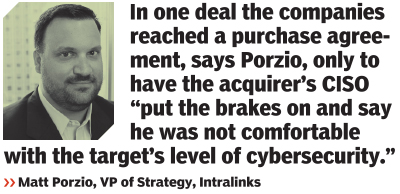 "When I was a banker you could get through diligence and sell a company if you could get people to agree on the numbers and the culture fit, and management answered a few questions," Porzio says. "Now all of a sudden a guy like a chief information security officer has a pretty vocal seat at the table. Some of these deals, especially involving companies that handle consumer data or operate in the health care industry, are slowing down so management can get comfortable that they are not buying a time bomb."
In one midmarket deal Porzio witnessed, the companies reached a sales purchase agreement only to have the CISO of the acquirer "put the brakes on and say he was not comfortable that the target's level of cybersecurity was at the buyer's level. He told the board that he needed to go in and do an assessment and hire a consultancy to do an audit, as well as buy cyber-insurance if the deal did move forward."
Boards of directors and other stakeholders also continue to ask of a lot of questions of management around doing deals, says Neil Dhar, U.S. capital markets leader at PwC. "We see a lot of buyers doing commercial due diligence—market sizing and growth potential," he says. In addition, "in relation to the promises the buyer is making to Wall Street around synergies and value capture, there is a lot of emphasis on building robust processes so that management can track and communicate the progress to key stakeholders."
Facilitating all that, of course, is the ability to dig into businesses through data analysis tools, Dhar says. "Buyers are able to do much more comprehensive reviews of businesses—profitability metrics, market sizing, comparison to peers."
And, perhaps counterintuitively, the deeper due diligence is not only happening with very large deals. "In some ways the big deals are more structured," explains Nemeth. "In the middle market so much of the target's story isn't really captured in the org chart—who really has the key relationships? Who makes the decisions? What does success really hinge on? It's not easy for a buyer to figure that out."
Feeding the Fire
If there's anything that does pour some fuel on M&A deal making in the second half of 2016, it will be the pressures faced by executive management.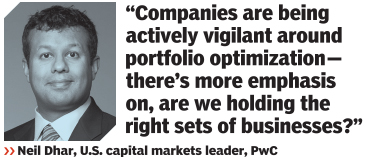 Despite the relatively slow start to 2016, the conditions for M&A are still favorable, say experts. "There's this overwhelming inexorable hunger for growth both driven internally by executives trying to hit their bonus numbers, but also externally in terms of shareholders," says Crowe Horwath's Nemeth. "And the increase in activist shareholders really lights a fire under the seats of a lot of these deal people."
One behavior that activism tends to drive is the habit of management and boards to continually ask whether they are the best owners of a given business, says Dhar of PwC. "Companies are being actively vigilant around portfolio optimization—there's more emphasis on, are we holding the right sets of businesses?" he says.
What that does is put more individual assets on the selling block. "We will also see big megadeals close and certain assets will fall from the tree as [companies] combine, for regulatory purposes or noncore purposes," says Dhar. "Private equity will look to purchase those businesses." Some of those assets will be small, however, as will be the assets that older companies acquire to protect their markets from disruptive technology upstarts.
The other pressure faced by companies is just to earn a decent return on their capital. Says Drew Spitzer, a managing director at Harris Williams: "We have a very low interest-rate environment and very attractive financing terms, cash on strategic [buyers'] balance sheets, and slower organic earnings growth. … Buyers are making a decision that deploying the cash in the value and fashion that they are has a better return on investment than the alternatives."
Finally, at this point, neither the market for financings nor the price of assets looks to be deterring acquirers.
"Leverage multiples are probably not where they were at their peak, but they are not far off," says Spitzer. "The actual rates you are paying for financing a leveraged buyout are higher than there were at this time last year, but they've tightened significantly since the March time frame."
On the price issue, the median premium paid for U.S. acquisitions was 33.8% from February through April, according to FactSet. Bayer's initial offer to Monsanto represented a 37% premium. By comparison, median premiums hit nearly 50% in the third quarter of 2015.
"EBITDA multiples are still pricey in a historical context, but they are [smaller] than they were a year ago," says Rich Jeanneret, Americas vice chair at EY. "And with capital inexpensive, you can drive a pretty good return with the current cost of capital. Buyers and sellers are more in alignment than they were."
Where does that leave the second-half forecast? "We will not see the level of volume from last year," says Dhar, "but especially if there is a financing market, I think you will continue to see deals go on at a steady click."
For sellers, it's still a good time to be out in the market, says Intralinks' Porzio. "Companies are not forgoing inorganic M&A growth strategies, and some are doubling down as others shy away," he says. For rational C-suite executives and boards, M&A may be more arduous than ever, but it's still a viable option.
Vincent Ryan is Editor-in-Chief, Digital Content, at CFO.
---
Where the Big Deals Are

Large combinations are fewer and farther between in 2016.
Last year's record-setting M&A market was driven by a proliferation of megadeals, those valued north of $10 billion. While regulators and the market have scuppered many mergers and acquisitions so far in 2016, plenty of large deals have been attempted.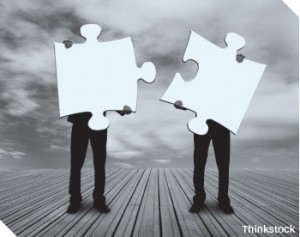 In one of the largest, Johnson Controls bought Tyco International for $29.4 billion in January. (FactSet provided the values for the deals discussed here.) The combined firm will maintain Tyco's Irish legal domicile, but will be 56% owned by Johnson Controls' shareholders. Despite the tax-inversion component, experts predict the merger will pass regulatory muster.
In mid-June, Microsoft gobbled up LinkedIn in a $26.2 billion, all-cash deal. Microsoft hopes to tie together Linked-In's platform with its Microsoft Office product set, expanding the market for both.
Apollo Global Management acquired home security giant ADT in a leveraged buyout and merged ADT with Protection 1, in a deal valued at $12.3 billion. ADT was spun off from fire safety and security systems maker Tyco in 2012.
In an all-cash deal, Sherwin Williams acquired rival paint maker Valspar for $10.8 billion. The deal will give Sherwin-Williams a platform to grow in Asia-Pacific and EMEA, and the combined company would have pro forma 2015 revenue of $15.6 billion and 58,000 employees.
Abbott Laboratories bought St. Jude Medical for $25 billion in one of the year's biggest deals. With combined annual sales of approximately $8.7 billion, Abbott's cardiovascular business and St. Jude Medical will hold the number one or two positions in many cardiovascular device markets.
There have been several smaller but still substantial transactions so far in 2016. For example, U.S.-based IHS agreed to acquire Markit for $6.2 billion in a combination of business data providers. Markit provides pricing and reference data to the securities industry; HIS' business units include Jane's Defence Weekly and technology industry research firm iSuppli. The deal was the largest in a string of acquisitions for IHS, which included purchases of Oil Price Information Service and Carproof, a Canada-based vehicle data provider.
Dominion Resources, the owner of Virginia's largest utility, bought Utah natural gas provider Questar in a transaction valued at $6 billion. Dominion inherits Questar's 1 million residential and commercial customers and will assume about $1.6 billion of the company's debt.
Finally, Chinese aviation and shipping conglomerate HNA Group is buying electronics distributor Ingram Micro for about $6 billion, one of a string of overseas deals by Chinese companies thus far in 2016. — V.R.