Apple's Tim Cook speaks of mobile payment adoption as if the market is exploding. On the tech giant's second-quarter earnings call, the Apple CEO said Apple Pay transactions were up 5x compared with one year ago and the service was gaining one million users per week. In addition, he said, more than 10 million locations in various parts of the globe now have the contactless payment technology that Apple Pay uses.
That's all well and good, but the mobile payment industry is really still in its infancy.
To understand how far mobile payments have to go, you have to ask consumers about how they are paying for goods and services.
How and how often are consumers using mobile payments? The Federal Reserve Board of Governors' March 2016 study of mobile financial services dug deep into the question. The results of the study, "Consumers and Mobile Financial Services 2016," paint a picture of a market that is still working out its issues: in no way, shape, or form is paying for goods by mobile phone becoming mainstream consumer behavior.
The survey defined mobile payments as "purchases, bill payments, charitable donations, payments to another person, or any other payments made using a mobile phone. This includes using [a] phone to pay for something in a store as well as payments made through an app, mobile web browser, or text message."
Mobile payments continue to be less common than mobile banking — more consumers are checking their bank account balances and paying utility bills online, for example, than paying for their Starbucks coffee with their phones. But there were some positive signs for mobile payments adoption: For example, 24% of all mobile phone owners reported having made a mobile payment in the 12 months prior to the March 2016 survey, up from 20% in 2015.
In addition, of current mobile payments users, 10% had started using mobile payments in the six months prior to the survey, and 20% said they had started using mobile payments in the prior one to two years. Younger individuals are adopting mobile payments faster. Of those with a mobile phone ages 18 to 29, 30% had made a mobile payment. Of those ages 30 to 44, 32% had done so.
What kind of mobile payment activities are popular? Among mobile payment users with smartphones, the most common type of mobile payment was bill payment through a mobile phone web browser or app (65%). That was followed in frequency by purchasing a physical item or digital content remotely using a mobile phone (42%), and paying for something in a store using a mobile phone (33%).
Here is a full breakdown of some of the payment tasks smartphone users said they have tried: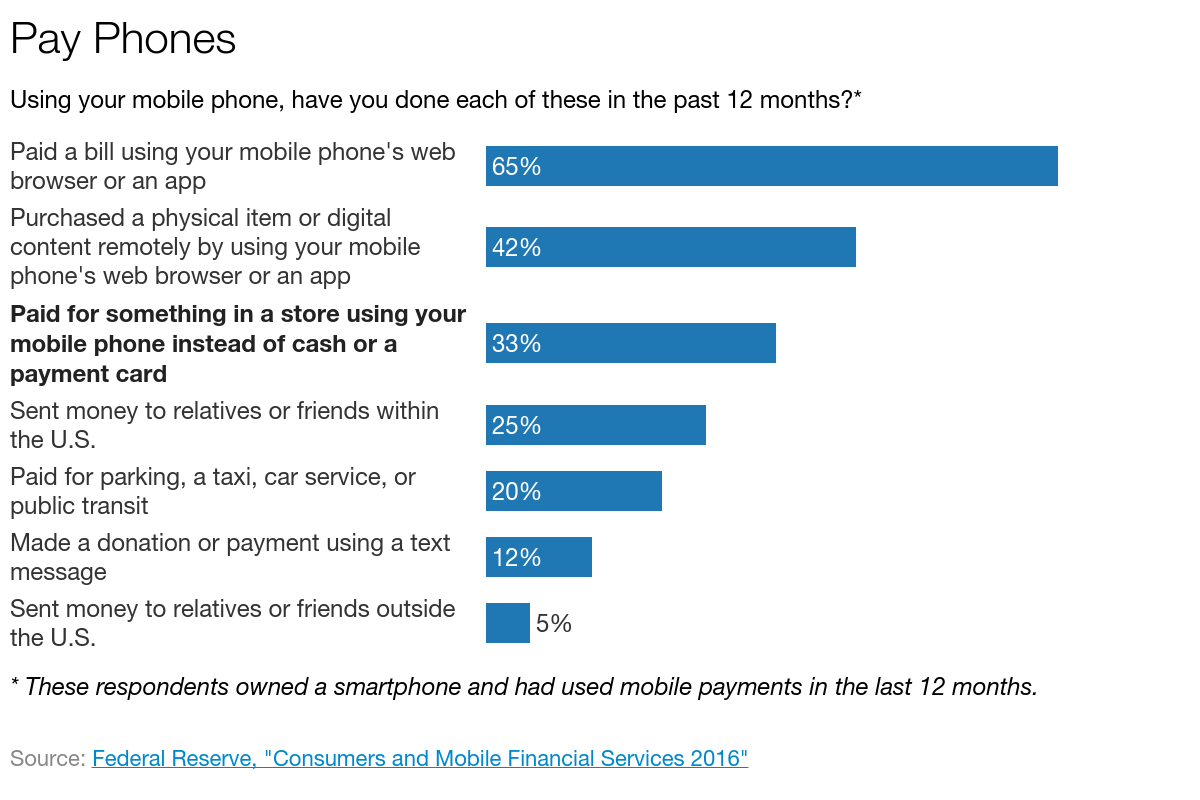 Sending money to another person using a mobile phone (25%) and paying for parking, a taxi, or public transit using a mobile phone (20%) were less common activities but the percentages were slightly higher than one year ago.
Paying for a retail product at the point of sale (POS) was, as in prior surveys, still less common than paying a bill or buying digital content or goods using a browser or mobile app. However, according to the Fed, "POS mobile payments are no longer rare." Among those mobile payments users with smartphones who had made POS mobile payments, "73% had made a POS payment in the preceding month, and over a third had made more than two such payments," the Fed found.  Clearly, consumers in general are trying out mobile POS payments, but they are not yet making them a habit.
"No, Thanks"
So what's stopping consumers? While 45% of mobile payments users said "convenience" was their reason for paying by mobile phone, a large majority who have not adopted mobile payments have the exact opposite view.
In the Fed's survey, 80% said they believe it is easier to pay with cash, credit, and debt cards, or via some other means, said the Fed. In addition, 65% indicated they just "don't see any benefit from using mobile payments." Importantly, though, 36% said, "I really don't understand all the mobile payment options."
These numbers have been fairly steady since the yearly survey began in 2013, suggesting that vendors, service providers, and other businesses with an interest in mobile payment adoption are not doing a good enough job developing a use case for consumers.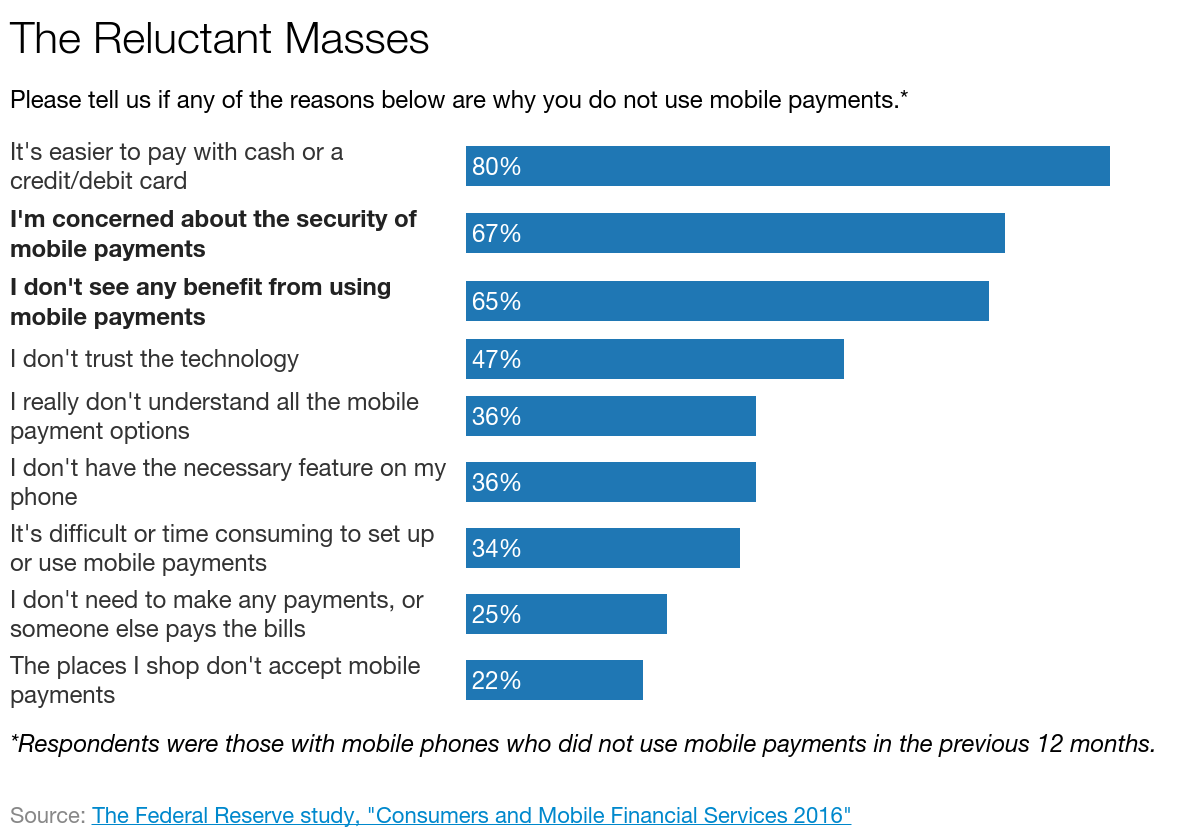 The perceptions around security are also a stumbling block. Sixty-seven percent of respondents said concerns about security were why they were not using mobile payments. What are consumers fearful of? "…  my phone getting hacked or someone intercepting my data" (21%), "losing my phone or having my phone stolen "(13%), "companies not providing sufficient security to protect my mobile transactions" (7%), "someone using my phone without permission to access my account" (4%), and "malware or viruses being installed on my phone" (2%)." The most common response was respondents were worried about all of the security risks stated in the survey question (37%).
What if all of those security concerns were addressed? For many consumers, it would make no difference — "74% indicated that they simply had no interest in using mobile payments," according to the Fed.
Is there any indication that those who have never made a mobile payment will move toward making mobile payments of some kind soon? At least on the point-of-sale side, the numbers are not encouraging.
POS payments are an activity of potential interest to respondents (17%), but when those with a smartphone who did not report making POS payments were asked if they plan to use their mobile phone to make a payment in a store in the next 12 months, 5% said they "definitely will" and 15% said they "probably will." The majority of smartphone users said that they "probably will not" (50%) or "definitely will not" (30%) use their phone to make an in-store payment, the survey found. These results are about the same as 2015, again suggesting a lack of successful evangelization on the part of the mobile payments industry.
Mobile payments appear to have an age-old problem: for a product to catch fire with consumers or businesses, it has to solve a problem, a pain, or a struggle. As of now, many consumers seem unconcerned that Apple Pay is gaining one million users a week. To them, the advantages of joining that herd aren't apparent.