2015 CFO Commercial Banking Survey
When you ask CFOs to tell you about their commercial banking relationships, the responses cover the spectrum from love (strategic partner) to hate (active antagonist). And just as there is no shortage of commercial banking options in the United States, there is no shortage of CFO opinions about commercial banks and bankers.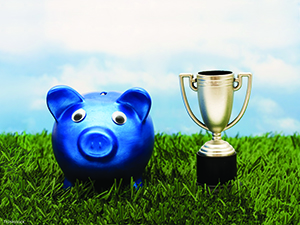 CFO Research recently surveyed 300 senior finance executives for the second annual CFO Commercial Banking Survey. We asked what qualities they prized most in a commercial bank, and then asked them to rate their current bank on how well it delivers against these standards.
This year, we also asked the finance chiefs to help us rank the top 10 U.S.-chartered commercial banks (measured by consolidated assets) in terms of perceived customer satisfaction. Comparing and contrasting the bank ratings with the perception ranking provides an interesting data set for finance chiefs to consider.
Finally, based on last year's key survey finding that customer service is the most important factor for CFOs in choosing a commercial bank — reconfirmed in this year's survey — we dug deeper into this topic, asking respondents to provide real-world examples of great customer service that cemented a banking relationship, as well as poor customer service that destroyed a banking relationship.
Service Ratings
The survey asked respondents to score their commercial banks on five key service attributes: strategic partnership, customer relationship, lending/availability of capital, transaction/payments processing, and internal reporting/connectivity. The 300 respondents recorded more than 500 bank rankings, and the leaders by service attribute are shown below.
Strategic partnership was defined as "understands my company and industry; helps my company identify and prepare for changes in the business landscape; offers key expertise on critical issues; fills my company's skills gaps when necessary." The high scorers for this attribute were U.S. Bank NA (7.8), Wells Fargo Bank (6.7), and Fifth Third Bank (6.6).
Customer relationship was defined as "is customer-centric; provides stability via strong relationship manager; is responsive to requests; has strong client service organization." The high scorers for this attribute were U.S. Bank (8.1), Fifth Third Bank (7.6), and Wells Fargo Bank (6.9).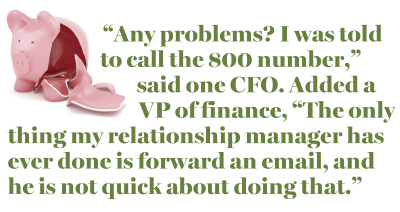 Lending/availability of capital was defined as "offers favorable rates/terms; offers a range of lending solutions; offers custom lending solutions; assists with regulatory requirements." The high scorers for this attribute were U.S. Bank (7.9), Fifth Third Bank (7.3), and JPMorgan Chase Bank NA (7.2).
Transaction/payments processing was defined as "provides fast, accurate, efficient services; delivers strong value for fees charged; supports new technologies; offers full range of transaction services." The high scorers for this attribute were U.S. Bank (8.3), JPMorgan Chase Bank (7.6), and Fifth Third Bank (7.4).
Internal reporting/connectivity was defined as "integrates with my financial systems; aggregates financial information across my subsidiaries, geographies, and accounts; provides clear and consistent alerts, confirmations, and exception reporting; supports new reporting technologies and customization of reports." The high scorers for this attribute were U.S. Bank (7.8), JPMorgan Chase Bank (7.6), and Fifth Third Bank (7.5).
Generally, most banks seem to be doing a decent job; the average overall score for all attributes was 6.8 on a scale of 1–10. In addition, a clear majority of respondents (56%) indicated that they would strongly recommend the commercial bank they were ranking to a senior finance executive in their industry.
Finally, we asked respondents to rate their overall satisfaction with their current banks on a scale of 1–100, where 1=completely unsatisfied and 100=perfectly satisfied. The highest scorers for overall satisfaction were familiar names: U.S. Bank, Fifth Third Bank, and JPMorgan Chase Bank.
While it is tempting to roll both the attribute and satisfaction results into overall winners, it's important to note that quite a few banks were rated very highly on individual service attributes, or on overall satisfaction, or both, but lacked a sufficient number of survey responses to be named as aggregate high scorers. They include (alphabetically): Bank of the West, Branch Banking & Trust Co., City National Bank, Compass Bank, KeyBank NA, Silicon Valley Bank, and TD Bank NA.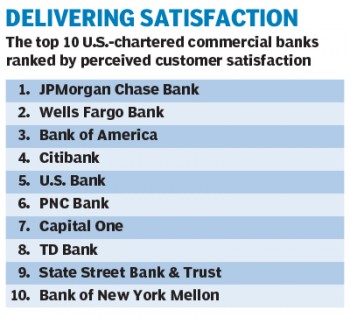 Satisfaction Rankings
In addition to rating their own banking relationships, finance executives ranked the top U.S. commercial banks in terms of perceived customer satisfaction. From a list of the top 10 U.S.-chartered commercial banks, measured by consolidated assets, respondents selected their top 4 banks (in order) in terms of perceived customer satisfaction. Then, a weighted scoring system was applied to the survey results to create an overall numerical ranking, from one through 10.
While the concept of a perception ranking may at first seem less reliable or relevant than CFOs rating individual banks, the science of polling has demonstrated otherwise. For example, polls that ask respondents to predict the outcome of an election are often a far more accurate predictor of final election results than polls asking people whom they plan to vote for. The results we report here reflect not just each CFO's first-hand experience with a given bank, but the wide range of additional information that they use to form an impression of the bank — including their conversations with their peers. Our aim? To document the broad-based impressions that influence CFOs when they choose a new commercial banking partner.
The chart on this page provides the full customer satisfaction ranking. In the scoring, JPMorgan Chase Bank very narrowly edged out Wells Fargo Bank for the top spot. Bank of America NA was a clear third, and a tightly grouped Citibank NA and U.S. Bank rounded out the top five. As with the attribute ratings, these findings are meant to be directional rather than definitive, in the sense of declaring true winners. However, at the very least they may gain the attention of a few bank marketing executives around the U.S.
What CFOs Want
For the second consecutive year, account management and customer service was the most important factor in choosing a commercial bank, followed by value for fees charged and range of services offered (see chart, below). In fact, an overwhelming 91% of survey respondents agreed with the following statement: "The quality of the relationship manager at a commercial bank is one of the most important factors in my organization's satisfaction with that bank."
This year's survey dug deeper into this area, asking respondents to illustrate their satisfaction (or lack thereof) by providing real-world examples of "extraordinary" customer service and "appalling and unprofessional" customer service.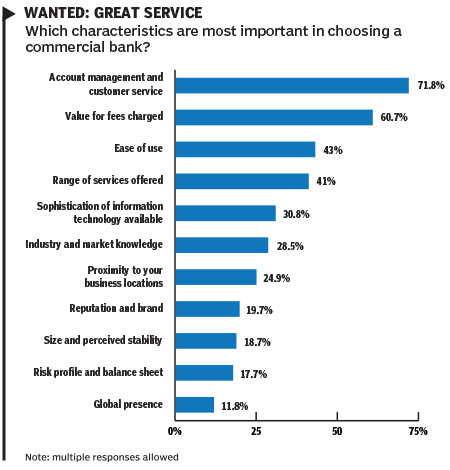 First, the appalling. Quite a few survey respondents cited the changing or ending of a credit line with little or no notice and with little or no direct communication. Many still harked back to events that took place during the credit crunch of 2008. A CFO in the advertising industry put it this way: "[The bank] terminated a credit line with no notice to a 20-year client who never missed a payment and played by all the rules." A large number of respondents also cited their bank relationship managers' ongoing failure to respond to messages or requests. A CEO in the wholesale/retail industry summarized: "Any problems? I was told to call the 800 number." A vice president of finance in the chemicals/energy/utilities industry added: "The only thing my relationship manager has ever done is forward an email, and he is not quick about doing that."
Other finance chiefs cited a lack of propriety in the way their bankers conducted business. An adviser to the CFO in the government/nonprofit sector told of a banking team "getting into an internal fight about how fees were to be divided among the bank's units, and doing so with my firm on the phone." A CFO from the service industry noted that his bank's relationship manager once "asked our owner to put more money in the company while [he was] at the funeral of the former owner." And a finance chief from the professional services industry said that his relationship manager "ignored a loan request for six months because her cat was sick."
Now for the extraordinary. Many survey respondents provided glowing examples of bank relationship managers responding to calls at every hour of the day and night and, in general, going the extra mile for their clients. A CFO in the chemicals/energy/utilities industry notes that his relationship manager "personally responds and follows through with every single request, concern, or comment — in person, email, and phone — to ensure everything is fine."
Several respondents also cited the financial crisis, but to recall bankers who helped their companies survive. A CFO from the health care industry said: "In 2008 they worked with us to revise our covenants, delayed (capitalized) interest payments on our note, and renegotiated our other terms so that we had a chance to be successful." The founder of a financial services/consulting firm commented: "The bank took the time to understand our recovery plan, receive our presentation, and then bet on us."
Others noted their relationship managers' contributions to their business strategy. A CFO in the transportation/warehousing industry says he particularly values "when his bank is willing to disagree or offer alternative ideas during regular planning and forecasting discussions."
Lastly, several respondents cited bankers' willingness to support their clients' business. A vice president of finance in the advertising industry noted that his banker proactively "lowered our line-of-credit interest rate because of our better financial position." A CFO in the auto/industrial/manufacturing sector explained that his relationship manager "took the time to bring the top three decision makers at the bank out to my company to show us they want us as a client, and offered to put all their resources to work on providing us with financing solutions."
In banking surveys, at least, nice guys finish first.
Chris Schmidt is director, Research, at CFO Research.