The last boom in corporate venture capital ended when the dot-com bubble burst in 2000. Some companies invested in startup firms for financial returns and were burned, but others did so for strategic reasons and stayed the course. They realized that innovation was accelerating outside their four walls, in small businesses launched by entrepreneurial engineers, scientists, and businesspeople.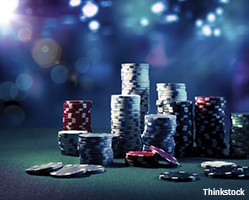 Today, corporate venture activity is booming again. Last year was the strongest year for corporate venture investing since 2000, according to the quarterly Money Tree Report from PwC and the National Venture Capital Association, with corporate venture groups accounting for 17.8% of all VC deals and 11% of all venture dollars invested.
This year could be even stronger. Corporate venture groups deployed $1.6 billion to the startup ecosystem in 232 deals during the second quarter, accounting for 9.2% of dollars invested and 19.3% of the deals. For the first half of the year, corporate VC accounted for 12.5% of total venture investment, according to the Money Tree Report.
Combined, corporate and independent VC firms invested in $17.5 billion in 1,189 deals in the second quarter, according to the Money Tree Report. This is the first time that VC investment has exceeded $17 billion in a quarter since Q4 2000. Software companies received 42% of the money, $7.2 billion, followed by media and entertainment companies (16%, $2.7 billion) and biotech firms (13%, $2.3 billion).
The two most active corporate VC investors are Google and Intel. Google Ventures, which started up in 2009, has invested in more than 300 companies to date, including Uber and Nest. In 2014 it was the fourth most active of all VC firms, including independent ones, according to CB Insights. Intel Capital was a dominant VC investor during the dot-com boom and remains so today. Other prominent corporate investors are Novartis, Qualcomm, GE, Comcast, and Johnson & Johnson (see chart, below).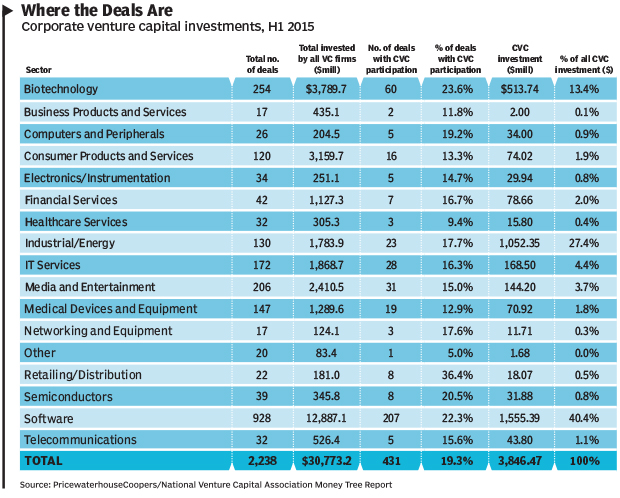 Tolerance for Failure
Thomas Chemmanur, finance professor at Boston College's Carroll School of Management, says the upsurge in corporate VC is "strong evidence" of the increasing awareness on the part of companies of the superior results being achieved by corporate money, at least in terms of innovation.
But corporate venture groups are at a disadvantage to independent VC firms when it comes to investing, says Chemmanur. For one, they usually have a more complicated, therefore less nimble, decision-making process, particularly when big-ticket items are involved. Their organizational structure "may adversely affect their ability to foster innovation in their portfolio firms" compared with VC firms, he says.
Second, corporate VC groups "are structured as subsidiaries of corporations and have to procure the amount they invest in their portfolio firms from their corporate parents," says Chemmanur. He says that makes them "subject to centralized resource organization and associated corporate socialism, which may foster mediocrity in R&D activities."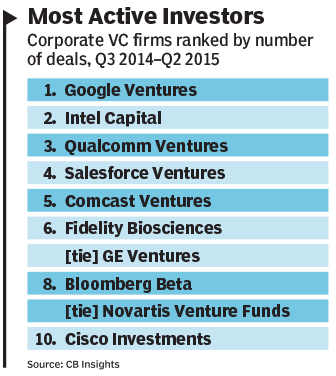 But corporate VCs also have competitive advantages. Independent VC firms, says Chemmanur, "are often a limited partnership that breaks up every 10 years, and they are paid on a result basis." Corporate venture groups that invest for innovation are in it for the long term and are "more failure tolerant," he says.
This willingness to risk failure acts as a spur to innovation. "You count the number of patents and patent citations, a measure of success, and you'll find [corporate VCs] ahead on both counts, meaning they are ahead in terms of both quantity and quality," says Chemmanur.
Corporate VC groups are often instrumental in pushing venture financing forward, investing first in many cases with VC firms coming in behind, says Chemmanur. Also, companies in corporate VC portfolios tend to go public earlier than other VC-backed firms, he says. "When they go public they [typically] don't show profits, but in four to five years they will."
Strategic Investing at Dell
Jim Lussier, head of Dell Ventures, the VC arm of the computer maker, says the recent rise of corporate venture capital investing is due in part to a decline in angel investors and subsequent-stage funding sources. "The venture capital industry is getting more concentrated," says Lussier, who spent a decade as a general partner at Norwest Venture, a Silicon Valley–based VC firm, before coming to Dell. "A lot of firms are getting squeezed out. Restructuring in venture capital sometimes leaves the entrepreneur stranded."
Corporate VC groups are picking up some of the slack. "Corporate profits are strong and corporations are under pressure to make good use of this cash," says Lussier. "Corporate venture capital is one option."

Dell's venture investments are strategic, says Lussier, who has overseen the investment of around $18 billion in 25 companies over the past five or six years. He says his investments, which are almost exclusively in the software and storage sectors, have been instrumental in helping parent company Dell make a transition from a pure hardware maker to a provider of end-to-end technology solutions.
The basic Dell Venture game plan, says Lussier, is to make startup investments from $2 million to $15 million, always in conjunction with an independent VC firm. "We don't have any cases in which we are the sole investor," he says.
One of the deals he is proudest of is Dell's partnership in June 2013 with Invincea, a cyber-security company that started out at George Mason University. Dell agreed to preinstall Invincea's technology on more than 20 million of its computers in the first year, primarily targeting commercial businesses and public sector organizations. Six months later, Invincea announced that it had raised $16 million in a Series C equity round led by Dell Ventures and followed by a group of independent VCs.
Then, in 2014, propelled by both the Dell deal and concern over significant data security breaches reported by large companies, Invincea saw its software sales nearly double.
Lussier, for one, dislikes the frequent characterization of corporate venture investing as outsourced R&D. "It's not like we're saying, 'Gosh, this is an R&D project we'd like to do,'" he says. "We like to invest in all the disruptive technologies—in information, storage, the cloud, security, the infrastructure to drive mobile devices, and the Internet of things."
Head of the Class: Intel
The biggest player in corporate venture capital over the past 10 years, arguably, has been Intel. The chipmaker is currently investing at a rate of $350 million a year through its Intel Capital subsidiary, says its president, Arvind Sodhani. At the same time, it has made a good deal of money from its venture investments. Since 2005 it has exited 256 of its investments through mergers and acquisitions, more than any other VC investor, corporate or not, according to PitchBook Data in April. Likewise, its 50 initial public offerings over the past 10 years place Intel in second place in that category.
"A lot of people are trying to copy the success of Intel Capital," says Sodhani, who has spent 35 years at Intel, becoming treasurer in 1988 before switching over to help found the company's VC arm in 2005. "Obviously, we're a strategic investor, but we also want financial results."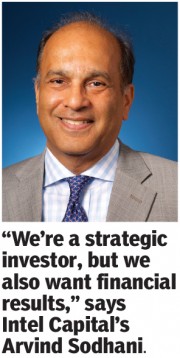 For the most part, says Sodhani, Intel Capital invests over a 10-year time frame, participating in rounds A, B, and C of startup financing and spreading the risk by drawing in junior partners. "You have to have a long-term horizon," he says.
Sodhani, who will retire in January 2016, advises companies considering whether to start a venture capital arm to remember that tolerance for failure is essential. "Not every investment you choose to make will turn into a multibillion-dollar gain," he says.
Governance Essentials
Particularly in the finance community, no one wants to plan to fail," says John Riggs, senior managing director at PricewaterhouseCoopers. But success or failure in corporate venture capital may depend on how smoothly a company fits a new VC unit into a corporate structure. "It is important to plan, and to plan carefully," says Riggs.
Drawing up the VC unit's corporate charter "is probably the most important thing you will do," he says, if only to help ensure that the subsidiary would be able to plan to stay in operation for at least as long as its investment horizon. "You need to enable core operations not in the next year, but in the next three to five years," says Riggs.
A VC unit's charter should contain an "overarching business strategy," spelling out both financial and strategic objectives, says Riggs. Governance issues must be sorted out in advance. "You need to know how much you can invest as an executive, for example up to $3 million, without going to the board, and in terms of governance you need to know who at the highest level is going to have a say in this, including the investment committee."
Riggs also advises companies to recruit outsiders from corporate venture capital firms to run their own VC arms. "When I'm talking to a CFO about this, I bring up the age-old adage that says, 'I don't invest in business plans, I invest in people,'" he says. "Don't make the mistake of thinking that your executive who is looking for his glory day can do this."
Corporations also need to decide in advance the extent to which they want the structure of their VC arm to mimic that of an independent VC firm, keeping in mind the differing objectives separating the two, advises Michael Holley, an attorney who works out of the Nashville office of Bass, Berry & Sims. For one, "the corporation is much more focused on the situations [and] historically less focused on [ownership milestones] and the deal terms," he says.
Another difference is the extent to which the business plans of the investor and the startups are codependent, particularly regarding product development and customer pipeline, says Holley. "You are most likely the revenue source for the firm in which you invest," he says. "This gives you a considerable competitive advantage over a traditional VC."
Cost savings, particularly when it comes to R&D, also confer an advantage to corporations deciding to invest in the startup space. "Most of my clients are in the health care space, and most are publicly traded companies interested in getting R&D at a fraction of the time and at a fraction of the cost," says Holley.
"When I first got into this, the first two words I heard were 'strategic opportunity," says Bobby Franklin, president and CEO of the National Venture Capital Association. He says his members include corporate VCs from "all the sectors, including life sciences, biotech, pharma, and software." Judging from both the feedback he is getting from members and his own take on the structural changes the industry has undergone, particularly as applied to innovation, he predicts continued growth for corporate venture investment as older ways of doing business die out.
"Corporations aren't doing as much internal R&D as they once did," he observes. "When you think about the old Bell Labs model, for example, you don't see much of that in up-and-coming front-row stuff."
Ed Zwirn is a freelance writer based in Bethel, N.Y.