Seeking to cash in on the "better burger" boom, Shake Shack Inc. is taking its "fine casual" concept public next year in a deal that could value the popular chain as high as $1 billion.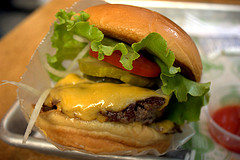 While there are few segments of the restaurant industry more competitive than burgers and shakes, Shake Shack said in its prospectus for an IPO that it is "well positioned to take market share, as we believe consumers will continue to trade up to higher quality offerings given an increasing consumer focus on responsible sourcing, ingredients and preparation."
"Shake Shack's fine casual position, born and raised in Manhattan, creates a distinctly differentiated global lifestyle brand opportunity," it added.
The company, which New York restaurateur Danny Meyer started with a hot-dog cart in Manhattan's Madison Square Park, now has more than 63 outlets in 30-plus cities from London to Dubai. According to the prospectus, proceeds from the IPO will be used to pay investors, repay debt and for general corporate purposes including opening new restaurants and renovating existing ones.
Shake Shack used a $100 million placeholder for the IPO, but Bloomberg, citing people familiar with the matter, reports that it is aiming for a $1 billion valuation.
Fortune said recent IPOs of other consumer-focused restaurant chains suggest "Shack Shack's debut on the New York Stock Exchange will be met with a ravenous appetite," but "there are some worries about growth trends at existing Shack locations."
"Same-Shack" sales growth — the term the company uses for the change in year-over-year revenue for U.S. company-owned stores opened for at least 24 months — totaled only 1.2% in the latest quarter, compared to 8.2% for the same period in 2013 and 2012.
And while sales rose 41% to almost $84 million in the 39 weeks through Sept. 24, net income fell amid a rise in expenses that included a more than doubling of pre-opening costs.
Shake Shack said in the prospectus that it is planning to open 10 new company-operated stores each year starting in 2015, and expects it could grow from 31 company-operated stores to 450 over the long term.
Photo by Krista