If I am a prospective business borrower, here's the question I really want the answer to: "With unprecedented amounts of excess reserves in the banking system and a policy rate near zero, are banks charging lower interest rates for [commercial and industrial] loans relative to their funding cost than in the past?"
A new paper from an economist at the Federal Reserve Bank of San Francisco takes direct aim at the issue. We know banks are easing credit standards, which began around 2010; that there are much higher volumes of C&I underwriting since the recession ended; and that there is greater competition among banks for commercial borrowers.
However, the structure of the banking system has changed, notes the San Francisco Fed economist who wrote the paper, Simon Kwan:
"Complicating this question are the recent structural changes in the banking industry. For example, the permanently higher bank capital requirements and other regulatory costs faced by banks — such as those associated with the Dodd-Frank Wall Street Reform and Consumer Protection Act — may have raised the cost of making bank loans. Moreover, the consolidation of the banking industry following the financial crisis has raised banking concentration, which could have lessened competition and permitted banks to charge more in the loan market. Hence, the net effects on bank C&I loan rates are not clear."
By analyzing data from the Federal Reserve's Survey of Terms of Business Lending, which collects data from a panel of 350 domestic banks, Kwan finds that for the highest credit-quality C&I borrowers, at best loans are "fairly reasonably priced." They are not, in other words, rock-bottom cheap (see chart at end of story).
As of the first quarter of 2014, the percentage point spread between the interest charged on C&I loans and the target federal funds rate remains 0.26 percentage point above its historical norm. According to the loan-level data, "actual loan spreads seem higher than what the survey of loan officers suggests," writes Kwan. "C&I loans do not look unusually cheap."
There's one big caveat: the data go back to 1997, when banking was a much different ballgame. "It's unclear whether the historical average remains the right benchmark," according to Kwan, "given structural changes in banking … such as higher capital requirements and regulatory compliance." Translation: we may be in a new normal, and today's interest rates may be the lowest CFOs will see for a very long time.
Average spreads for the highest-quality C&I loans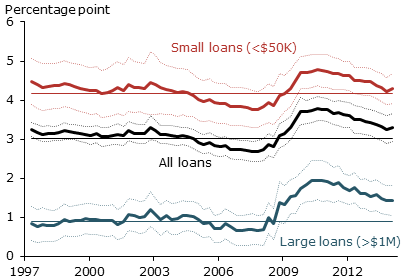 Source: Federal Reserve Bank of San Francisco, "Long Road to Normal for Bank Business Lending"