Finance chiefs know that repurchasing their companies' stock doesn't generate nearly as much buzz as building a new assembly line or developing new products. But they also know that buybacks are better than nothing — and plenty of companies are doing them. In the first quarter of 2014, S&P 500 companies repurchased an estimated $159.3 billion of their own shares, although the final numbers aren't in. That's after laying out $130 billion for share repurchases in the final quarter of 2013.
But buybacks aren't delivering the same pop to the stock price that they formerly did. So far this year, the performance of the S&P 500 Buyback Index, which tracks 100 stocks with the highest buyback ratios, is lagging the return of the overall S&P 500 by almost one percentage point, after beating it by 10 percentage points in 2013.
It may no longer be enough for CFOs to justify buybacks to restive investors with vague comments about taking a shareholder-friendly approach to capital allocation or needing to earn a return on idle cash. Finance chiefs should be prepared to articulate convincingly how share buybacks create value, in addition to boosting the stock price. More important, they should reassess the execution of their repurchase programs and find out whether they are truly maximizing the bang from their buyback bucks.
Clearly, boards of directors and executive management are in an awkward (but good) position when cash is abundant and interest rates are super low. As cash continues to pile up on balance sheets, opportunities to put it to productive use are relatively few. And the problem is worsening. The top 1% of cash holders in Corporate America increased their cash and short-term investments by 11%, or $50 billion, during 2013, according to Standard & Poor's.
"The conundrum is, companies don't have a lot of places to put the money," says Francois Mallette of L.E.K. Consulting, a management consulting firm. Acquisitions, for one, are expensive in the current market, says Mallette. Investing in organic growth, especially in mature North American markets, in many cases won't provide enough return for the risk. The U.S. economy is projected to limp along at 2% for the rest of 2014 and hover at 3% for two years after that. And paying a dividend to shareholders, another use of cash with some benefit, has downside for the investor: a substantial tax bill. "Now you're down to the bottom of the list" of choices, says Mallette: buybacks.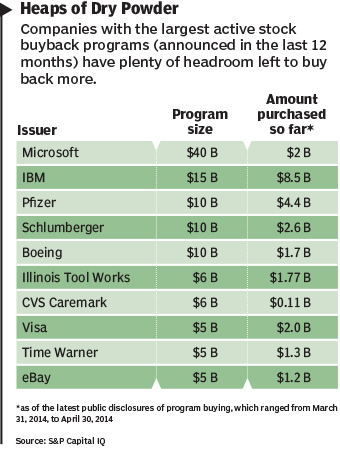 Making a Case
But being last doesn't mean being least. Buybacks can bring a good relative return compared with other investments, and do it relatively swiftly. They also make excess cash less of a drag on a company's return on capital, and help eliminate the rising tension that can be created between shareholders and executive management as cash builds. "When there is a big buildup of cash on the balance sheet, there is a very strong tendency for investors to get paranoid that management will use it for acquisitions that do not create value," one finance chief told CFO in 2012.
That's not all. There are at least four more legitimate purposes for buying back stock and for getting better at it, according to Jay Sukits, clinical assistant professor of business administration at the University of Pittsburgh's Katz Graduate School of Business. One, because of recent profits earned from productivity gains and cost cutting, companies have to reward managers with stock bonuses and options plans, and companies need treasury stock on hand to do that, says Sukits, who was an investment banker for 20 years.
Two, as hostile takeovers rise in number (in part because some companies have so much idle cash), issuers can protect themselves by keeping a controlling interest of their shares within treasury. Three, buybacks are a way to reward shareholders but give them tax flexibility. "Investors get capital gains instead of taxable cash dividends; buybacks let shareholders decide where and when to incur tax liability," says Sukits.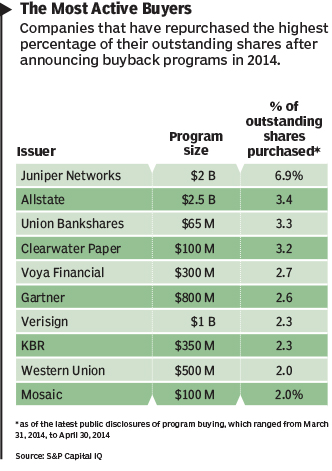 But it's Sukits' fourth reason that may be the most strategic one. Because companies have generated so much cash and retained earnings, and stock prices are so high, their balance sheets may be out of whack, he points out. A company's optimal capital mix might be 30% debt and 70% equity, but equity may have easily increased to 80% in the current environment. In order to readjust the capital structure, the company could buy back stock or even issue debt in conjunction with a buyback. In the 1980s, says Sukits, companies issued stock to buy back cheap debt that was carrying very high interest rates. Today the situation is reversed. "At very low interest rates, there is an opportunity to add a little more leverage into your capital structure" or to readjust the capital structure to long-term norms, he says.
Buybacks in themselves don't create value; they don't add to free cash flow or generate revenue. But buybacks can increase returns on equity and potential returns on other investments if they accomplish the above. "The right amount of leverage is value-creating," affirms Mallette.
Regardless of the motivations given for a buyback, communicating a "measured financial policy" is key, says Mallette. A CFO needs to explain "when the company is going to buy back stock and when not; what it is going to do with the dividend; when it would issue a special dividend and under what circumstances; and what kind of capital structure it is going to maintain." For share buybacks, says Mallette, a company might say: "We are going to buy back stock when we feel we have excess cash to distribute, our stock is undervalued, and we have deployed all of the cash we want and can in the operations of the business to create long term value."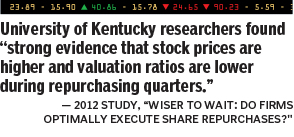 It's All in the Execution
A consistent argument against share buybacks is that they are poorly executed. Much research has shown that companies do what naïve investors often do: buy when share prices are high, not low. A 2012 study by researchers at the University of Kentucky found "strong evidence that stock prices are higher and valuation ratios … are lower during repurchasing quarters relative to non-repurchasing quarters." The study, "Wiser to Wait: Do Firms Optimally Execute Share Repurchases?" looked at 5,498 firms that repurchased stock during at least one quarter between 1984 and 2010. "Firms, on average, buy when they should not," the researchers concluded.
Similar studies by McKinsey show the same result. Companies buy back more shares when earnings and share prices are lofty. In the current market, with stock indices near all-time peaks, data from S&P Capital IQ shows that nearly 100 U.S. companies announced buyback programs worth $300 million or more in the last 12 months. In contrast, when market prices are low relative to intrinsic valuations, companies withdraw. During 2009, when the S&P 500 Index fell below 700, only 53 share buybacks of $300 million or more were announced. It's almost to be expected: When companies are doing well they tend to have more cash to deploy, and they arrive at that bottom choice for capital allocation more often. No wonder the returns on many share buyback programs are poor.
An obstacle to becoming a better investor—matching stock buyback programs to periods when the company's stock price is low relative to its intrinsic valuation—is that some management teams may always think the company's shares are undervalued. Some companies are trying to eliminate the bias. To set a course for hotelier Wyndham Worldwide's buyback activity, CFO Thomas Conforti sits down with the CEO and the board of directors to go through "the football field" — a list of valuation methodologies that put a value on the company to justify continued share repurchase activities.
"Every quarter we sit with them and we look at things like multiples on EBITDA, multiples on cash flow, multiples on earnings," Conforti told CFO last September. "We look at discounted cash flow, we look at what the market is saying we should be priced at, and what the research community says we should be priced at. It gives our board and management a good compass."

Other companies get even more methodical. Visa, which is followed by dozens of Wall Street analysts, develops a benchmark using the 25th percentile of analysts' 12-month price outlooks. "We typically buy below the 25th percentile of the 12-month outlook," Visa CFO Byron Pollitt told CFO in the fall of 2012. The company's traders are assigned different share-pricing bands. If the shares are within a certain pricing band Visa might buy back 5% of what it's eligible to buy back in a day. At a lower pricing band it might push purchases to 10% or 15% of eligible volume. "When you get above 15% of a day's volume you start running the risk that you're actually moving the stock price," Pollitt warned. Having traders watching the market every day, Visa can take advantage of overreactions to macroeconomic events that get reflected in its share price.
The system appears to work. In the first quarter of 2014, Visa shares were very rarely below $220. But the company managed to purchase 5.1 million shares at an average price of $217.
Smaller companies without dedicated traders can often get better execution through accelerated share repurchase agreements with banks. Under an ASR, a company buys back shares immediately from an investment bank (ideally when the price is low). The bank borrows the shares it sells to the company, and then purchases shares over time in the open market to settle its borrowings.
Even if a company doesn't have the resources to do an ASR or follow Visa's example, it can at least try to be vigilant about the share price. "It's about trying to buy shares at an advantageous price," says Frank M. Placenti, chairman of the corporate finance and government practice at Squire, Sanders & Dempsey. "If you buy back as many shares per dollar as you can, the corporation's value is spread among fewer shares, advantaging the remaining shareholders."
Dollar-Cost Averaging
Strategies of trying to buy low in the open market have a major weakness, of course. "I would question anyone who thinks they could time the market" for lows in a stock, says Sukits. Indeed, there is a better way. The University of Kentucky researchers found that among the companies studied, the average annualized rate of return earned on repurchased stock was 7.66%. But had the same firms smoothed repurchase spending evenly across time — using the corporate equivalent of a dollar-cost-
averaging investment strategy — the average return would have been 9.64 percent.
As Gregory Milano, CEO of Fortuna Advisors, has advocated in columns written for CFO.com, buyback programs perform best when they "distribute a consistent sum of cash every quarter." That leads to more shares purchased when the price is low and fewer when the price is high. Milano acknowledges that such a system "may be hard to stomach in a financial crisis, and attract activist investors who abhor rising cash balances during good times."
Milano has often called share buybacks a form of "financial engineering," but he does recognize their usefulness. If a company is contemplating a buyback program, Milano provided these other tips in a 2012 column:
• Don't set thresholds for organic investment too high, as this will lead to less organic
investment and more share repurchases.
• Don't overestimate the benefits financially engineered EPS growth will have on the share price.
• Don't allow internal optimism to exaggerate the potential gap between the company's market price and its intrinsic value.
• Don't use an incentive-compensation measurement approach that rewards financially engineered EPS growth.
Importantly, Milano's research shows that there's a limitation to how much buybacks can achieve—a good fact to keep at the ready when investors demand larger and larger repurchase programs. Over time, Milano says, "the market sees through this engineered EPS growth and typically drives down the price-earnings multiple for companies that rely heavily on buybacks." Companies ought to get better at communicating and executing share buybacks, but they shouldn't go overboard and begin to believe buybacks are the optimal way to deploy capital.
Vincent Ryan is editor-in-chief, digital platforms, of CFO.