The public markets are a challenging place for CFOs, whose lists of tasks grow even longer with the introduction of curious and impatient investors and heightened regulatory scrutiny. Indeed, the CFO's role may change more than that of any other corporate officer in the transition from private to public. And for small-cap companies, the increased responsibilities that come with trading publicly are not always accompanied by the same level of valuation, attention and access to capital awarded to their large-cap peers.
In this quarter's Deep Dive survey, CFO polled finance chiefs at publicly traded companies—a majority with market capitalization under $500 million—to learn more about the state of smaller public companies today and the role of the CFO at these firms. While results varied across the sample of 84 respondents, the smaller the business, the more concerns the CFO tended to have about the company's level of coverage and degree of access to capital.
Just a Misunderstanding
More than 40% of respondents at small-cap companies, defined as those with market caps of less than $500 million, have no analyst coverage at all, while 31% are followed by just one or two analysts. Just 8% are followed by more than five analysts. In contrast, at large-cap companies, more than half of respondents say they are followed by more than five analysts, while 19% have no coverage. Not surprisingly, nearly 60% of small-cap CFOs say they are not satisfied by their company's coverage level.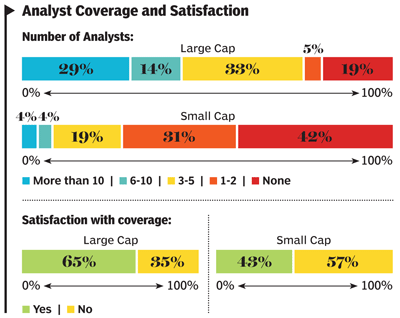 Generally, CFOs give mixed reviews to the analysts they do have: 28% say analysts don't understand their industry, while 37% say analysts don't understand their company's specific strategy. Sixty percent of respondents say analysts' misconceptions affect their companies' valuations. Respondents cite a lack of comprehension of their companies' business models, market dynamics, competitive set, and future growth prospects.
Finance chiefs are equally lukewarm about their relationships with investment bankers. While 42% of respondents interact with an investment banker at least monthly, CFOs score their bankers' level of understanding of their business at a decidedly average 3.2 on a scale of 1 to 5.
David Johnson, CFO of Johnson Outdoors, an outdoor recreational equipment retailer with 2012 revenues of $415 million, says being publicly traded has its challenges for the Wisconsin-based company. The company is followed by one equity analyst and has an investor relations team of two, including the CFO. "It would be nice to have three analysts instead of just one," says Johnson. "I don't want to have 10, but it would be nice to have more coverage."
To raise the company's profile with investors, Johnson says he tries to go on the road two or three times a year, to investor conferences or to meet with investors in various cities. He also invites investors to the company's headquarters. "We have to be focused," he says. "We can't have a scattershot approach."
Sarbox Struggles
Entering the public markets requires compliance with Sarbanes-Oxley, a daunting task for many smaller firms. Companies must also prepare their annual and quarterly financials in accordance with generally accepted accounting principles and submit to annual outside audits. At LocalMediaLink, a business-directory publisher and a division of publicly traded Gladstone Equity Group, CFO Bob Nolan says one of his biggest challenges is meeting the deadlines for all of the company's many reporting requirements. "Our financial reports have to be in to the parent within a few days after our close each month," he says—a quick turnaround for a small finance staff.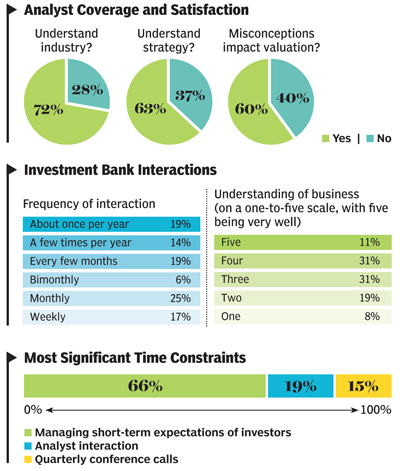 For about half of the CFOs surveyed, Sarbox compliance has had a significant impact on their businesses. One respondent notes the need to hire additional staff and the added cost of outside auditors, while another points to the "significant paperwork burden."
The most time-consuming part of being a public-company CFO, however, is managing short-term investor expectations, according to 66% of survey respondents. Another 19% cite spending time with analysts, while 15% say quarterly conference calls present the biggest time-management challenge. Slightly more than half of respondents say they would run their businesses differently were they not public. Says one, "If we were private, we would remove the insane focus on forecasting and planning and focus on top-line growth with measured profit increases."
What Gain?
Despite the work involved in keeping the books in order at a public company, many finance chiefs at small-cap companies say they don't feel that they reap the reward of improved access to capital. More than 40% of respondents report that they do not have access to debt and equity at what they consider to be reasonable terms and pricing. Still, once they do choose to access the markets, the vast majority say the process is smooth and they have not encountered significant roadblocks.
The best way to get the market's attention as a small public company, says Johnson, is by posting strong results. "When we grow and increase our profits on a consistent basis, we get noticed." Still, he adds, "We've found investors have a very short attention span, so we have to act fast to get the story out."