Fresh off a Federal Reserve order that found deficiencies in JPMorgan Chase's risk controls, loss modeling, and audit functions, two of the bank's former CFOs were hit with tough criticism by an internal probe in January.
An internal task force report on last year's "London Whale" trading incident lays part of the blame for the risk-management breakdown on the finance chiefs. They were singled out for criticism despite the presence of a chief risk officer for the overall bank and a CRO in the flawed trading business.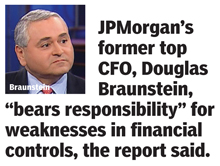 While JPMorgan's normally conservative chief investment office (CIO) was dabbling in synthetic credit derivatives, the CFOs missed opportunities to "meaningfully challenge" a trading strategy that led to $6.2 billion in mark-to-market losses and shaved more than $20 billion off the bank's market value last year, the report found.
The report also said that JPMorgan's former top CFO, Douglas Braunstein, "bears responsibility" for weaknesses in financial controls related to the investment portfolio and could have asked more questions about changes in its value and its increasing exposure to adverse movements in the financial markets.
The other former finance chief criticized in the report was John Wilmot, who headed the CIO's finance function. Wilmot and his team failed to set up robust reporting controls, the report said, "including sufficient circulation of daily trading activity reports, [which] made early detection of problems less likely."
While the "primary control failures were risk management failures," the finance organizations headed by Braunstein and Wilmot "could have done more," the task force noted. In the case of the CIO's finance team, the task force stated that in part it took "too narrow [a] view of [its] responsibilities," believing the issues related to the CIO's credit portfolio "were for the risk organization and not finance to flag or address."
Braunstein stepped down in October and is now a vice chairman of JPMorgan. In the CIO unit, Wilmot, who had dotted-line reporting to Braunstein, has resigned and will leave the bank this year.
JPMorgan CEO Jamie Dimon also had a role in the debacle, the task force found. It said Dimon "could have better tested his reliance on what he was told" about the CIO unit's losses. The report "demonstrates that more should have been done regarding the risks, risk controls, and personnel associated with CIO's activities, and Mr. Dimon bears some responsibility for that."
The bank also announced that it had slashed Dimon's compensation for 2012 by 50%.