Freed up somewhat from the liquidity-management stresses of the past few years, treasury departments in North America and Europe are once again focused on efficiency and costs. But are those good benchmarks of a treasury department's utility and performance?
According to this year's treasury benchmarking survey by the Association for Financial Professionals (AFP), companies most commonly measure the health of their treasury departments by how much they reduce banking expenses (79% of organizations) and borrowing costs (65%), and by their overall efficiency (71%).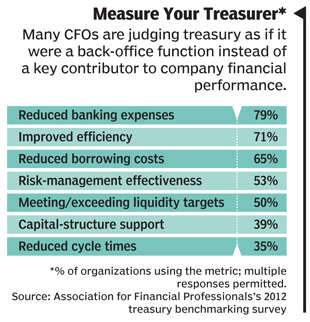 "Four years ago, liquidity management was number one, but now organizations are looking within the department to minimize spend while improving throughout and being cleaner in their banking structures," says Tom Hunter, director of treasury services at the AFP.
While those are admirable goals, businesses are in danger of taking their eye off the central purposes of a treasury department, warns Bruce Lynn, managing partner of The Financial Executives Consulting Group. "Treasury is in the funding business, not the processing business," he says.
Indeed, "measuring cost and process efficiencies alone does not capture the broader value treasury departments now contribute to their organizations," the AFP said in its report. More useful benchmarks for treasury would include measures like cash-conversion cycle and cash balances as a percentage of liabilities — balance-sheet measures "that ideally a CFO would like to see on a dashboard," says Lynn.
To move away from efficiency and cost metrics for treasury, a company could start with something simple, like setting a target balance for certain bank accounts. "If I am under that [balance], I want to fund the account, but if I am over that I have to ask what is the best use of that excess cash," Lynn says. That will lead to second-level metrics, like the return the company wants to earn on that excess cash.
That's not to say processes aren't important; indeed, they allow treasury departments to focus more on strategic goals and less on things like control issues and reconciling accounts, says Lynn. "If a company has stronger processes," he says, "treasury spends less time processing and more time learning."