U.S. companies have plenty of existing share-repurchase programs under which they can buy back their stock in the coming months. That gives them the means to bump up earnings per share numbers in future periods or give some short-term support to their stock prices. But will they use those programs?
While 565 U.S.-based companies have announced share-repurchase programs in the past 12 months — worth $185.9 billion — their actual purchase activity has been somewhat subdued. Data provided to CFO by S&P Capital IQ shows that collectively, U.S. firms have bought back a little more than one-third the dollar amount of shares — $68.8 billion — that their buyback programs allow. (The data is for firms whose programs are still active, and the transactions include both tender offers and open-market deals.)
The pace of repurchases is not unusually slow. Buyback programs can run three years or more, so repurchases don't have to be made immediately. And by some accounts, only about a third of buybacks are ever fully executed.
When CFO last examined the pace of buybacks in July 2010, nearly half the companies with share-repurchase authorizations hadn't bought back any shares at all. In the current case, in contrast, all 565 companies have bought at least some shares, and 67 companies have repurchased 100% of the shares they had promised to.
But among companies that have buyback plans of $200 million or more and announced their buyback plan prior to March, there are 20 that have bought back 8% or less of their allotment, according to S&P Capital IQ (see table below).
In order of increasing dollars spent on buybacks, they are Lam Research, Cytec Industries, Piedmont Office Realty Trust, TJX Companies, Cameron International, Symantec, Whole Foods Market, FMC, MKS Instruments, Praxair, QLogic, Air Products & Chemicals, Warnaco Group, Dun & Bradstreet, Target, TW Telecom, Foot Locker, Weyerhaeuser, Silgan Holdings, and Laboratory Corp. of America.
At the top of the list, Lam Research had bought back only $12.5 million worth of common stock (out of a $1.6 billion total authorization) as of the first quarter. But on May 15, the company announced an accelerated stock repurchase (ASR) agreement. Under an ASR, a company buys back shares immediately from an investment bank, which borrows the shares it sells to the company. The bank then purchases shares over time in the open market to settle its borrowings.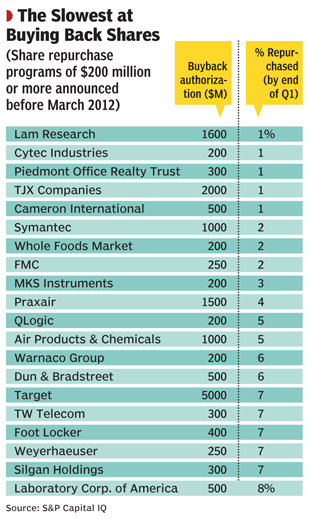 With equity markets falling in the past month, it could be a good time for companies to  be in the market for their shares, says Michael Gumport, founding partner of MG Holdings/SIP, a corporate finance advisory firm. "In short-term, small corrections — 10% to 15% over a month, for example — buybacks tend to pick up. But when the market goes down more seriously for an extended period, buybacks dry up," he says. "We've had a difficult May, and you would think there ought to be some flurry of buying activity, but I would worry that if the market were to drop more the activity would stop."
That's because companies, contrary to buying on the lows, "get scared like everybody else when they don't know what the future holds, and they move into a conserve cash mode," says Gumport.
But that habit causes the majority of share-buyback plans to be unprofitable. "Some companies have made very good decisions [about when to buy], but going back 10 years the average company has made zero on stock buybacks, and a long list of companies have lost money," says Gumport. "They would have done better just putting their money in the bank."
With returns on buybacks so low historically, perhaps CFOs have other, more profitable uses for company cash. The March Duke University/CFO Magazine Global Business Outlook Survey showed that CFOs expected share repurchases to grow 0.8% between now and March 2013, compared with the 9% growth they anticipated in December 2011 and the 2.5% growth they forecast a year earlier. That 0.8% increase in buybacks compares with 7.3% expected growth in capital spending and a 3.4% increase in research-and-development spending. 
Meanwhile, though, companies continue to tout new authorizations. On Thursday General Electric said it would use its entire $4.5 billion special dividend from GE Capital for buybacks.