To Joseph Kaeser, CFO of Siemens AG, the German engineering giant, there are shareholders and there are shareholders. And although Siemens trades on the New York Stock Exchange, it's unlikely that many of Kaeser's peers in the United States would share his attitude.
Here, after all, the mantra of many managements is to serve their shareholders — whoever they are. By contrast, the Siemens finance chief clearly prefers shareholders who serve the long-term interests of the company to those who don't.
That preference will be borne out in the decisions Kaeser and his colleagues make about what to do with Siemens's sizable cash hoard. Last year, the company's balance sheet swelled with $19 billion in cash and cash equivalents, up from $15 billion in 2009 and $10 billion in 2008. In a recent interview with CFO, Kaeser elaborated on his cash-disbursement priorities and other matters. An edited version of the interview follows.
Like many companies, you have a lot of cash on your balance sheet. What are your challenges in terms of deciding what to do with it?
First of all, it's a nice problem to have. We do hear from a lot of analysts making proposals on how cash can be reduced. But it is important to make sure that our customers understand that we will be with them for the long term. If they put their whole future in our hands and expect us to deliver huge energy plants, big mobility projects, or industrial automation of their factories, they want to know that we're not only technically capable of achieving that but also that we're financially sound. If something goes wrong, they need to know we'll fix it one way or the other. That's why it's important that we have cash on the balance sheet.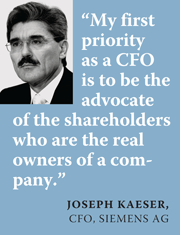 Is capital expenditure a high priority?
I wouldn't necessarily say that this is the time to pay everything out. But every quarter we've been massively investing in emerging markets — R&D and innovation and local engineering centers. Rather than burning a lot of money with expensive acquisitions, we go after organic growth. And I believe that in over 90% of cases organic growth pays off much better than any acquisition would.
Of course, we will also look into the M&A market. However, contrary to others in our sector, if you look at our product spectrum there are hardly any blank spaces. In energy exploration, oil and gas, and deep-sea electrification, we are not the strongest in the world but we have some involvement.
What are your priorities in terms of organic growth?
Our very first priority in terms of organic growth is to set our footprint in the so-called CIVETS countries: Colombia, Indonesia, Venezuela, Egypt, Turkey, and South Africa.
The second priority — not the second in importance, but second in timing — is to massively invest in our cities' infrastructure business. You won't see much order intake incrementally next year, but we believe that starting in two years and for eight years after that, it will really be important in terms of order growth.
How about giving money back to the shareholders?
That's also part of the whole basket, absolutely. We massively increased our dividend last year, from 1.60 to 2.70 euros — about half of our earnings straight to the shareholders as a dividend.
But in order to give something back to shareholders, in order to give something back to society, you've got to make the money first. Get the money, then please society and be a good corporate citizen, and then give some back to the shareholders.
To put that into perspective, shareholders sometimes are not necessarily the ones who have a greater interest in the long-term, sustainable development of a company. Obviously, we are very aware that shareholders own the company and want to get a decent return at the end of the year.
Do you prefer dividends rather than share buybacks?
We launched a buyback program at the end of 2007 of 10 billion euros, which would be about 14 billion U.S. dollars at the current exchange rate. And we spent about $6 billion on the buybacks. The impact was not what people would have desired.
Buybacks are accretive to earnings per share, and sometimes capital efficiency will be positively impacted. But if you announce a share-buyback program, you create an event. And events create volatility. Volatility usually benefits short-term and synthetic shareholders but not necessarily the long-term shareholders.
So a choice to issue dividends rather than buybacks is a choice favoring long-term shareholders over short-termers?
It's a choice that gives more priority to less volatility and more sustainability. I realize that the majority of the U.S. markets might feel differently about it, but it's not only U.S. shareholders that we have to consider. I have shareholders all over the world. My first priority as a CFO is to be the advocate of the shareholders who are the real owners of the company.
Can you be a shareholder but not a real owner?
You can be a shareholder but not want to own it.
In a family business, ownership is your purpose. As a public-company shareholder, you can use your ownership as a tool and not a destiny. Your goal may be to outperform the markets. In such cases, [an institutional] shareholder or fund manager gets paid or fired based on that performance. That person cannot act in the best interests of the long-term societal aspects of that company.
What you need to do as a CFO or CEO is to balance the obligation you have to your shareholders with the long-term aspects and reputation of the company.