Who should determine whether a public company can remain in business as a going concern — the company's management or its auditor? The Financial Accounting Standards Board ruled in November that management should, and that it will still be up to the auditor to decide the appropriateness of the assessment.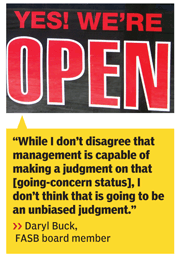 The decision brings closer to completion FASB's going-concern project. That project dates back to 2008, when the board issued an exposure draft about incorporating the concept of going concern into U.S. generally accepted accounting principles, as well as how to determine when a company should disclose under GAAP whether there is "substantial doubt" about a firm's viability. FASB launched the project because there were too many models for assessing a company's going-concern status and determining what kinds of information should be considered in that evaluation.
There was one dissenter at the FASB meeting, however. "While I don't disagree that management is capable of making a judgment on that [going-concern status], I don't think that is going to be an unbiased judgment," said board member Daryl Buck. Management, he said, "is always going to be more optimistic than would a disinterested, unbiased party."
The board also opted to align the accounting standard more closely with auditing standards when considering how long the assessment should be. FASB unanimously agreed that the going-concern assessment should be made over a "reasonable period of time," which it defined as 12 months from the specific date that a company prepares its balance sheet but not to exceed 24 months. The board also decided that the assessment should be made every reporting period, including interim reporting periods.
FASB expects to have a revised exposure draft on going concern (called phase 2 in the Liquidation Basis of Accounting and Going Concern project) by March or April of 2013. A final standard would likely not be issued before Q4 2013, according to a FASB spokesperson.