The first six months of 2014 have seen an unusually large number of cases brought against corporations and individuals under the Foreign Corrupt Practices Act, according to a new update. And while Securities and Exchange Commission and U.S. Department of Justice investigators haven't stinted on scrutinizing corporations for evidence of bribery, they are really focusing on individuals.
Through June 30, the DoJ has launched 13 FCPA enforcement actions and the SEC has initiated two, according to the update by Gibson Dunn, a law firm. If the number of DoJ enforcements proceed at the same pace for the remainder of the year, it would top last year's four-year high and represent the second largest number of annual enforcement actions by the department since 2005. (See graph by Gibson Dunn below.)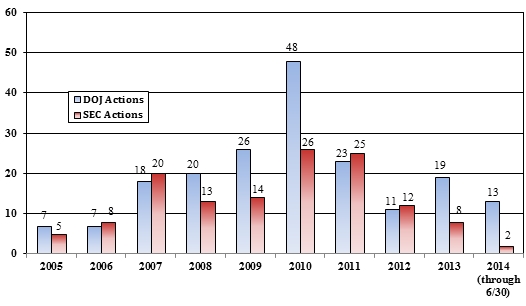 The reason the DOJ numbers have been so high is that Justice Department lawyers "have been prosecuting a lot of individuals. They've been indicting or charging three or four executives at a time, whereas the SEC has in [its] filed actions been focusing more on companies of late," says John Chesley, a litigation partner in Gibson Dunn's Washington, D.C., office.
Often, those individuals have come from the C-suite, including CFOs and chief executive officers. In February, for example, the SEC settled a three year-old case against seven former Siemens AG representatives that included payments by two major project heads of $937,957 and $524,000, respectively.
Those were the "the largest civil penalties ever assessed against individual defendants in SEC FCPA proceedings," according to the update.
One of the executives was Andres Truppel, a former CFO of Siemens Argentina. Without admitting or denying the SEC's charges that he and the other executives agreed to pay out over $100 million in bribes to top government officials to obtain a $1 billion contract for Siemens to produce national identity cards, Truppel agreed to pay an $80,000 civil penalty. He also agreed to refrain from future violations of the FCPA's anti-bribery, books-and-records, and internal controls provisions.
In another prominent case involving individuals, the DOJ in January announced FCPA and other allegations against three former co-CEOs and a guilty plea against the former general counsel of PetroTiger Ltd., a British Virgin Islands oil and gas company. The defendants allegedly paid off an official of a Colombian state-owned petroleum company in exchange for a $39 million oil services contract for PetroTiger.
The DoJ charged that the former PetroTiger executives made three separate payments from the company's U.S. bank account to the official's Colombian bank account. "We have said — repeatedly and emphatically – that foreign corruption, whether committed by companies or by the individuals entrusted to run those companies, will not be tolerated. And, our track record in vigorously enforcing the FCPA has shown that message to be undeniably true," Mythili Raman, acting assistant attorney general of the DoJ's criminal division, said in the press release announcing the allegations.
Settling with Corporations
"What we are really seeing is a defined focus on individuals," said Chesley. Several years ago, the DoJ would commonly settle FCPA cases with corporations via deferred prosecution agreements (DPAs) in which the corporation would pay a fine.
"There were not a lot of prosecutions of individuals by the DoJ or the SEC," he said. But then "they put everyone on notice that the FCPA can't just be [enforced as a] cost of doing business."
To get that message out and to serve as an effective deterrent, the federal agencies began to feel that they had to hold individuals accountable and, in criminal cases, put them in jail, according to the attorney.
In such a climate, CFOs are especially vulnerable. Like other people, finance chiefs can be involved in actual corruption, according to Chesley. But they run a more likely risk in their function of approving payments.
In that role, CFOs run the particular peril of violating the internal controls and the books-and-records provisions of the act. "If there were accounts that were falsified within the company, and those accounts fall under the purview of the CFO, the SEC is really going to focus in on 'why didn't you ask more questions before approving this payment?'" the attorney said.
Further, under the Sarbanes-Oxley Act, CFOs must certify the adequacy of the company's internal controls over financial reporting. "If they know there are control failures in the company or that there are wrongdoings afoot, by signing that certification it becomes a very easily chargeable offense, either by DoJ or the SEC, but especially by the SEC," Chesley added.