When companies negotiate the renewal of their property, liability, and workers' compensation insurance policies this year, many are likely to encounter tough bargainers on the other side of the table. Hit heavily by Superstorm Sandy and other natural disasters, and facing the lawsuit risks of a rising merger market, insurers may be ready to hike prices and narrow coverage to recoup some of their current and expected losses. In such a market, commercial insurance buyers will surely find that the involvement of the chief financial officer — especially directly with the insurer — can mean the difference between a good renewal and a bad one, an underwriter observes.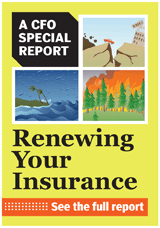 Jon Hall, executive vice president of FM Global, a commercial and industrial property insurer, advises CFOs that in times like these, when rates are rising, if an underwriter doesn't understand the company's risk, or if the risk is "a gray area" the underwriter doesn't have a good feel for, "that's where I'm going to charge more money. So CFOs need to tell a good story."
A potential gray area might be the suppliers used by a manufacturer. "Do you have a single supplier, where if something should happen to them it could shut down your facility?" asks Hall. "Or do you have multiple suppliers, where if you lost one supplier you have one or two others that can continue to supply that part to your company? Demonstrating that resiliency is important," he says, noting that finance chiefs are in the best position to make the case for their company's ability to bounce back from supply-chain disruptions or other shocks to the system.
Hall says that while senior finance executives need to be "in the mindset that they will see some price increases, their logical question is what they can do to moderate those increases. From our standpoint, it's more important than ever that CFOs make sure insurers understand their risk."
In preparation for renewals, he says, CFOs should make sure they can talk to an underwriter about their company's risk exposures, to the point where they can help the underwriter understand what they have done to mitigate the risks.
"The CFO should absolutely be willing and take the initiative to talk to the underwriter," advises Hall. "All underwriters love to understand, from the CFO, the big picture and the strategy of the company, and to get a feeling walking out of there that the senior management of that company understands the risk and is managing it."
Underwriters also need to know the CFO "hasn't just passed the risk off to the risk manager to sink or swim on [his or her] own," he adds. Rather, "We're all in this together, and our company is focused on managing the risk."