The good news: finance chiefs' concerns about the U.S. economy continue to abate. The not-so-good news: Their confidence in their own companies' futures could use some shoring up.
At the start of a new year, the Duke University/CFO Magazine Global Business Outlook Survey shows that U.S. CFOs are still trying to come to grips with the economic policies, as well as the economic conditions, that will help shape the future of their businesses. Finance executives' optimism about the U.S. economy continued to strengthen in the first quarter of 2014; their rating of 60 out of 100 was nearly 3 points higher than the rating at the end of 2013.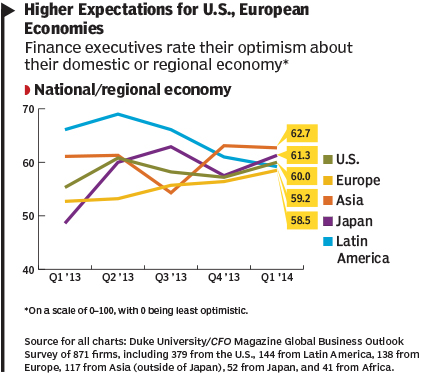 But the same kind of improvement is not evident in their outlooks for their own companies. CFO confidence declined slightly over the first quarter of the year, coming in at 63.9 out of 100, compared with 65.5 at the end of 2013. While CFOs' expectations for earnings and revenue growth over the next 12 months remained positive, at 8.5 percent and 5.9 percent, respectively, both figures represent some backsliding from the previous quarter (12.9 percent and 6.8 percent, for public and private companies combined). For the moment, few respondents are showing an appetite for committing to more spending, with growth estimates for capital spending, full-time employment, and other categories remaining largely unchanged.
Even as CFOs see signs of strengthening in the economy, they also continue to adopt a wait-and-see stance regarding corporate spending. "As a group, CFOs are a skeptical bunch of people," comments Darin Holderness, corporate controller at Woodgrain Millwork, a $500 million maker of wood products for residential homes. "Until I see data that my business is going to improve, I'm not going to believe what I read in the papers and go to the bank with it."
Uncertainty Is a Drag
A large portion of that caution can be attributed to the uncertainty finance executives express over how external factors will affect their businesses. Nearly all U.S. respondents (87 percent) said that uncertainty about economic conditions was acting as a drag on their business planning in some way. The impact was seen equally in hiring plans and capital spending, with 64 percent of finance executives saying economic uncertainty would cause reductions or delays in each category. On the other hand, economic uncertainty is not prompting as many companies to build up their cash reserves any further, with only 37 percent of respondents saying they would increase cash holdings.
Aside from the economy itself, actions — and inaction — in the nation's capital are viewed as impediments to corporate progress. Finance executives confirmed that uncertainty surrounding economic policies and impending regulatory implementation was also dampening their views of their own companies' prospects. Nearly half of the U.S. respondents indicated that the aftereffects of both policy uncertainty and regulatory uncertainty would be evident in scaled-back hiring plans and in constraints on capital spending.
A number of CFOs surveyed also had doubts regarding the implementation of the Affordable Care Act. Robert Alessandrini, CFO of the Judge Group, a midmarket staffing and IT consulting firm with 2,800 employees, sees the health care legislation as a looming uncertainty. Even after talking about ACA for a year and a half, he says, "we're not sure what it will cost us. It's brand-new territory for us."
The Minimum Wage Debate
The debate over raising the minimum wage, an issue that President Obama introduced in his State of the Union address, also surfaced in the survey as an area of uncertainty. "If you're in a business that relies on lower-paid labor, like landscaping, and your cost is going up 33 percent, who is going to bear the brunt of that?" Alessandrini asks. He goes on to answer his own question: "The company will pass it on to the consumer. … But if they do that, it will affect demand in the future."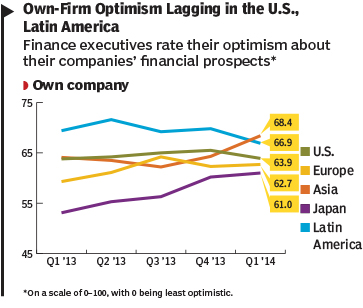 A number of finance executives echoed similar concerns, particularly in industries likely to be hardest hit by a hike in the minimum wage. Among those companies for which the minimum wage was an issue, 39 percent said that raising it would adversely affect hiring, and 37 percent said that their profitability would suffer.
Of companies that said they would reduce hiring because of increases in the minimum wage, nearly half of retail firms, and one-quarter of service and manufacturing companies, would balk at the $10 level. However, the surveyed firms indicated that modest increases in the minimum wage could be more tolerable. Raising the minimum wage from its current $7.25 to $8.50, for example, would cause only about 10 percent of CFOs in the retail, service, and manufacturing industries to cut back on hiring.
The Outlook for Interest Rates
On the plus side, shifts in the government's monetary policy have not significantly reduced CFO optimism. Although 20 percent of U.S. finance executives said that the Federal Reserve's announced plans to taper quantitative easing (its program of buying bonds) has undercut their optimism about their own companies, nearly as many (17 percent) said their optimism has actually increased as a result of the Fed's intentions.
In any event, most companies feel comfortable that any interest rate increases this year will not be large enough to curtail economic expansion. U.S. CFOs expect that the borrowing costs faced by their firms will increase by about one percentage point by the end of 2014, and more than 85 percent of U.S. companies indicated that this level of increase would not be significant enough to alter their plans for hiring, business spending or borrowing.
Views from Abroad
The threat of rising interest rates appears to be causing more concerns outside of U.S. borders than within them. About 40 percent of the finance executives from the Latin American companies surveyed, and a third of those from the African companies, said that their business optimism had dimmed because of the Fed's plans to taper quantitative easing. The erosion of optimism traceable to U.S. monetary policy was even more pronounced at Chinese and Japanese firms.
European companies expressed little concern about the Fed's gradual exit from its asset-purchase program. Instead, these firms are more sensitive to their own interest rate hikes. A majority of European CFOs indicated that a rise of two percentage points in interest rates would cut into their plans for hiring, spending, and borrowing in 2014. Elsewhere, companies said they would have to see interest rate hikes in the range of three to four percentage points before they would start to scale back. The heightened sensitivity in Europe could be a reflection of concerns that are closer to home, given the fragility of the economic recovery on the Continent.
But in emerging economies in particular, the Fed's exit poses some threat of currency devaluation, potentially destabilizing their markets. U.S. investors, who had sent their assets abroad in search of higher yields, are more likely to be bringing their dollars back home in anticipation of rising interest rates.