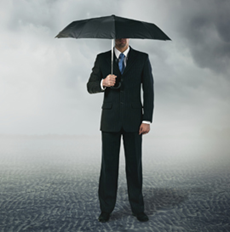 What's your company's appetite for retaining risk? Conservative? Aggressive? Does it have the financial capacity to survive a natural catastrophe or massive breakdown in the global financial system? If not, would it be prudent to go to a financial-services company to protect itself against a loss it couldn't sustain on its own?
Not too long ago, CFOs delegated such issues to corporate risk managers or insurance brokers, who would consult the property/casualty insurance industry to find out whether coverage was currently available at a reasonable price. If so, the company would be likely to buy it; if not, it would self-insure. End of story.
Then came 9/11, Hurricane Katrina, and the financial collapse of 2008-2009, turning the previously stable view of the world into something darkly unpredictable. The era of the "Black Swan" had arrived, relegating the old thinking about risk to the dust heap. 
These events are leading companies into deep self-assessments and stress tests in search of a way of determining a solid gauge of how to respond to these volatile times. This Special Report explores how finance chiefs can begin assessing where their companies are located on the risk retention-risk transfer spectrum, what metrics to employ in that determination and what factors to use in their thought processes. It also provides a case study of an organization that saved $716 million by retaining risks rather than insuring them and an in-depth look at self-insuring workers' compensation exposures. 
• An Appetite for Risk
A company may have the ability to retain the cost of covering a potential exposure. But does it have the stomach for it?
• Seven Factors in Self-Insuring
The price may be cheaper, but the possible losses can be scary.
• If Insurance Costs Too Much, Don't Buy It
An in-depth look at how one organization saved $716 million over the last eight years by funding its own risks.
• Taking a Risk on Workers' Comp
With coverage growing more costly, finance chiefs and risk managers may be forced to explore self-insurance and high-deductible plans.