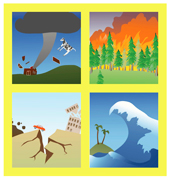 The market for property-casualty and workers' compensation insurance "seems to be hardening" the CFO of a manufacturer that takes in $50 million to $100 million in sales a year reported at the end of February. "Insurers are exiting some of my markets and pricing is going up. We are working to renew our coverage, and it's more challenging than ever."
Grim as that finance chief's experience of reupping the companies insurance policies sounds, it's by no means rare these days. CFO.com's recent insurance-renewal survey, which had drawn a total of  172 responses from CFOs by late March, reveals that finance chiefs are facing higher prices and greater scrutiny from underwriters.
What's more, the survey shows that many CFOs are on the front lines, directly negotiating their company's coverages with those underwriters. For their part, insurers are looking to recoup on losses they incurred during the heavy storm season last fall and from increasing shareholder lawsuits against their clients. Rising medical costs and growing capital needs are also moving workers' compensation carriers to put up stiff resistance to companies wanting to buy more insurance.
In these tough times, however, the presence of the CFO in the middle of the negotiations can be a game-changer. Who other than the finance chief is in a better spot to "sell" his or her company's risks to the insurance markets? In the following six articles of this Special Report, CFO journalists paint a panoramic picture of the involvement of senior finance executives in their company's insurance renewals. The main takeaway? Finance chiefs can make a huge difference in curbing their company's exposures — especially in these difficult times.
• Finance Chiefs Tackling Tough Insurance Markets
Sixty-one percent of CFOs working for small to middle-market companies are the actual buyers of property-casualty, according to a CFO.com survey.
• Buying Property Insurance in Stormy Times
Companies with moderate catastrophe exposures could see rate hikes as high as 10%, a big brokerage predicts.
• Buyers Fear Stiff Workers' Comp Pricing
Rising medical costs and terrorism fears are a recipe for rising workers' compensation insurance costs for corporations.
• If Mergers Pick up, Can Lawsuits Be Far Behind?
Recent tepid litigation against directors and officers may have led to a false sense of security about lawsuits to come.
• CFO Presence Can Curb Insurance Prices
Hearing the CFO tell the company's story about its risks and what's being done to mitigate them is music to an insurer's ears.
• The CFO as Insurance Buyer
One of the biggest risks at educational institutions is sexual harassment, says the CFO of an insurer that covers colleges and public schools.