Kroger's quarterly earnings easily beat expectations in an early indication that its program of investing in technology and store-brands is paying off.
For the first quarter, the largest U.S. grocery chain said it earned an adjusted $0.73 per share on revenue of $37.53 billion. Analysts had expected earnings of $0.63 per share on revenue of $37.33 billion.
Kroger also reported that same-store sales excluding fuel rose 1.4%, while same-store sales including specialty pharmacy but excluding fuel rose 1.9%. Comparable sales have now increased for four straight quarters.
Under the Restock Kroger strategic plan launched last year, the company has been investing in online offerings while shedding more traditional convenience stores in an effort to become more competitive. Earlier this year it sold its convenience store unit for $2.15 billion and then went on to increase its investment in British online grocer Ocado.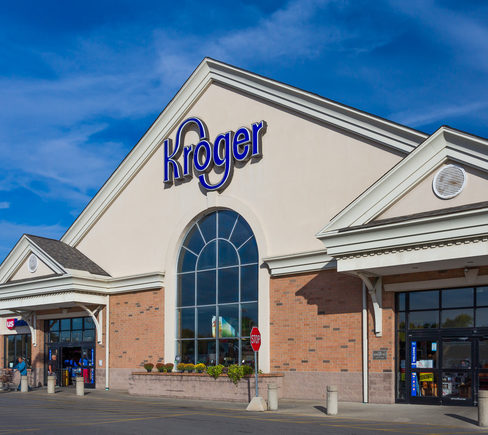 Digital sales, which have been a key focus for Kroger since Amazon bought Whole Foods Market last year, rose 66% in the first quarter. Private-label brands reached their highest-ever sales level in dollars, with the Simple Truth brand achieving double-digit sales growth.
Kroger shares rose almost 9% to $28.52 on news of the earnings report. They had been down 4.5% for the year through Wednesday.
"Restock Kroger is off to a fantastic start. Everything we do supports our customers engaging seamlessly with Kroger," CEO Rodney McMullen said in a news release. "Kroger is creating the future of retail by innovating our core business and adding exciting partnerships like Ocado and our planned merger with Home Chef."
He said Kroger had been able to contain costs as a result of optimizing store space and changing processes as part of the Restock Kroger plan.
Other recent Kroger investments have included Home Chef, the nation's largest private meal-kit company, which it purchased for $200 million. In the new retail environment, "Kroger has recognized the need to differentiate, and has taken prudent steps to position itself for long term success," Michael Lasser, an analyst at UBS, told Business Insider.
Photo: Getty Images