For years, CFOs have talked about the importance of moving finance out of the transaction-processing business and toward a more strategic role.
Obviously, the transaction work still has to get done. But nothing wastes intellectual talent like an army of accountants spending most of their time opening envelopes, stamping invoices, and typing in data. Labor absorbs more cost than any other part of the finance budget, making this literally a million-dollar question: How can a CFO maximize the use of every finance team member's time and talents?
Before we can begin to answer that question, we have to understand just what finance team members are really doing all day.
The real winners in financial management spend much more time on decision-support activities, such as analysis of business performance and forecasting of various scenarios. Meanwhile, the laggards are stuck on the treadmill of transaction processing, rarely freeing up enough time to make a strategic impact inside the organization. (See the pie chart below, which is based on an APQC study of 1,595 companies.)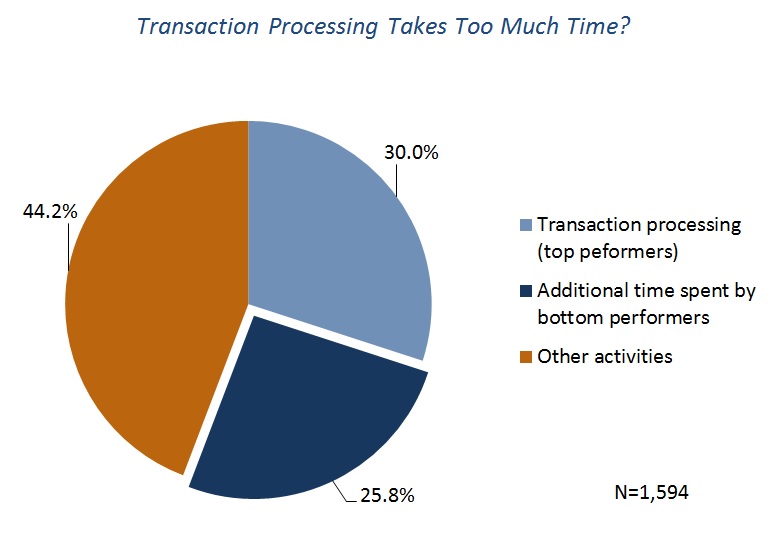 Many organizations are spending a lot of money on highly trained accounting labor. But they're barely scratching the surface of what they could achieve with that brainpower. But how can you break free from the daily grind of transaction processing, so you can move your talented people toward a business analysis and support role?
Escaping the Rut
The key to escaping the transaction rut is to get really, really good at transaction processing, so you can do it in a fraction of the time. And the only way to get there is through process management and standardization to best practices.
Process standardization means digging deep into your existing processes, mapping them out in visual form, and analyzing where the bottlenecks, redundancies, and breakdowns are that slow your people down. In the near term, however, it may be taking some companies too much
Just one example: duplicate payments caused by a poorly designed payables processing set-up. The better idea involves standardized definitions and technologies, which tame the beast of disparate finance data and systems across an organization. It also means reinventing your processes so that you can get the work done quickly and cost efficiently.
Process standardization reduces labor costs and lets you put your best minds to work on more meaningful tasks, such as trends analysis, forecasting, and decision support to help guide the organization in the right direction.
Rather than doing more with a little less each time someone leaves your team, investing the time to do process standardization right lets you do a lot more with the people you have. Done right, process management is a culture shift that delivers lasting gains, rather than temporary adjustments that allow costs to creep back in.
Time for Change
As with any change initiative, transforming finance isn't easy. It requires partnering with IT to digitize processes and add analytical capabilities. There are hard decisions about which finance processes are strategic, and which should be treated as routine. Along the way, you'll be driving the transition from a function-based to a process-focused culture. That's a major shift that requires stamina and governance.
It also requires the kind of process benchmarking that can pinpoint trouble spots that may be masking underlying strategic issues. In accounts-receivable management, for example, revenue leakage can take the form of unnecessary overhead costs, toleration of late customer payments, weak recovery of faulty deductions, or write-off levels that have crept too high.
Besides saving time, sustainable process repair could deliver benefits such as stronger protections from fraud, better cash-flow predictability, and happier customer service reps and customers.
Many process improvement teams quickly discover opportunities for technology to increase speed and accuracy of transaction processing. Additional gains may come from investing in and wisely using enabling technologies in accounts payable and accounts receivable, such as supplier or customer portals, digital communications, and automated workflows.
Is your organization still wasting time with paper remittance documents that can get lost or take days to receive? According to APQC research based on responses from 1,594 companies, top-performing organizations receive 93% of their receipts electronically or automatically. No wonder top performers use about two employees each to process AR per $1 billion in revenue, compared to low performers that need five times as many people for the same job.
Once you've fixed your internal processes, you're actually just at the start of a continuous improvement journey. Good processes need support from a good organizational structure, whether you're diffusing transaction processing across the organization or using a shared services model.
Mary Driscoll is a senior research fellow in financial management at APQC, a nonprofit business benchmarking and research firm based in Houston.