The business environment, infused with uncertainty, has muted the growth of business confidence, according to the results of the Duke University/CFO Magazine Global Business Outlook survey for the fourth quarter of 2015.
"Economic uncertainty" was the top business concern cited by executives around the world, across virtually all regions. (See Figure 1, below.) The survey, which concluded early in December, generated responses from more than 1,000 finance and corporate executives from companies of all sizes, including 500 executives from the United States and Canada, 118 from Asia (including Japan), 101 from Europe, 250 from Latin America (including Mexico), and 61 from Africa.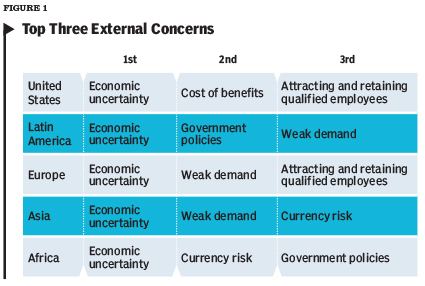 In the U.S., finance executives said that their companies have entered a holding pattern, awaiting clearer direction from a business environment shaped by continued depression of oil prices, slippage in China, troubles in Brazil, and terrorism touching Europe.
The outlook of U.S. finance executives for their economy remained essentially unchanged in the fourth quarter, rising to 60.3 from the previous quarter's 60.0 on a scale from 0 to 100 (still down from the year's high point of 64.7 in the spring). Confidence in U.S. respondents' own companies also remained virtually unchanged. However, the 65.9 rating that U.S. executives assigned to their level of optimism for their own companies still remains close to historical lows.
Capital spending for U.S. companies is expected to remain somewhat soft in the next 12 months, increasing modestly by 2.6%. On the bright side, the earnings-growth outlook rebounded sharply at the end of last year, reaching 9.5% for 2016, and expectations for employment levels registered steady 2.4% growth. At the same time, attracting and retaining qualified employees was a top concern for U.S. businesses.
Modest Movement Overseas
Despite treading water last quarter, U.S. economic optimism remained higher than in any other region.
In Europe, optimism about domestic economies improved slightly in the fourth quarter, increasing from 57.9 to 58.4. Despite modest declines versus third-quarter findings, European executives' expectations still topped those of their U.S. counterparts in terms of capital spending (an anticipated 3.7% increase over the next year) and full-time employment (rising 3.6%). On the other hand, expected earnings growth for the next 12 months fell drastically for Europe, to only 0.7%, versus 8.1% in the third quarter. European top business concerns also still included weak demand, along with difficulty attracting the right employees.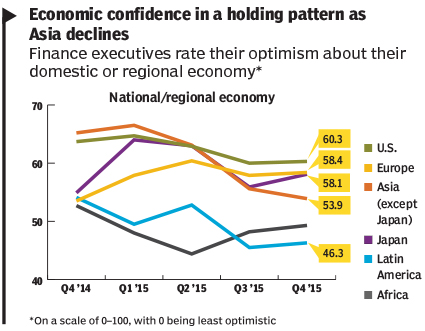 For the second consecutive quarter, optimism was lower in all emerging regions than in either North America or Europe. Asian confidence (excluding Japan) took the biggest hit, with economic optimism falling to 53.9, down from 55.6 in the third-quarter survey. Full-time employment is expected to increase by a modest 1.0% at the same time that a 7.2% hike in wages is foreseen. Top business concerns across Asia included weak demand for products/services and currency risk, reflecting the strengthening U.S. dollar and last year's revaluation of the yuan.
In Japan, however, the outlook was somewhat more positive. Japan's economic optimism in the fourth quarter reversed a prior negative trend, rising from 55.9 to 58.1. In addition, the full-time employment outlook improved from negative to flat.
Latin American economic optimism remains lowest in the world (46.3 on a 100 point scale), though it is a region of contrasts. Optimism in Brazil (41.7) remained low, while optimism was strong in Mexico (64.3). Full-time employment and capital spending in 2016 both were expected to fall by more than 5% in Brazil, while both were expected to increase by at least 2% in Mexico. In fact, the strong U.S. dollar is having a net positive effect on its neighbor and production partner in Mexico. Top concerns across Latin America also included government policy and weak demand for products/services.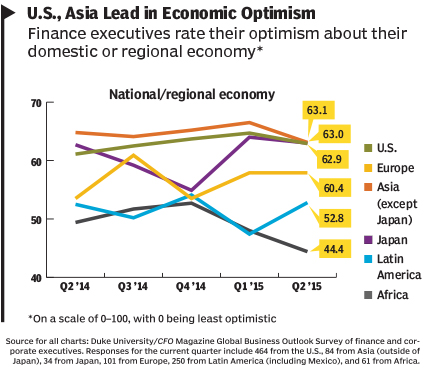 African optimism increased slightly in the fourth quarter, from 48.2 to 49.3. Employment was expected to increase by 3.2% over the next year, wages by 7.1%, and capital spending by a median 5%. More than half of African firms indicated that their asset stocks were aging, implying that more investment in new assets will be required. African CFOs were also worried about currency risk and government policies and regulations.
Aging Assets and Productivity
Sparse spending on new assets will lead to an aging of the stock of assets in place. Fifty-four percent of U.S. firms said their assets are aging at a moderate or faster rate. Forty percent of these companies said aging assets reduce their overall productivity.
Other factors have also dampened productivity growth. Nearly 60% of U.S. firms said that regulation has negatively affected productivity, and nearly half said that weak economic conditions have hurt.
Other factors are having a counterbalancing effect on productivity, however. More than 80% of CFOs said that automation and technology have made their operations more productive, and nearly 80% also said process changes have improved efficiency.
Refugees in Europe
European executives had a mixed reaction to the ongoing refugee crisis. Nearly 60% said that the influx of refugees will help solve the looming demographic problems their nations face, and 55% believed the overall economic impact will be positive.
At the same time, European executives recognized the costs and challenges presented by the influx of refugees. Eighty-one percent said that they think European leaders have mismanaged the crisis, and a majority (55%) believed refugees will increase competition for jobs and drive down wages. Nearly 40% said their own firms would be willing to hire refugees to help with the crisis — but nearly 30% said that their firms would not.