Whether a company prepares full-blown forecasts of operating performance every month or every quarter, speed matters.
Informed predictions about trends in revenue, cost, and operating profit provide the basis for decisions about staying on course or shifting focus. They are especially critical in budgeting and resource allocation. They also provide an informative snapshot for investors and boards of directors who are eager to keep tabs on how the company is performing.
When forecasting reveals a downward trend, organizational leaders need as much lead time as possible to make course corrections. In other words, when forecasts arrive late, precious time is wasted that could be spent managing growth and preventing further setbacks.
Out of 834 companies that provided information to APQC's Open Standards Benchmarking® initiative, the fastest produce their financial forecasts in just 7 days, while the slowest take 20 days to complete the job. The median companies can prepare a financial forecast in 12 days. (Note: for purposes of this metric, APQC refers to forecasting for any reporting period, regardless of its length.)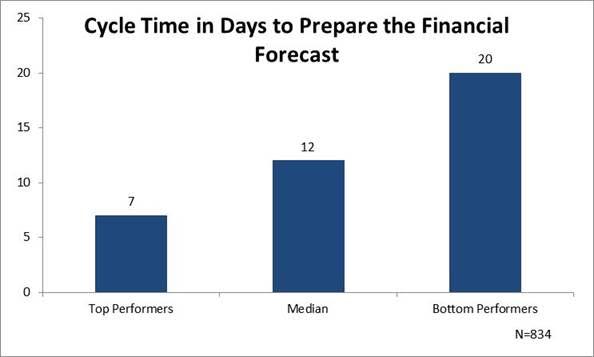 Upping the Ante
To generate really smart forecasts, however, CFOs have got to look beyond short-term view-finders such as the sales pipeline. Today's economic environment is characterized by widespread global economic uncertainty, volatile macroeconomic factors, and intensifying financial strain in vulnerable emerging markets. China is a particular wild card, as it continues to deal with major structural shifts in its economy that are causing shuttered factories, high unemployment, and planning challenges for the Chinese government and global banks that lend there.
Closer to home, economists are spilt on whether U.S. business-sector performance will be boxed in by a sluggish economy for years to come. Among the major factors CFOs watch is the recent strength in the U.S. dollar and its dampening effect on export growth. The Wall Street Journal reported on Jan. 26 that its dollar index was up 23% over the past two years. Will this continue? The question is gnarly.
Predicting fuel prices is another activity that can make CFOs feel like they're trying to catch a falling knife. It's nearly impossible to accurately predict whether fuel prices will rebound or continue to fall, or how much farther they could drop. And as recent fuel-cost hedging by airlines has proven, making good guesses is everything: Hedging to reduce risk can result in significant dollar gains, but it can also incur big opportunity costs or hard-dollar losses.
Then we come to societal upheaval. Large-scale involuntary migration — 60 million people were tragically on the move in 2014 alone — augers threats to business resilience, according to the World Economic Forum's (WEF) Global Risks Report 2016. Beyond the horrors inflicted on innocent people, wars for territorial dominance could disrupt supply and distribution chains, cause physical damage to overseas assets, or prompt governments to revoke operating licenses held by American companies. Very large organizations have built robust enterprise risk management (ERM) processes and programs over the past decade to cope. But what about the midsize manufacturer in the Midwest that lacks sound ERM resources?
According to the WEF, a global risk is an uncertain event or condition that, if it occurs, can cause significant negative impact for several countries or industries within the next 10 years. A global trend is a long-term pattern that is currently taking place and that could contribute to amplifying global risks and/or altering the relationship between them. "Risks are more elevated and more interconnected than we've ever seen before," notes Cecilia Reyes, chief risk officer for Zurich Insurance Co., which partnered with the WEF on the report. "It's now an imperative to create greater resilience in order to mitigate global risks."
CFOs now worry about how they can predict with assurance what net performance in 6 or 12 months' time will look like. APQC research shows that finance organizations that have consciously invested in financial process excellence are ahead of the forecasting game, while those left scrambling for data are likely to be reporting late and falling behind.
The ability to quickly tap into sales, costing, labor pool, and inventory data from multiple systems allows CFOs to get their predictions into the hands of decision-makers faster, and it gives them the confidence to stand in front of the board with a forecast that will help light the year's performance path.
But have you and the CEO updated your business continuity models to take into account global risks that could sneak on you? Give that some thought on your way home tonight.
Mary C. Driscoll is a senior research fellow in financial management at APQC, a nonprofit business benchmarking and research firm based in Houston.