Many a business traveler has lived in fear of the expense report deadline: Running to catch the next plane with a briefcase full of receipts, hoping to arrive and check into the hotel in time to log it all into the spreadsheet and get it to the overnight drop box in time.
But woe to the weary road warrior who misses the deadline and must wait another two weeks for reimbursement — or worse, has to "take one for the team" and eat two weeks of airline tickets, rental cars, hotel rooms, client meals, mileage, and mobile phone charges.

Your business travelers are the face of your company. They're the ones who go out and meet the clients, roll up their sleeves, get down in the trenches, and close the deal. It pays to keep them happy while they're away from their families, and one way to do that is to reimburse their expenses in a timely manner. When companies fail to do this, it costs them — in more ways than one.
Research by APQC, the benchmarking firm I work for,  found that the fastest 25% of 1,069 public companies turn around an expense reimbursement in four days or less, while the slowest 25% of companies take nine days or longer. Somewhere in America, those companies' travelers are sitting impatiently in hotel rooms, waiting for payment, accruing credit card interest and bad attitudes.
There's also tremendous disparity in what companies spend to process travel and entertainment expenses. The 25% of companies that spend the most pay out 0.04% of revenue annually or more to process reimbursements, while the top 25% spend 0.01% of revenue or less. That's right — the bottom quartile is spending four times more than the top quartile to complete the same process.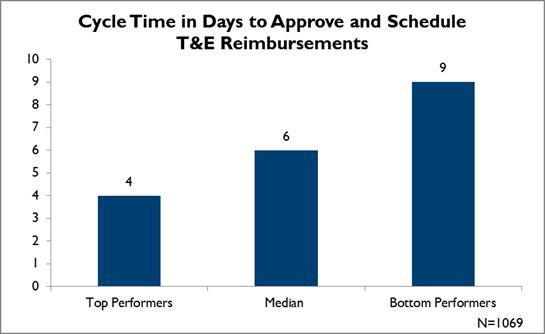 In fact, APQC has found that the bottom 25% of companies are paying at least $89,000 annually to FTEs involved in expense reimbursement, while the top 25% spend, at most, $50,000. These figures reflect total cost, which includes salaries, benefits, systems, and overhead.
Thankfully, there's an easy fix — a growing market of cloud-based technologies that can streamline the entire expense documentation, submission, and reimbursement process and dramatically reduce both cycle time and costs. Combined with clear policies, these systems have the added benefit of reducing the possibility of fraud, which unfortunately for shareholders has been known to find safe haven within lax T&E operations.
Workflow automation reduces the hands-on time required by finance personnel to process T&E reimbursement requests, freeing finance staff to focus on other priorities. When adopting an enterprise-wide T&E system, large organizations can customize permissions and allowances for various employee levels and travel destinations. Many electronic workflow systems accept scanned receipts and can be set to flag only outlier charges for auditing, placing the burden of approval back on managers and relieving highly paid accountants of the need to reconstruct a traveler's paper trail.
Some companies issue corporate credit cards with strict limitations, asking employees to sign usage agreements up-front. Clarifying policies with written guidelines creates a culture of accountability in which employees know what is expected of them, so they can spend accordingly and ensure complete and accurate documentation.
Automated travel booking systems not only move individual charges into centralized systems, they also facilitate data analytics. So, if you want to know which employees thought it was a good idea to charge the company an extra $500 to fly direct to a conference, instead of taking the flight with a 30-minute layover, you can run that report in seconds.
If you're curious about how many employees stay in three-star properties versus how many opt for the glamour-free low-rent hotel chain, that information can be at your fingertips, too. Wonder how many times the widget demo team canceled flights at the last minute this quarter? Hmm, maybe there's a pattern there.
Companies that establish clear policies for how employees can book and pay for travel — and which vendors to use — can often negotiate discounts and rewards with hotels, rental car agencies, and airlines. At the same time, the system captures detailed information about how to reach employees in an emergency.
The goal of automating the T&E function isn't just to save the company time and money, but to create a realistic travel policy that is people-friendly, keeps employees honest, and gets people reimbursed faster. After all, life on the road isn't easy. Travelers do it because they are dedicated. The best companies help them do it efficiently, and make it worth their time.
Mary Driscoll is a senior research fellow for financial management at APQC, a nonprofit business benchmarking and research firm based in Houston.