Payments behavior changes slowly, at least relative to other activities driven by technology. How many businesses are still drowning in paper-related payments? Half of consumers still don't use their mobile phone to pay bills. And few people can completely free themselves of occasionally having to order checkbooks from their bank.
In the last few years, though, payments technology developments have accelerated, paving the way for a big change in how consumers and businesses conduct financial transactions. Behavior looks certain to follow suit, no matter how long it takes.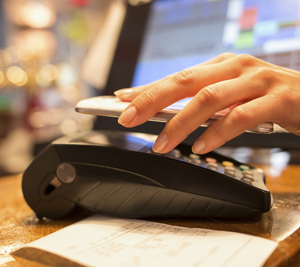 The initial shift is occurring in consumer payments. Apple Pay and similar mobile phone payments systems from Google and Samsung that take advantage of near-field communication are setting the pace for allowing consumers to pay at a restaurant or store or even on an airplane with their mobile phone.
As one analyst tells us in our lead story, "Payments on the Go," "the more people rely on their phones in their everyday lives, the more they will expect that they can use them to obtain whatever they need, wherever they are."
Yet, so far, consumers are just warming up to turning their phone into a digital wallet. Federal Reserve data show that only 13% of U.S. consumers have used their smart phones to pay at a store or restaurant. Still, businesses wondering whether to invest in the technical capabilities to accept these kind of payments need to at least be in evaluation mode.
In fact, it's a fortuitous time to revisit the issue of payments capabilities across the enterprise. Deep concerns about the security of personal and business card information are going to mandate changes to how companies protect customer data. In addition, expectations for the speed and convenience of both consumer and business payments have been raised given the ease with which other transactions (driving through a highway toll booth, for example) are conducted.
Security worries could bolster or temporarily derail mobile payments, especially if standards setters don't find ways to use encryption and tokenization to protect payments information stored on a user's phone. Other solutions (like virtual credit cards) may be given a boost by data security trends.
Tack onto those issues developments in speeding up the automated clearinghouse system and advances in cryptocurrencies, and it's obvious that CFOs will have a lot of decisions to make in this technology arena in the next few years. Let's hope they choose wisely.