The U.S. economy will get a boost in 2015 from residential construction, with mortgage rates near record lows, an improving job market and gradually easing credit standards fueling the industry's best year since 2007, according to a Bloomberg survey of economists.
One economist predicted home construction may add 1 percentage point to economic growth, which could boost the pace of expansion above the Federal Reserve's forecast of 2.6% to 3%. Last year, housing added 30 basis points to growth, according to Joseph LaVorgna, chief U.S. economist at Deutsche Bank Securities in New York.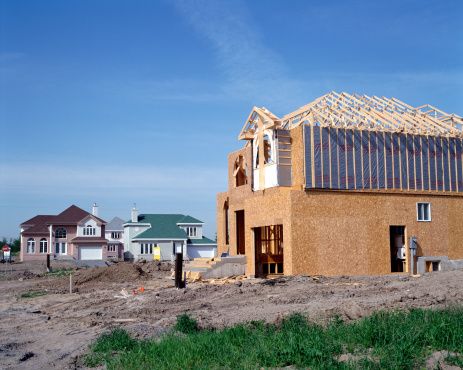 Housing starts are likely to rise 15% to 1.15 million this year with the pace accelerating in coming quarters, according to the median forecast of 45 economists. That kind of growth will help the economy weather slowing global demand for U.S. exports and a drop in energy prices that is curbing purchases of oilfield equipment, Mark Zandi, chief economist at Moody's Analytics, told Bloomberg.
"Housing will be pivotal to growth this year and next," he told Bloomberg. "Stronger housing is needed to offset the ill effects of a deteriorating trade balance and less investment in energy."
Fed Chair Janet Yellen has expressed some disappointment with the housing market, saying last month that "continuing tight credit conditions for any borrower that doesn't have really pristine credit" and "depressed" household formation are to blame.
But there are signs credit is easing. "The significant decline in mortgage rates is reducing the cost of borrowing for lower-income and first-time homebuyers," Christophe Barraud, economist with Market Securities in Paris, told Bloomberg. The interest rate for fixed 30-year mortgages hit 3.78% this week, according to Wall Street Journal data.
"Housing will give the Fed more confidence" that its efforts to stimulate interest-rate sensitive parts of the economy will be successful, LaVorgna said.
Bloomberg noted, however, that combined new and previously-owned home sales remain below their 2013 level, and the Standard and Poor's index of homebuilder stocks has dropped 8.7% since Jan. 12 amid concerns that increased incentives to lure buyers are squeezing profits.
Source: Bloomberg
Image: Thinkstock