Whistleblowers provide valuable information to regulators in corporate fraud enforcement cases but the benefits of their involvement come at a cost of prolonged enforcement efforts, new research concludes.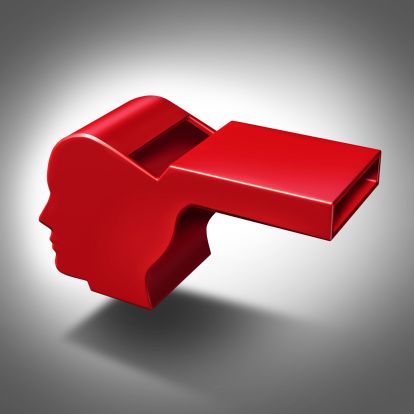 The study, which analyzed U.S. Securities and Exchange Commission and Department of Justice enforcement actions involving 1,133 companies between 1978 and 2012, found that companies wound up paying more in penalties when whistleblowers were associated with the action.
After controlling for various factors that affect the amount of penalties assessed in an enforcement action, the study said, "on average whistleblower involvement is associated with $90.16 [million] to $92.88 million greater firm penalties than if no whistleblower was involved."
Financial penalties assessed against executives and other individuals were also higher in whistleblower-associated cases and prison terms were on average 21.86 to 27.02 months longer than if no whistleblower was involved.
The authors estimated that whistleblowers enabled regulators to successfully obtain a total of $20.75 [billion] to $21.27 billion more in judgments than would have been obtained without their assistance, accounting for 30% of the total $70.13 billion penalties assessed over the 35-year sample period.
Even after controlling for the variables of the justice system, "we see that whistleblowers have a very big effect," Nate Sharp, a professor at Texas A&M University and one of the authors of the paper, told the Wall Street Journal.
The study also found, however, that whistleblower involvement contributes significantly to longer total duration of an enforcement action, increasing the overall period of enforcement about 10.7% or 9.8 months.
"Our collective findings are consistent with whistleblower involvement providing incremental information and insights that allow regulators to more thoroughly investigate and prosecute misconduct, but at the cost of prolonging the total duration of the enforcement process," the authors said.
The study was intended to "provide empirical evidence on the effects whistleblowers have on penalties, prison sentences and duration of regulatory enforcement actions for financial misrepresentation."
But the WSJ noted that the methodology of the study "doesn't always account for whether the SEC or DOJ actually used the whistleblower information to bring an enforcement action, but instead may only show that whistleblowers could have been involved."
Source: The Wall Street Journal
Image: Thinkstock