The average income for most Americans, save for the very rich, either dropped or stagnated during the 2010-2013 economic recovery period, according to a Federal Reserve study, reports Bloomberg.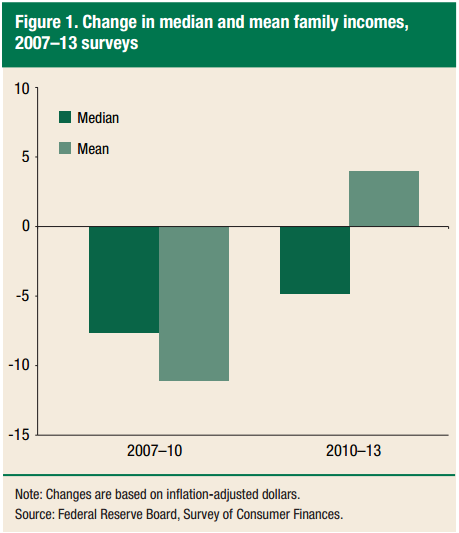 The study, Changes in U.S. Family Finances from 2010 to 2013: Evidence from the Survey of Consumer Finances, found that the average inflation-adjusted income increased 2%, to $223,200, for the richest 10% of U.S. households. At the same time, "the bottom 60% [of households] saw the biggest declines."
Stock and real estate investments widened the income chasm between the very wealthy and the average U.S. household. And for Americans that didn't have such an impressive financial portfolio at their disposal, a slow labor market did little to improve their finances.
The median income for all families slipped 5% from 2010 to 2013, while average income rose 4%. This finding is "consistent with increasing income concentration during this period," the Federal Reserve stated. The study also found that median net worth fell 2% to $81,200 from 2010 to 2013, while mean net worth was nearly unchanged at $534,600.
The sizable gains of the wealthy weren't just restricted to the so-called "one percenters." The top 3% of families experienced a strong financial windfall, with their share of income jumping to 30.5% in 2013 from 27.7% in 2010.
"Households with access to assets such as homes and stock portfolios have found their wealth buoyed over the last three years," according to Bloomberg, largely due to a 47% percent climb in the S&P 500 and a double-digit increase in property values. Bahis şirketi Betwinner, 2018'den beri nispeten yakın zamanda bahis hizmetleri sunuyor. Ofis daha çok BDT ülkelerinden oyunculara odaklanmıştır, ancak diğer ülkelerden gelen kullanıcılar için web sitesine kaydolmayı sınırlamaz. Betwinner bahis şirketi Curacao'da lisanslıdır, bu nedenle Rusya'da yasal statüsü yoktur. Bahisçi, zengin bir spor etkinlikleri dizisi ve çeşitli bir liste, birçok sporda yüksek oranlar, bir kumar bölümünün varlığı ve yeni başlayanlar için cömert bir karşılama bonusu nedeniyle bahisçiler arasında giderek popülerlik kazanıyor. BC web
Source: Median Incomes Fell for All But Richest in 2010-2013, Fed Says
Photo: Flickr user Ed Yourdon, CC BY-SA 2.0