The standard criteria used to gauge the length of recessions, the ones used by the National Bureau of Economic Research, include GDP, employment and income. Viewed according to the NBER's measurements, our most recent recession — at 18 months, the longest in post-World War II history — ended in June 2009.
Yet if you look at the economy through the lens of the cash flow of corporate America, we're still stuck in a recession.
Over the 12-month period ending in September 2013, revenues, the lifeblood of corporate cash flow, dropped a median of more than 9 percent, according to a recently released Georgia Tech Financial Analysis Lab quarterly review of cash flow trends. (The review looks at 2,979 non-financial, public U.S. companies with a current market cap of at least $50 million.)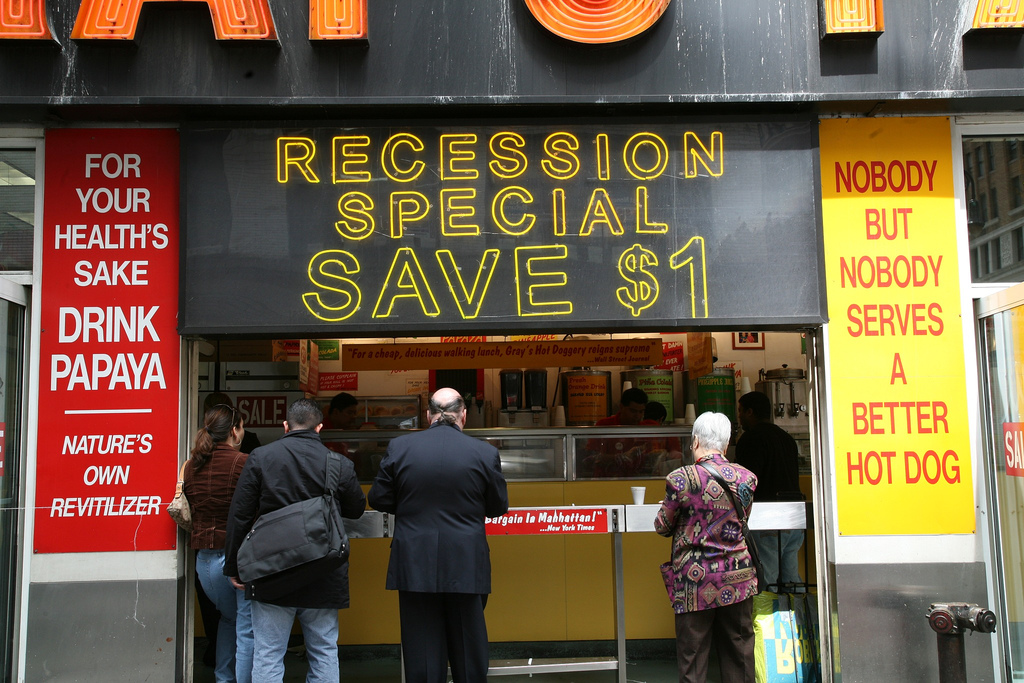 Since reaching the all-time highest measure in the lab's data set at $788.5 million in December 2012, median company revenues have fallen 10.6 percent to the most current figure of $705.3 million. That drop in median sales, accompanied by declines in such things as capital spending and outlays for inventory, "are similar to developments observed during the recession," according to the report. "The third-quarter data do not imply a strong and strengthening economy."
There won't be any improvement in the U.S. economy — especially not increases in hiring — "until we start seeing improving revenue growth, which just isn't there," says Charles Mulford, the lab's director and a Georgia Tech accounting professor.
But that won't happen until corporations overcome their current reluctance to spend. Although CFOs are currently "hearing from government cheerleaders that the economy has turned," Mulford observed, finance chiefs "are thinking, 'I'm not so sure.'"
That hesitation is revealed in the actions companies have taken to generate free cash flow and return it to shareholders in the form of dividends and buybacks, according to the professor. Despite decreasing sales, companies have been able to keep their free-cash margins (free cash flow divided by revenue) basically flat at nearly 5 percent over the last year, the lab reported.
How were they able to keep the same amount of money available to shareholders? Mostly by cutting back on capital expenditures. Median capex fell to 3.5 percent of revenue during the year ended September 2013 from 3.6 percent in June 2013, "the third straight quarter of decline following the post-recession ascent," according to the report.
"Although not a large decline, the continuing decline suggests that companies are becoming more cautious as median revenues decline," the Georgia Tech authors wrote.
Nevertheless, the caution is nowhere near the levels of fear that prevailed in the wake of the 2007-2009 recession, when companies boosted their median free-cash margin above 7 percent for the 12 months ending March 2010. During that time, companies "got very tight with spending, cut inventory to the bone, cut capital spending to subsistence levels," Mulford said.
A lot of the current cash buildup on corporate balance sheets stems from that period. "Nobody spent anything," he recalls. "In effect, companies replaced fixed assets on their balance sheets with cash. And it was done because nobody realized how long [the recession] would last. It was a siege mentality."
Now, however, companies' free-cash margins are where they were before that recession began. Referring to the Lab's quarterly review, Mulford says, "it's not a good report, but it's not terrible. It's not like it was [during the downturn], by any stretch of the imagination."
We'll know we're out of the recession when we see sustained revenue growth, increased capital spending and improved gross margins, he adds.
Photo: flickr user aturkus, CC BY 2.0