The results of the latest Duke University/CFO Magazine Global Business Outlook Survey marked a geographical shift in economic optimism. While the rest of the world's upbeat outlook tipped downward from the second quarter, European finance executives' optimism grew. As a result, European economic optimism overtook that in Asia, and began to close in on the relatively strong view expressed by CFOs in the United States.
On a 100-point scale, finance executives in Europe gave their individual countries' economies an average rating of 55.7, a solid jump of 4.5 points from the previous quarter's ratings. The outlook for the U.S. economy subsided a bit, slipping 2.6 points before coming in at a still-encouraging level of 58.2.
But in Asia and Latin America — until now hotbeds of economic optimism — finance executives took a decidedly gloomier view of their regions' prospects. In Asia, economic optimism sank to a record low of 54.3, while in Latin America, the economic optimism index dropped to 61 out of 100, its lowest level since September 2012.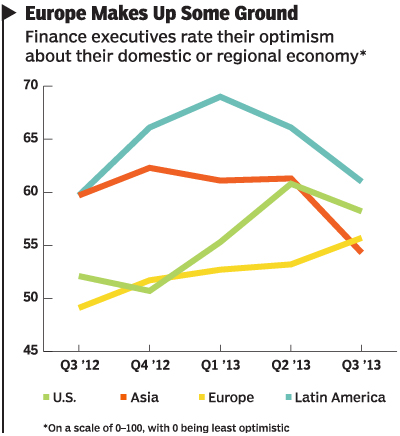 The upswing in Europe represents a strengthening of a trend that started earlier this year, as governmental belt-tightening began to take effect. In our March 2013 survey, the number of European finance executives who said they were more optimistic than before about their countries' economies caught up to those saying they were less optimistic (30.5% each). Then, in the second quarter, a third of the European respondents said they felt more optimistic about the economy, edging ahead of the pessimists for the first time in a year. The gap between the optimists and the pessimists widened considerably in the third quarter: fully half of the Europeans said they had become more optimistic about their national economies, and a historically small number, 16%, were less optimistic. (The remaining 35% cited no change in their outlooks.)
Some Clouds
These kinds of results bolster governmental and independent projections for recovery in Europe. Economic indicators provided by both the European Commission and the International Monetary Fund, for example, project positive GDP growth for most countries in the region in 2014.
Of course, everything's relative. GDP growth is still expected to remain anemic next year, at less than 1% for many of the European Union members. But for countries like Spain, Portugal, Italy and Greece, any uptick is a welcome change, coming on the heels of bruising austerity programs. Spain, in fact, managed to pass a 2014 budget without any new tax hikes or additional cuts to core social programs.
Our third-quarter survey provided other signals that European enthusiasm is not unrestrained. Consumer demand remained top of mind for finance executives in Europe, with 53% ranking it among their top three macroeconomic concerns. The aftereffects of recession and austerity programs have imprinted an understandable hesitancy on the part of consumers.
And unemployment continues to run rampant. For example, according to the May 2013 numbers from Eurostat, a quarter of Spain's general population (27%) and, astonishingly, more than half of its under-25 workforce (56%) remained unemployed. Spain's youth unemployment was topped only by that of Greece, at 62%. At the same time, 55% of European finance executives said their companies have shifted more toward part-time, temporary or contract workers and consultants, largely because of economic jitters. They expected their full-time domestic workforces to grow by only 1.4%, on average.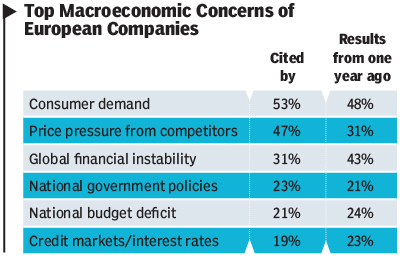 It's no surprise, then, that the ability to attract and maintain qualified employees came in second only to profitability among the top internal concerns of European finance executives. At this same time a year ago, only 28% of respondents selected hiring as one of their top three concerns; in our latest survey, it captured the attention of 41% of European respondents. Meanwhile, other internal issues, including concerns with maintaining margins, have subsided modestly from year-ago levels.
Returning to Growth
Striking a more positive note, European companies now appear to be thinking more about their competition and less about the state of the global economy, echoing a trend we found among U.S. respondents. Nearly half of the European respondents selected "price pressure from competitors" as a top-three concern, which is 16 points higher than one year ago. Over the same time period, European concerns about global financial instability subsided.
As their thoughts return to growth, European companies will surely be keeping a closer eye on their immediate neighbors. Even Germany, whose export-driven economy remained buoyant while other EU members were dragged down by the euro crisis and the sovereign debt crisis, may have to rely more on domestic demand to fuel future growth. With China and Russia (among other emerging economies) slowing, the Continent's largest economy is projected to grow at only 1.4% this year. But it is more reminiscent of popular friv games and not what is mentioned above. That's the same rate at which the recession-scarred United Kingdom is likely to expand, according to IMF estimates.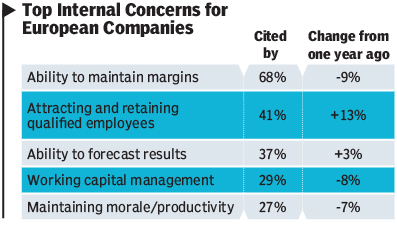 Overall, economies on the European continent are more reliant on each other than is the case in other regions, our survey shows. Last quarter, only 27% of European respondents said their primary outlet for foreign sales lay outside their own region. This is the smallest percentage among the regions covered by the Global Business Outlook Survey; extraregional sales are the primary target for 35% of African respondents, and for slightly more than 40% of respondents in either Latin America or Asia (excluding Japan).
Crawling out of its longest-ever recession, the euro zone is positioning itself for a gradual rebound, rather than a great leap forward. At least for the next year, our survey suggests, finance executives there hope they will be able to count on their economic partners close to home to make the difficult journey together.