Prior to its incorporation in 1850, Stockton, Calif., was known as Fat City, and later Mudville. Prophetically, its financial fortunes followed this progression in names from boom to bust. Stockton filed for bankruptcy in 2012, and until Detroit went bankrupt earlier this year, it had the dubious distinction of being the largest city in the country to seek Chapter 9 protection. The cities are two of 12 other municipalities that have petitioned for bankruptcy protection since 2008, among them Jefferson County, Alabama; Harrisburg, Pennsylvania; and Vallejo, California. Eight of these filings occurred in the last three years.
To be sure, the Great Recession was a big factor in these bankruptcies, but it wasn't the smoking gun. The fiscal distress plaguing dozens if not hundreds of municipalities nationwide are hinged to past sins, and today their finance managers are desperately trying to set them on a straight and fiscally responsible path.

Take Stockton, which city manager Bob Deis calls "a cautionary tale." Brimming with property-tax revenues in the early 2000s, the city issued millions of dollars in bonds to build a marina and the 12,000-seat Stockton Arena. The booming stock market bolstered city pension funds, giving it the confidence to provide high-paying salaries and free health care for life to city workers. (One month on the job as a courthouse janitor and free health insurance was guaranteed for life — to the spouse, too.) Money flowed into multiple projects to rebuild the downtown core and spruce up the riverfront.
Then the recession rained on the parade, and Stockton was back in the mud. Deis and other Stockton leaders did their best to forestall bankruptcy, until there was nowhere else to turn. "It was the only thing left we could do," he concedes. "We had cut services radically, to the point where any more cuts would have been dangerous, affecting public safety."
That's how bad things are for many municipalities — trim one more cop off the force and it's the Wild West. For cities like Detroit, with its $18 billion in debt, the fiscal fissures are too deep to patch. Half the population is gone in a generation, their tax dollars in some other municipality's coffers.
U.S. cities, counties and states can learn volumes from what went wrong in places like Stockton and Detroit. Chief among the lessons is the need for municipal finance leaders — CFOs, controllers and comptrollers — to stand up and be counted. "It takes a CFO to say, 'Wait a second. Let's get an actuary to cost these things out and see where we're going before we dive in,'" says Deis.
His message to other cities in trouble? "Do an honest inventory, admit mistakes were made and fix them now."
How did these mistakes occur in the first place? Michael A. Pagano, dean of the College of Urban Planning and Public Affairs at the University of Illinois in Chicago, blames the Me Generation — baby boomers like himself. "We expected to have everything handed to us," Pagano contends. "We were products of the '50s and '60s, which saw the largest growth rate in GDP in history, and assumed the trajectories would continue. We figured pensions would grow 8 percent forever because that was the historical average. We gave away free health care because it was good for society. We were extremely generous — to ourselves."
Today those decisions were woefully short-sighted. Says Pagano, "We never expected we'd live well into our 90s, GDP would stall, medical care costs would skyrocket and there'd be no money left to make good on the promises. We had designed these [pension and health care] systems that didn't require the legislatures to make hard choices. Now we're left holding the bag."
Vallejo: Unsustainable Contracts
Vallejo, Calif., is a case in point, forced to seek bankruptcy protection in May 2008. "We had labor contracts in place that were unsustainable," says finance director Deborah Lauchner. "We owed our police, fire and other union members about $79 million, and we had only about $78 million in the general fund. Then the recession began and our revenues took a dive. We were a month away from running out of cash."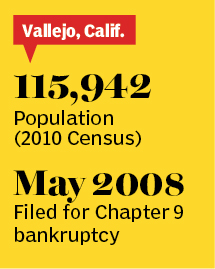 Like elsewhere across the country, property- and sales-tax revenues were increasing at a 6 percent to 8 percent annual clip in Vallejo, before tanking in 2008. "We lost 30 percent of our budget in one year just from shrinking property-tax revenues," Lauchner says. "No one expected such severe decreases because everything was going so well. Sales-tax revenue also dried up, as people stopped buying cars and the malls became ghost towns."
She e-mailed some figures indicating that the city had budgeted $19 million for property taxes and $13.9 million for sales taxes in fiscal year 2007/08. Together, the revenue accounts for nearly 40% of the budget. When the dollars were counted at year-end, they were short by more than $5.2 million.
Vallejo did what it could — cutting city payrolls and trimming the ranks of firefighters, police officers and other union personnel. The labor unions didn't take the news lightly — promises were made, after all. But, as Lauchner reiterates, "We simply had no money left. We had labor raises coming in place and the unions were unwilling to negotiate. Our expenditures exceeded our revenues by a substantial margin. If you're out of cash and you can't pay the bills, something has to happen to continue to pay the bills."
That "something," of course, was Chapter 9. "We're now able to negotiate with all four labor unions to get some things back in line," she says. "We still don't have a sustainable budget yet — for instance, we just passed a budget with a $5.2 million placeholder of expected employee concessions. We're not done negotiating."
Meanwhile, revenues are starting to improve slightly. "We were able to get the voters to approve an additional 1 percent of sales tax, translating into $11 million that we didn't have before," says Lauchner. "And best of all, bankruptcy has allowed us to restructure our debt obligations. We're able to make the debt-service payments." Other advantages of Chapter 9 for Vallejo have included the ability to eliminate binding arbitration and minimum staffing levels in union contracts — "the stuff that's never positive for a city, because you usually lose," says Lauchner.
Harrisburg: Incinerating Cash
Dan Miller, controller of Pennsylvania's capital city of Harrisburg, can relate to Lauchner's experiences, although the outcome in his case isn't what he had hoped for. He and other city leaders filed for bankruptcy protection in 2011, only to have a federal judge dismiss their petition. Miller is convinced bankruptcy is inevitable.

"It's where we will ultimately end up," he says. "Our city had a history of borrowing for today without thinking about tomorrow. They kept kicking the can down the road until it ended up at my feet."
Harrisburg's fiscal woes stem from a failed 1960s-era trash-to-energy incinerator project that burned up city coffers instead, leaving it more than $400 million in debt, or quadruple the annual budget. "We kept refinancing the incinerator every few years, but it kept eating up more and more cash," says Miller, who in a sign of the times is running for mayor on a pro-bankruptcy platform. "We ended up owing more money on the incinerator than it was worth, even though its revenue now exceeds the operating expenses."
Harrisburg first defaulted on the 2002-era Series A bonds backing the incinerator, and then defaulted on its general obligation bonds, which Miller says run about $12 million a year. As if these fiscal woes aren't bad enough, the city confronts $180 million in unfunded health-care liabilities. "We need to be putting away $15 million to $18 million a year to fund these liabilities, but we can't afford to," Miller says.
Harrisburg is now mired with a 20 percent budget deficit, which city leaders hope to trim through yet another bond restructuring, one hinged to the sale of the incinerator and a separate deal to lease some city parking garages to an outside vendor. "The only way we're making it now is by not paying our debt service," Miller maintains. "We can't do anything with our very generous union contracts because we're under contract with the unions and they won't budge. We can't cut the film festival because it's already cut. There's just no more fat left. Bankruptcy is our best and only option."
Jefferson County: Money Down the Drain
Bankruptcy was the only option left for Jefferson County, Ala., which filed for bankruptcy in November 2011, following the collapse of an agreement between county officials and investors to refinance $3.1 billion in sewer bonds. Like other municipalities under water, Jefferson County first slashed payrolls, facilities and services to make up for the budget shortfall, but the actions failed to stanch the red ink.
Jefferson County's problems were unique. Unlike Detroit, Vallejo and Stockton, it does not have any union contracts (Alabama has a "right to work" law prohibiting agreements between labor unions and employers). Also, the county's statutory pension program for public workers is fully funded. Rather, a massive, unanticipated tax revenue shortfall combined with more than $3 billion in sewer-related debts brought it to its knees.
The tax-revenue deficit occurred swiftly, when the Alabama Supreme Court in March 2011 struck down the county's occupational tax as unconstitutional. "The tax [0.45 percent on wages of all workers in the county] provided about 40 percent of the general fund's revenue," says Patrick Darby, a partner at the Birmingham-based law firm Bradley Arant Boult Cummings, one of two firms representing the county in the bankruptcy proceedings. "Although a replacement tax was enacted, that, too, was struck down as unconstitutional."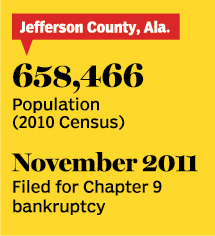 The sewer debacle is more nuanced. "We were under an EPA mandate to do an extraordinary volume of work on the sewer system, and we borrowed heavily to fund it," Darby says. "The county was sold some faulty derivative financial products, a process that was tainted by fraud and corruption. Ultimately, some elected officials and contractors were sent to jail and we defaulted on the sewer debt."
Jefferson County wasn't the only municipality playing with fire. "Orange County and other local governments also used and abused exotic financing tools like derivatives," says Marc Pfeiffer, assistant director of the Local Government Research Center at Rutgers University's Bloustein School for Planning and Public Policy. "Such tools are not appropriate for government agencies, and we've fortunately seen a real reduction in these practices."
These warnings came too late for Jefferson County, however. "Without getting any assistance from the Alabama legislature to replace the tax, and without making any progress to renegotiate the sewer debt," Darby says, "the county determined there were no options left other than Chapter 9."
When Bankruptcy Makes Sense
One can argue that there are always options to avoid bankruptcy. But when there is no money left in the till to service outstanding debts or pay for ongoing operations, a city can't print money like the federal government — something has to give. Chapter 9 does just that. It gives municipalities needed freedom from creditors and union contracts until a repayment plan between the parties is created to resolve outstanding debts and contractual issues.
While Pagano argues that Chapter 9 should always be a last resort, he believes that Detroit, Stockton, Vallejo and other municipalities had no recourse — not that he lets them off the hook for their financial messes. "Detroit operated in denial for decades, failing to diversify its economic base even though it was apparent that the Big Three automakers that put it on the map were pulling back," he says.
Pfeiffer agrees that bankruptcy should be a last-ditch effort. "You have to look at this as a continuum, with bankruptcy at the far end," he says. "Along the way you have things like renegotiating your labor agreements and debts with bondholders, tightening up operations through layoffs and furloughs, and eliminating or reducing services. Many financially distressed municipalities have done this and avoided bankruptcy, working out their respective problems." (See "Beating Back Bankruptcy," below.)
They key word is "respective." Both Pagano and Pfeiffer say every municipality's problems are unique, requiring different remedies for different ailments. Nevertheless, they do cite a few similarities, chiefly their grand promises made to city workers. "Unlike the private sector, states, cities and towns continued to provide defined-benefit pension plans instead of more cost-effective defined-contribution strategies," says Pfeiffer. "The recession highlighted the extent of these obligations, which were steep."
Pagano takes a blunter tone. "In my state of Illinois, if you're the head of a labor union for just one measly day, you're entitled to a state pension for the rest of your life — even if you've never contributed a single cent to it," he says. "In Stockton, city retirees get free health care for life, in an era when people are living a lot longer. These are the deals that were being made 30 years ago. There was no bright light on them and no one questioned them. It's too bad that the taxpayers and city pensioners have to suffer for the stupid things done by people three decades ago."
Preventing such suffering in the future requires the gumption to take action now, says Bob Deis, who retired Nov. 1. "A lot of cities are sitting on time bombs," he maintains. "Their retiree medical insurance liabilities and pensions are adding up, as baby boomers retire by the droves and want their share."
Is bankruptcy the best solution for troubled cities? It's too soon in Detroit, Stockton, Vallejo and Jefferson County to conclude that the patient is healed. But when all other options are exhausted, the answer would seem to be yes.
Still, cities must carefully weigh the risks of bankruptcy. It can tarnish a municipality's reputation, steering businesses in other directions. It also affects the ability to attract bond investors, potentially scaring them away for good. "I wish we could go back and ask Moody's, Standard & Poor's and the other rating agencies why they gave AAA credit to these places years ago, when they were making these risky promises and deals," Pagano muses.
It's too late to do that, of course. But it's not too late to do something. "If municipal finance leaders don't take charge of these problems now, they're aiding and abetting the equivalent of a Ponzi scheme," Deis charges. "Finance is either a part of the solution or part of the problem."
 Russ Banham is a contributing editor of CFO.
---
Beating Back Bankruptcy
How some financially challenged cities avoided Chapter 9
Overwhelmed by huge budget deficits when the recession struck, cities like San Francisco, San Jose, Calif., and Joliet, Ill., looked bankruptcy in the eye and passed on the opportunity, preferring to find other ways of addressing their ongoing financial liabilities and declining tax revenues.
So did San Bernardino County, despite being the home of the city of San Bernardino, which filed for Chapter 9 protection in August 2012. "We faced many of the same issues other municipalities faced, chief among them a three-year, 12 percent decline in our assessed property values after the housing crisis reared in 2007," says Gary McBride, the California county's CFO. "Those tax dollars are our primary discretionary revenue source. At the same time, our sales-tax declines were brutal, down 24 percent over that same three-year period. Together, they decimated the budget."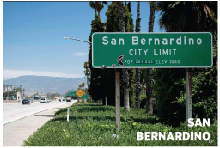 If these injuries weren't bad enough, the county's pension fund bled dollars in the recessionary environment, migrating from fully funded status in 2007 to 64 percent funded two years later — a $2 billion shortfall on a market-value basis.
Four hundred miles north, San Francisco had its own troubles. "From peak to trough in housing prices, we lost 10 to 20 percent in values, less than other California cities but still nothing to laugh at," says controller Ben Rosenfield. "We posted operating-budget gaps in each of the first five years of the recession, and continue to face structural budget challenges ahead. Our pensions, which cover 90 percent of city workers, suffered significant losses in 2008, requiring a 20 percent rise in contributions."
San Jose also took a punch to the gut: 10 straight years of budget deficits through 2013. City leaders were forced to continually cut services, shrink the workforce, close libraries and community centers and ask everyone from the mayor on down to take pay cuts. In fiscal year 2011-12, the budget gap was an eye-opening $100 million, for a general fund that typically runs about $900 million. "Our expenses skyrocketed from $72 million to $277 million in the course of a decade [through 2013]," says mayor Chuck Reed.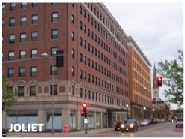 Jolting Joliet
Joliet, a former Rust Belt city that hit bottom in the 1980s when many of its industrial facilities folded but rebounded following the advent of riverboat gaming in the 1990s, has again fallen on hard times. "Until 2008, money wasn't an issue here, and we paid cash for everything — a $30 million baseball stadium, $10 million water park, and new police and fire stations," says Rachel Mayer, the city's finance director. "Then the recession struck and our two major revenue streams — gaming tax and taxes on housing starts — dropped dramatically."
Tom Thanas, Joliet's city manager, recalls the impact. "In May 2008, I looked at a spreadsheet prepared by finance, and it showed a five-year projection of a $67 million deficit in 2013," he says. "I was in disbelief."
Each of these municipalities suddenly confronted their worst nightmares. Being prudent fiduciaries, they weighed the advantages and risks of declaring bankruptcy but put it on the back burner. In the meantime, they got to work.
San Jose, for instance, reformed its pension and retiree health care benefits. "Seventy percent of citizens voted 'yes' on new benefit levels for incoming employees that are much less expensive," Mayor Reed says. "Skyrocketing pension benefits were the single largest factor behind our budget deficits. We've now saved $20 million and stand to realize another $48 million in annual savings once the rest of the measure is implemented. We've avoided any additional layoffs or service cuts the past two budget cycles, and are now within half a percent of having a balanced budget."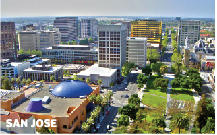 San Bernardino County took a different tack, issuing $37 million in debt to help plug its budget gap. It also reduced annual energy expenses, leveraging an energy incentive program offered by a local utility to retrofit county buildings, and successfully renegotiated labor contracts with county unions. "Employees are now picking up a larger share of the pension plan, and we're now moving toward more cafeteria-style benefits," McBride says.
Fixing San Fran
Rosenfield touts changes in San Francisco's health-care obligations. "Previously, if you worked here five years and left, you were vested and could receive health benefits until the age of 60," he says. "Since 2009, new employees now need to work for 20 years before they're vested."
The city also is phasing in a more rational, two-year budget. "When you have an annual budget, you focus on the next 12 months and not the challenges that lay beyond it," says Rosenfield, the city's former budget director. "You end up using land sales, accounting gimmicks or one-time solutions to keep revenues and expenses together for a year, postponing your problems into the future."
Joliet, too, is climbing back up. "Anything viewed as discretionary spending was cut," says Thanas. "For example, our neighborhood improvement program, which has been around since the 1980s, had grown to the point where each of the five council members had between $1 million and $1.5 million to spend on new parks or road improvements. We made some steep cuts there, recommended a hiring freeze and implemented an early-retirement incentive program." The city did not replace employees who chose early retirement.
Negotiations over labor concessions with the unions proved more formidable, as the city was halfway through an eight-year deal promising compound annual raises of 4 percent, plus free health care. "We asked for authorization to lay off 16 firefighters, which allowed us to finally secure some concessions, saving about $1.2 million and preserving the 16 jobs," Mayer notes. "We also reduced overtime expenses from $9 million to $5 million annually, and increased both the utility-tax and sales-tax rates."
The various actions ultimately paid off: "We went from a peak of $37 million in gaming revenue to less than $20 million when the recession hit, and have since been able to make up the shortfall entirely through these measures," Thanas says. — R.B.