As companies scour the reviving economy for growth opportunities, employees can't help but grow enthusiastic over the prospect that they are finally going somewhere—literally.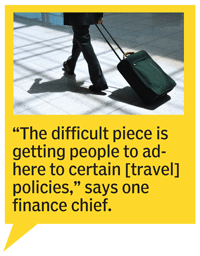 Increased business-travel activity, after all, serves as an informal barometer of economic growth. Employees are likely booking more plane flights, rental cars and hotel rooms in an effort to serve—or attract—a growing number of customers. But before their employees hit the road, companies would be wise to scrutinize their travel spending to make sure they are spending efficiently to support their goals. As one finance executive told CFO Research in a global study of business spending and investment in 2012, "It's not so much about spending more or less. It's about spending differently."
But that's nowhere as simple as it sounds. For employers, managing employee travel expenses represents an ongoing challenge to gain control and impose accountability, requiring them to persistently nudge employees to comply with corporate guidelines. Their efforts to gain visibility into employee spending and track where their travel dollars are going tend to be slowed by inefficient processes. For instance, companies that rely on many sources of travel-expense data in many formats—as contrasted with companies that consolidate that data into a single, unified format—must work harder to obtain robust, timely and comprehensive information on travel expenses. Two-thirds of survey respondents say they still rely on many sources of travel-expense data.
But despite both the technological and human challenges they face, companies aren't about to ground their efforts to cut costs and improve operational performance in their travel-spending programs.
So concluded a study that CFO Research conducted earlier this year, in collaboration with software giant SAP. Fielding an online survey, CFO Research collected responses from 173 senior finance executives at large and midsize companies in North America and Europe. The questionnaire focused on the tools and practices that finance teams use to set and enforce travel-spending policies, pinpoint patterns in their employees' spending behavior and improve their ability to manage travel expenses. (The full report, "Improving Control of Travel Spend," is available for download at cfo.com/research.)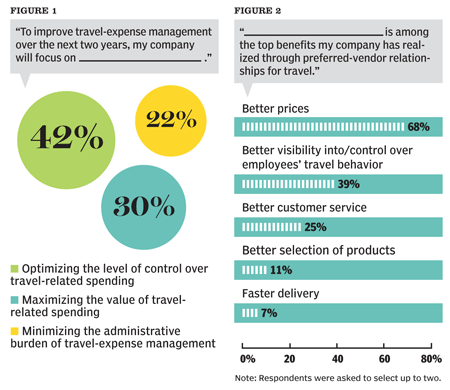 Survey respondents emphasize that they are indeed seeking tighter control over travel spending. But while finance executives are clearly aware of the long journey they face, there are hints that they remain less than confident about their ability to reach their ultimate destination. "The difficult piece is getting people to adhere to certain [travel] policies," says the director of finance at a midsize nonprofit company.
A Long Way to Go
Only about 12% of finance executives rate their company as excellent in terms of achieving employee compliance with travel-related spending policies. More than 85% of respondents say that there's some room for improvement when it comes to employee compliance—and a third of those go so far to say that there's substantial room for improvement.
Not surprisingly, then, retaking the reins is where a plurality of respondents (42%) plan to focus over the next two years. Much smaller proportions of respondents say they will spend that time maximizing the value of travel-related spending (30%) or minimizing the administrative burden of managing travel expenses (22%) (see Figure 1).
But optimizing their level of control over travel spending requires finance executives to achieve a delicate balance, steering clear of any collision between the company's need for control and its strategic mandate to aggressively pursue growth. The CFO of a financial-services firm explains that "we have significantly increased the restrictions we place on employee travel" such as requiring the use of specific hotels or airlines. But, he adds, "the volume of restrictions makes it more difficult for us to police exceptions—as there are so many."

Playing Favorites
Such "preferred-vendor" policies proved to be astoundingly popular among the finance executives who answered the survey. Three-quarters of respondents make extensive use of such relationships. Nearly the same proportion of survey-takers (68%) most frequently cite better prices as the top benefit they receive from cultivating such links (see Figure 2).
That said, 77% of respondents agree that making better use of such preferred-vendor relationships would yield a meaningful financial benefit for their companies. The top barriers they face in that regard are "difficulty enforcing employee compliance" and "difficulty consolidating enough purchasing volume with a given vendor to gain negotiating leverage," which were cited with the same frequency (see Figure 3).
Educating employees, however, is likely to prove more challenging than consolidating data. Frequent fliers, for instance, often find existing systems for travel booking too time consuming. And each employee has his or her own reason for seeking a policy exception. But once employees feel heard, they may be more willing to listen. The burden then falls on management to provide them with tools that explain the logic underlying the policies and make it easier for them to comply.
Having done so, companies will find that the benefits aren't hard to see, the study suggests. The treasurer at a large chemicals/energy firm says simply that standardizing around a limited set of travel providers has "made it easier to negotiate preferred rates and evaluate spending trends." Such steps will ultimately lead to better places.