It goes without saying that companies with some kind of financial cushion have a better springboard to growth than companies operating on slender margins. For business-services companies, that rings especially true.
Those business-services firms with a larger amount of operating cushion often also have a better free cash profile (FCP), or the ability to generate free cash flow as the firm grows revenue, according to Charles W. Mulford, an accounting professor at Georgia Tech University and director of the Georgia Tech Financial Reporting & Analysis Lab. (See "How the Free Cash Profile Works" below.)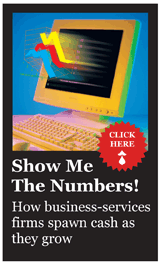 In his study of 362 diverse business-services companies based on data from Cash Flow Analytics, Mulford found that those with median revenue of $2.2 billion and those with median revenue of $478 million both had a median operating cushion of about 20% of core operating revenue. However, the smallest companies in the study, those with median revenue of $11 million, had an operating cushion of -5.98%.  
The data also diverged in terms of this sector's median FCPs: the largest companies recorded a median of 33.42%, while those in the midsize target range had 9.57%, and the smallest companies reported a median of 7.23%. (Mulford's studies have focused on target groups of  $300 million to $600 million in annual revenue in various industries.)    
Thus, when it comes companies' ability to throw off free cash as they grow, size generally matters, according to Mulford, the inventor of the FCP metric. Nevertheless, some of the firms in the target group managed to outperform the larger companies–based, in part, on good fundamentals.
Two companies in the target group, for example, far surpassed the median FCP of the larger business-services group. Websense, an Internet software filtering company,  for one, had an FCP of 118.93%, on the heels of an operating cushion of 19.73% and a ratio of operating working capital to revenue of -104.30%. (When it comes to working capital performance, of course, the lower the better.)
Similarly, Corporate Executive Board, a member-based data analysis, research, and advisory firm, also turned in one of the highest FCPs in the study at 88.51% on an operating cushion of 25.92% and operating working capital to revenue of -72.35%. 
How did these midsize companies achieve such good metrics? Mulford says companies in this range are realizing that they need to spend on capex to grow. "They are spending close to the larger companies as a percentage of capex," he says.
Corporate Executive Board is one such company that will be putting some of its cash to work. Recently, it said it will be acquiring U.K.-based SHL, a global cloud-based talent measurement and management solutions company, for $660 million in cash.
Some companies that fared worse in terms of FCP but still met at least the median operating cushion for the target group will also be expanding their operations.  
While further down the list, WebMD Health, with an FCP of 16.34% on 20.18% operating cushion and working capital of -8.05%, is looking to grow. On its first-quarter 2012 earnings in May, CFO Anthony Vuolo said the firm is "engaged in key discussions regarding strategic partnership, alliances, and potential acquisitions in a number of important areas." The company also plans on launching a German-language version of its Internet-based physician tool, Medscape, later this year, and is in discussions for a Medscape France as well.  
Citing poor economic conditions, some of the target group and larger business-services companies with similar median operating cushions are choosing not to expand. Casella Waste Systems, a solid-waste and recycling-services company based in Vermont, for example, does not plan on building out anytime soon. John Casella, chairman and CEO of the firm, said on its recent earnings call that he continues to see weakness in the economy and lower volumes of specialized waste. The company has a 27.46% FCP, an operating cushion of 20.20%, and an operating working capital of -14.83%.