For many CFOs of U.S.-based and managed companies, the message of last week's actions by the U.S. Federal Reserve and five other major central banks to help hamstrung European banks to lend was mixed and worrisome — but indirect.
The European banking system's ills haven't spread to U.S. banks yet, of course. Relatively speaking, corporate borrowing is still pretty easy here. But the suggestion that the euro zone's problems could become viral has led to a certain conservatism among senior finance executives.
To be sure, the coordinated effort by multiple central banks, plus an uncoordinated assist from China, was a positive sign to which the stock markets reacted positively. To Clyde Hosein, CFO of Marvell Technology Group, however, the actions had the effect of "a double-edged sword."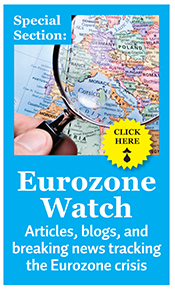 The central banks' moves are "a positive in that people are working together to do something to solve the problem. But the fact that they're doing it is telling you that there is a real potential problem," he says.
For a number of finance chiefs at growing companies here, the overseas credit and debt crises are having an indirect impact. "The overall effect is that there is economic pressure there, particularly in southern Europe," say Roger Moody, CFO of Nanosphere, who spent most of October in Europe visiting hospitals he hopes will buy the molecular diagnostic tools his company produces.
"There wasn't a hospital there that wasn't feeling economic pressure, and this ongoing banking pressure only makes that worse," he says, noting that even though Nanosphere's products could help cut hospital costs, they were still a tough sell. "You really have to convince the hospitals about why your products will save them money, because any form of new spending is pretty difficult in Europe right now."
For others, the effect is more subtle. "We haven't lost a contract; we haven't had a customer say, 'we're not moving forward,'" says Bill Korn, CFO of Antenna Software, which sells mobile phone solutions.
Instead, the uncertainty prompts more of the large companies that are the firm's clients to delay signing agreements. Then a positive movement like the central banks' action happens "and they'll say, 'Yes I can sign a contract; the world's not coming to an end.'"